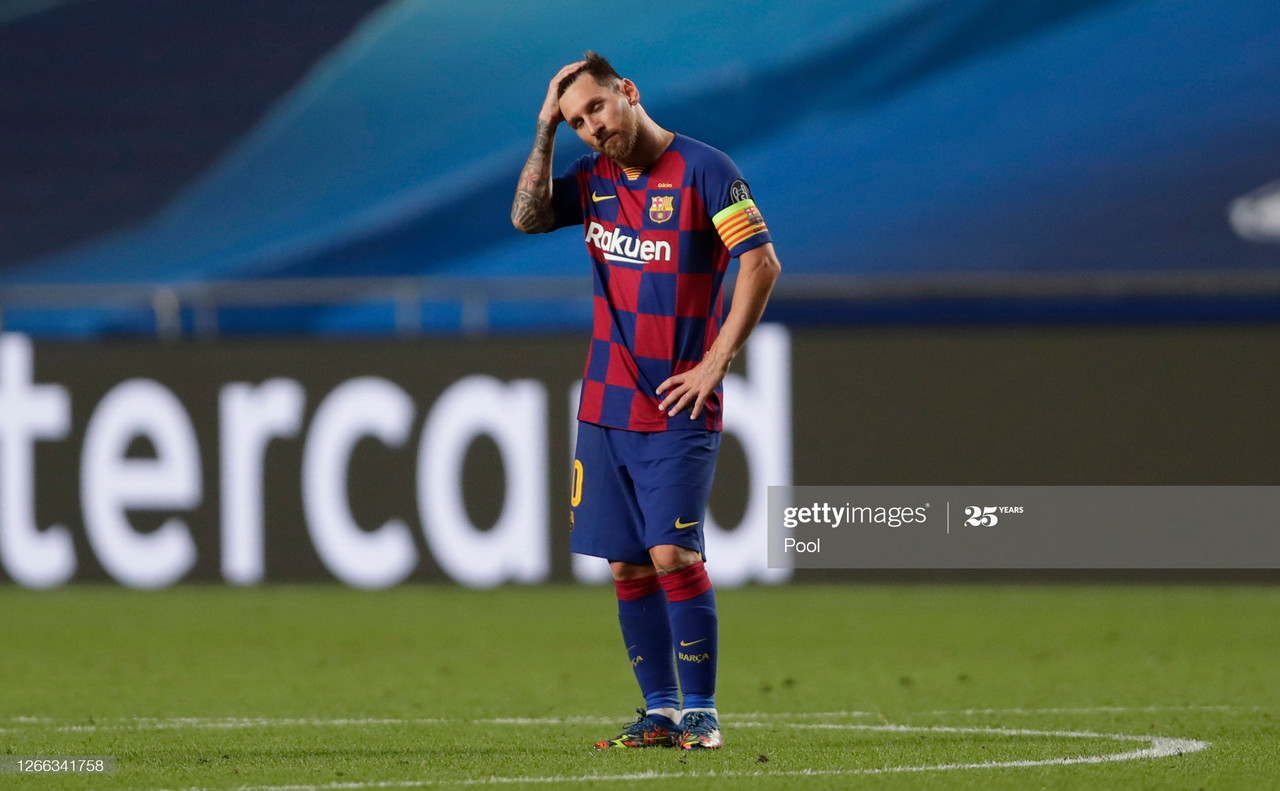 "A relationship, I think, is like a shark. It has to constantly move forward or it dies. And I think what we've got on our hands is a dead shark."
Looking at Lionel Messi's hollow expression on Friday night, as Bayern Munich tore through the Barcelona defence at will, Woody Allen's words seem to ring true.
There is only so much weight that Messi's genius can bare. Only so far he can carry them. Only so many times he can keep them afloat.
For a player of Messi's brilliance, five seasons without Europe's biggest prize is bordering on calamitous. These are his prime years. He cannot go on forever. Yes, his talent still burns at its brilliant best, but blink and it will fade away, and we'll open our eyes to find football, for all its heroes, shining slightly less brightly than before.
Barcelona's painful demise
There are any number of stats that show the significance of this Barcelona result. Their worst defeat since 1946. Their worst scoreline in the history of European competition.
But it is the more recent trend that shows the magnitude of Barcelona's demise. For four years on the trot, their European campaign has come to an end in dismal fashion, humiliated and tossed aside by more proactive rivals. Thrashed by Juventus. Upset by Roma. Overhauled by Liverpool. Demolished by Bayern.
For too many years, Barcelona have been a mixture of the best and the rest. Very few signings have made sense. A quarter of a billion pounds on Ousmane Dembele and Phillipe Coutinho is just the tip of the iceberg.
Even now, the consistent performers in the squad are the survivors of their last European triumph in 2015. Luis Suarez, though aging, remains able to perform at the top level. Jordi Alba and Gerard Pique still sit in a defence shielded by Sergio Busquets, who is still marshalling the midfield as it seems he always has done and always will do.
These are the players Messi surely trusts. Those with whom he reached the summit of European football, just as he did with Barcelona's last truly great sides in 2011 and 2009. But elsewhere, there is little encouragement.
They've had five years to rebuild. They've squandered the Neymar riches and far more besides. And now, with this defeat, the undying loyalty of their only saving grace may finally be waring thin.
Few places for Messi to go
It still seems unthinkable that Messi could leave. For well over a decade, his seat atop world football has been anchored in Catalonia, his turbulent summers with Argentina a mere distraction from his perpetual pursuit of greatness in Spain.
His image as a one-club man, destined to finish his European career at the Camp Nou, with a possible epilogue back in Argentina, means Barcelona have never prepared for his departure, and other top European clubs have never laid serious groundwork for his acquisition.
Financially, he may be similarly tied down. His total renumeration is widely accepted to come close to a million pounds per week. Simply put, no one can come close to matching those numbers. Yes, clubs would move mountains to sign him, but you can likely count on one hand the possible destinations.
Juventus? A Ronaldo-Messi link-up is the dream scenario of a generation of supporters, but Juventus can hardly afford to use up another huge chunk of their budget on a single superstar.
Manchester United? CEO Ed Woodward has spoken in the past about the club's ability to 'do things other clubs can only dream of'. Nonetheless, it seemed an unlikely marriage even before the cost-cutting of coronavirus had set in.
Real Madrid? Dream on.
Manchester City? And here, we have perhaps the only contender. Pep Guardiola has yet to win the Champions League without Messi. Messi, although arguably more consistent in recent years, played his most stupefying football under Guardiola. For the two to reunite in an effort to conquer Europe for a final time seems almost a perfect ending.
Time to move on
"The cracks in old friendships are measured in awkward pauses" – tonight was less another awkward pause, and more an emphatic full stop.
Cristiano Ronaldo has always been open about his constant search for more, flirting with transfers away from both Manchester United and Real Madrid numerous times before his eventual departure. Messi has always seemed immovable, a once in a lifetime talent perfectly positioned at Barcelona, perhaps the greatest club side of this generation. Only, they aren't so great any more.
They say that tragedy breaks your heart by forcing you to believe, right until the end, that you might be happy. Messi has been let down by Barcelona for quite some time now, and there's no sign of a fairytale ending.
What Messi has on his hands is a dead shark. Its time he said his goodbyes.
Twitter: @WillRobinsonUK