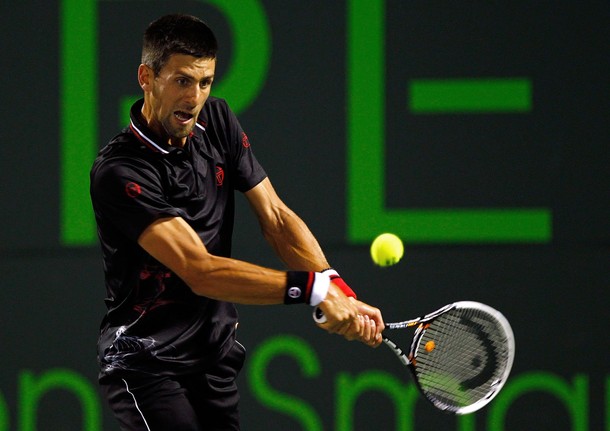 Starting on Sunday one hundred and twenty eight men will do battle on the clay at Roland Garros in the tennis season's second Grand Slam event. The winner of the tournament faces a gruelling two weeks and will need to win seven best of five set matches in a row. Whoever does that will get to hold the Coupe des Mousquetaires and be named Men's French Open Champion 2012. Here are some of the players who are in the mix to win:
The Favourites
Rafael Nadal– The overwhelming favourite to win at Roland Garros, he has already won the tournament six times and if he adds one more he will have the most French Open titles in the history of the game. He has only ever lost one match at this event and that was to Robin Soderling in 2009, the Swede is currently suffering from mononucleosis and won't be playing this year. Nadal on clay is a fearsome opponent; he has won clay court tournaments this year at Monte Carlo, Barcelona and most recently Rome. His one loss was at Madrid on the controversial blue clay that Nadal was not a fan of; Rafa has since said he will not play the tournament again if blue clay is still used. He beat Djokovic in the final at Rome in straight sets and if he stays fit the Spaniard should add another French Open to his resume.
Prediction: Winner
Novak Djokovic– The Serbian has been on fire since the start of 2011 and has won four of the last five Grand Slams, however the one that has eluded him is the French Open. He will be extremely motivated to change that this year and become the first man to hold all four Grand Slam titles since the great Rod Laver in 1969. He reached the semi-finals last year where he lost to Roger Federer, which was his first loss of the 2011 season. He is drawn in the same half as Federer again this year and will need to find a way past the Swiss maestro to set up another Djokovic – Nadal Grand Slam final, and if its anything like the one they had in Melbourne then tennis fans are in for a treat.
Prediction: Runner Up
Roger Federer – Won the French Open in 2009 when he beat Soderling in the final and he looks hungry to add another one. Federer has been in fine form this year after a disappointing loss to Nadal in the Semi-finals at the Australian Open. Since then he has won tournaments in Rotterdam, Dubai, Indian Wells and Madrid. After his win in Madrid he briefly replaced Nadal as the number two in the world rankings but has slipped back down to three again after losing to Djokovic in Rome. He has a tough draw at Roland Garros this year with a possible second round clash with David Nalbandian and a potential quarter final versus Tomas Berdych. Federer hasn't won a Grand Slam since the Australian Open in January 2010 and will be desperate to win his seventeenth, however it will be a tough ask for him on a surface he has had the least success on.
Prediction: Semi Finalist
The Contenders
Andy Murray– The Scot reached the semi-finals at Roland Garros last year and will be driven to go further this year and claim his maiden Grand Slam title. Clay is not Murray's best surface and he has not had a strong 2012 clay season; losing to Raonic in Barcelona, Gasquet in Rome and Berdych in Monte Carlo. However he has reached the semi-finals of the last five Grand Slams and knows what it takes to get there again, if he does then he will have to contend with Rafael Nadal which will be a big ask for the world number four. There are also worries about a niggling back injury that Murray says he has had since December last year
Prediction: Quarter Finalist
David Ferrer– Recognised as one of the best clay courters around, the Spaniard chases down every ball with his incredible speed and never say die attitude, however he has never progressed past the quarter finals at the French Open. He will have a great chance at changing that this year as he is drawn in the same quarter as a possibly injured Murray. In the 2012 clay season he has reached the final of Barcelona and semis of Rome, where on both occasions he lost to Nadal.
Prediction: Semi Finalist
Tomas Berdych– Another young talented tennis player who has yet to win a Grand Slam, the Czech is currently having a very good season and recently made the final of Madrid and semi-finals of Monte Carlo. His best performance at the French Open was in 2010 where he reached the semi-finals, however last year he suffered a shock first round loss to a qualifier and he will be looking to do much better this year.
Prediction: Quarter Finalist
Juan Martin Del Potro– Has not had much luck since he won his first Grand Slam at the US Open in 2009; he missed most of the 2010 season due to a wrist injury and has still not quite found the level of tennis that saw him win at Flushing Meadows. On his day his aggressive shot making ability can trouble any player in the world and he has reached the semi-finals of the French Open in 2009 where he lost a very close five setter against eventual champion Roger Federer. He faces a tough draw however with a potential blockbuster fourth round against Berdych and if he survives that he will possibly face Federer in the quarter final.
Prediction: Fourth Round
The Dark Horses
Jo Wilfried Tsonga – It may seem odd to have the current world number five as an outside bet but clay is definitely not Tsonga's strongest surface. His best performance at Roland Garros is the fourth round and he does not look likely to progress much further than that this year. He has had recent unexpected losses on clay to Dolgopolov and Haas, however if he gets inspired by the home crowd then the Frenchman could make run to the quarter final where he would run in to number one seed: Novak Djokovic.
Prediction: Fourth Round
Nicolas Almagro – Another Spaniard clay court specialist, he thrives on this surface and has twice reached the quarter finals at the French Open. He has a good draw and will want to avenge a first round loss from last year by at least getting to the second week of the tournament.
Prediction: Quarter Finalist
Milos Raonic – The youngster has had a break out year in 2012 and has wins over Almagro, Murray and Nalbandian on clay this year. He has a huge serve which isn't as effective on clay but his aggressive forehand and net play means that no one will relish facing him. He has a tough draw but can look forward to a possible fourth round clash with the defending champion: Rafael Nadal.
Prediction: Fourth Round
Keep an eye out for American Brian Baker. The 27 year old was once regarded as one of the top juniors in the game and had a very promising future ahead of him, however injuries denied him and over the years he has had five different surgeries. He has comeback for one final go on the tour and recently qualified for and won a challenger in the US, this allowed him to gain a wild card into the draw at the French Open. He has been playing an ATP tournament in Nice this week to warm up, and in an incredible story he has beaten a host of top players including Gael Monfils and former world number three Nikolay Davydenko. He is currently in the final facing Almagro and it will be interesting to see if he can repeat his Nice heroics at Roland Garros.