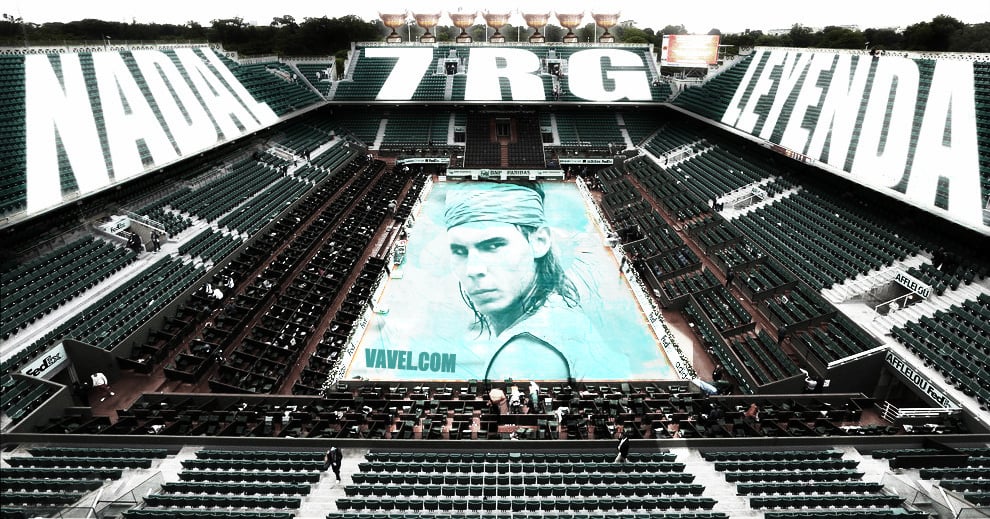 On a cloudy Monday afternoon in Paris, Rafael Nadal holds up his record seventh Roland Garros title. The Spaniard has now gone past the great Bjorn Borg's haul of six titles at the French Open and will now forever be associated with the red clay of this venue. He defeated Novak Djokovic in the final 6-4, 6-3, 2-6, 7-5 in a rain affected match that was fought over two days. Both men entered the final with history weighing on their shoulders; Nadal was chasing his eleventh Grand Slam title as well as going past Borg's French Open tally. Djokovic was after his fifth major title and could have been the first man since Rod Laver in 1969 to hold all four Grand Slam titles at the same time. Each competitor got to the final taking very different paths.
Nadal breezed through to the final without even dropping a set. He only lost his serve once and that was in his first round match, after that he left a trail of destruction in his wake. He faced Juan Monaco, Nicolas Almagro and David Ferrer in the fourth round, quarter finals and semi finals respectively. All three men are recognised as clay court specialists and should have provided Rafa with a testing few rounds. Nadal however simply blew them away; Monaco was dispatched first for the loss of just two games; 6-2, 6-0, 6-0. Almagro actually managed to force a tie break in the first set but then fell away 7-6, 6-2, 6-3. The most surprising result was in the semi final against fellow Spaniard Ferrer. Ferrer is currently enjoying a stellar year on the tour and has been hovering at number five in the world for some time now. Nadal won 6-2, 6-1, 6-1 in a match which highlighted the scintillating form he was in.
Djokovic had a much more testing route to the final than his opponent. He eased through the first three rounds without much trouble, however he then ran into the twenty second seed Andreas Seppi who played some inspired tennis to take the first two sets. Djokovic was one set away from being dumped out, however he regrouped and won 4-6, 6-7, 6-3, 7-5, 6-3 in a gruelling battle. Next up was home favourite Jo-Wilfried Tsonga who, spurred on by the crowd, took a two sets to one lead. Tsonga had four match points in the fourth set to knock out Djokovic and progress through to the semi finals. However in extraordinary scenes, the Serbian went on the offensive and saved all the match points by going for the lines; at times he was a few inches from being out of the tournament. In the end Djokovic won 6-1, 5-7, 5-7, 7-6, 6-1 and then met Roger Federer in the next round. Many were expecting another tough game for the Serb, he proved them wrong by outclassing Federer in straight sets: 6-4, 7-5, 6-3 and booking his place in the final.
The final had a scheduled start time of 3 p.m local time on Sunday; this seemed questionable when the weather forecast was predicting showers. Djokovic was sluggish to start with and quickly went 3-0 down in the first set. He produced a inline of unforced errors and made it very easy for Nadal. However he then started hitting more aggressively and, helped by a couple of Nadal double faults, he broke back twice immediately and levelled up the match at 3 all, Nadal looked unsure how to play when faced with such a barrage. After working so hard to get back into the first set Djokovic gifted Nadal a break of serve when he double faulted on break point down. The Spaniard made him pay with some heavy forehands and took the set 6-4.
The second set started in much the same fashion with too many unforced errors from Djokovic putting him on the back foot, another double fault at break point down meant Nadal went a set and a break up. Poor serving from both men meant that there were an unusual amount of service breaks. The second set squared up at 3 all when Nadal started to play more aggressively, he started to dominate Djokovic in the rallies and broke again in a crucial game. The Serbian became so frustrated he received a warning for smashing his racket on the chair at the change of ends. However at 5-3 down and serving to stay in the second set Djokovic was dealt a lifeline by the weather. The rain became heavier and play was suspended which benefited Djokovic as he seemed out of ideas.
The break in play was not a long one, after forty minutes the rain cleared up and play was resumed. Immediately Nadal took the second set 6-3 with a backhand passing shot, he then got to a 2-0 lead in the third set and it seemed he was only a few games away from the title. However Djokovic had other ideas. In an extraordinary display of power hitting, the Serbian won the next eight games in a row – winning the third set 6-2 and took an early lead in the fourth. Rafa was clearly rattled and complained to the umpire frequently about the conditions which were starting to deteriorate. Nadal finally stopped the rot and held serve to trail 2-1 in the fourth set when play was suspended for a second time. This time the weather did not improve and the players would have to resume on Monday, if the first interruption favoured Djokovic then this second one definitely favoured Nadal; he looked clueless against the onslaught of winners from Djokovic.
The players came out on the Monday at an earlier time of 1 p.m; the organisers appeared to have learned their lesson from the day before. Nadal looked more assertive from the start and broke Djokovic back immediately, both men then held serve until the twelfth game of the set. Djokovic was once again serving to stay in the match and was 30-40 down; Nadal had his first Championship point. Djokovic unbelievably double faulted and gifted the win to Nadal who broke down in tears. Indeed it was the most emotional Nadal has ever been after a big win, which shows how much it meant to him claiming his seventh title here and, perhaps more importantly, beating Djokovic in a Grand Slam final. Djokovic had won the last three meetings between them on the big stage and many were starting to question whether he had got inside Nadal's head.
The final was definitely not a classic but it was always going to struggle to live up to the hype. Both men were weighed down by records that were tantalisingly within reach, it was simply a case of who dealt with the pressure better. Many will argue that the second rain interruption saved Nadal, and we will now never know how it might have ended if the match had finished on Sunday night. All we know is that Nadal is still the man to beat on clay courts and Djokovic is not indestructible at Grand Slams. Wimbledon is next on the agenda in two weeks and the quick transition to grass courts will cause the list of Grand Slam contenders to grow. This means that these two players will have to work hard if they want to contest another Grand Slam final and continue to set new records.