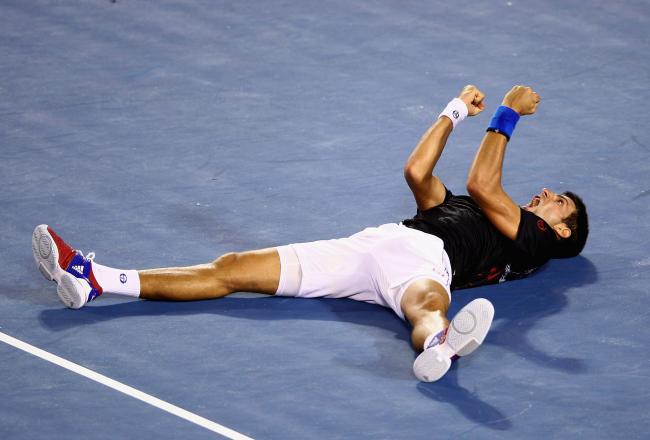 The first Grand Slam of the year is about to get underway in Melbourne and the usual suspects are shaping up to claim the title. Unfortunately the Australian Open will not see the long awaited comeback of Rafael Nadal. He withdrew a couple of weeks ago which means the Spaniard hasn't played since Wimbledon and will be missing his second Grand Slam in a row, something he hasn't done since 2004. While the tennis world won't witness a repeat of last year's epic final between Nadal and Djokovic, there are still plenty of top players ready to entertain us over the next two weeks.
The Favourites
Novak Djokovic: The top seed and defending champion has been installed as the favourite and it's hard to argue against that. Djokovic has a special bond with the Australian Open starting in 2008 when he claimed his first Grand Slam there. Since then he has added two more titles to his resume meaning he has won three of the last five Australian Opens. As usual Djokovic hasn't played a tournament before the Australian Open, preferring instead to play exhibitions. His draw is one of the easiest in recent Grand Slam history and if he plays anything like he did at the end of 2012, where he won the World Tour Finals, he will cruise into the final and more than likely defend his title.
Prediction: Winner
Andy Murray: Can finally call himself a Grand Slam champion after his exploits at the US Open, and now a lot of the pressure on Murray's shoulders should be gone. He can go on court and not have to worry about breaking his Grand Slam duck, which could spell trouble for his opponents. He has started 2013 well winning a tournament in Brisbane, although he never really had to get out of second gear on his way to the title. Murray also has a very good record in Melbourne; making the final in 2010 and 2011 before just missing out in 2012 after an epic semi-final against Djokovic. He has been drawn in Federer's half and while the Swiss should not be underestimated he is the lesser of two evils. Murray's draw before this point should be fairly comfortable until a potential blockbuster quarter-final against Juan Martin Del Potro.
Prediction: Runner-up
Roger Federer: The second seed had somewhat of a renaissance year in 2012; where he won Wimbledon to put him on an incredible seventeen grand slam titles. He turns thirty two this year and continues to confound critics who predict his downfall. His record in Melbourne is astonishing: he has made the semi-finals every year since 2004, going on to win four titles. However this year he has been handed a very tough draw, with his possible route to the title Paire, Davydenko, Tomic, Raonic, Tsonga, Murray and then Djokovic. This is a big ask even for a man of his talents and you get the feeling that the first few rounds will catch up with him if he plays Murray in the semis.
Prediction: Semi Finalist
The Chasing Pack
Juan Martin Del Potro: The 'Tower from Tandil' knows what it takes to win a Grand Slam, triumphing at the US Open in 2009. Since then he has suffered from injuries but has now worked his way back into the world top ten. He made three quarter-finals in 2012, including the Australian Open, but has struggled to kick on and recreate his 2009 success. He ended 2012 in good form, scoring two wins over Roger Federer, and will hope to carry that form into this tournament. He has a favourable draw to the quarter-finals where he is projected to face Murray. If Del Potro causes an upset there then there could be no stopping him.
Prediction: Quarter Finalist
David Ferrer: The Spaniard had an amazing 2012 which saw him win six titles and finish the year as number five in the world. He also reached two Grand Slam semi-finals and two Grand Slam quarter-finals to demonstrate his incredible consistency. He started 2013 with a slightly surprising semi-final loss to Davydenko in Doha, however he recovered this week to defend his title in Auckland. Ferrer has a few tricky players in his part of the draw, including Baghdatis and Nishikori. However whenever you doubt Ferrer he proves you wrong and if he plays as he can then he should make the semi-finals.
Prediction: Semi Finalist
Tomas Berdych: The fifth seed is very unpredictable but when he is playing well he is a tough player to stop. He proved this at last year's US Open where he disposed of Roger Federer in the quarter-finals, however his other side was on show in Chennai a week ago where he lost in the second round to Bautista-Agut, a journeyman ranked at number eighty in the world. Berdych has made the quarter-finals of the Australian Open for the last two years and with Djokovic likely to be waiting for him there this year he will need to be on top form to progress further.
Prediction: Quarter Finalist
Jo-Wilfried Tsonga: After reaching the semi-finals of Wimbledon in 2012 Tsonga seemed to run out of steam and looked a bit flat towards the end of the year. He has picked up a new coach in the off-season, the well respected Roger Rasheed, and it will be interesting to see if their new partnership can produce results. 2013 didn't start ideally as Tsonga had to withdraw from Sydney due to an injury but he seems to be fit for Melbourne. He will have fond memories of the Australian Open; it was the place of his breakthrough in 2008 where he reached the final even though he was unseeded. If fully fit he should reach the quarter finals for a potential clash with Federer.
Prediction: Quarter Finalist
Dark Horses
Kei Nishikori: 2013 started well for him at Brisbane; he comfortably reached the semi finals before having to retire from his match against Murray. Nishikori has since declared himself fit and he will be eager to emulate his performance from 2012, where he defeated Tsonga and reached the quarter-finals. The draw has been kind to him placing him in a quarter with Ferrer, a man who he beat the last time they played. If he is fully fit then Nishikori has a huge opportunity to make his first ever Grand Slam semi-final.
Prediction: Fourth Round
Janko Tipsarevic: Just missed out on his first ever Grand Slam semi-final at the US Open, losing an epic five setter to David Ferrer. Tipsarevic has started 2013 with a title in Chennai and will be looking to do some damage in Melbourne. He has the opportunity to avenge his quarter final loss to Ferrer, with the two projected to meet at that stage again. However first he will have to deal with some tricky players, primarily a first round match against former world number one and home favourite Lleyton Hewitt.
Prediction: Quarter Finalist
Grigor Dimitrov: The youngster has never made it past the second round of a Grand Slam but 2013 could be the year he changes that. He made his first ever ATP final in Brisbane and has a decent draw in Melbourne. He faces thirty second seed Benneteau in the first round, a dangerous opponent but one Dimitrov beat twice in 2012. Although there are still fitness issues around Dimitrov once he gets on a roll he can be difficult to stop.
Prediction: Third Round