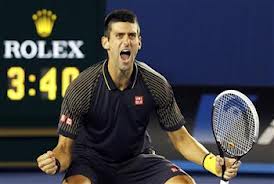 Novak Djokovic and the Rod Laver Arena is fast becoming a match made in heaven. In the 2013 men's Australian Open final Djokovic won 6-7(2), 7-6(3), 6-3, 6-2 against Andy Murray to win his fourth title in Melbourne and become the first man in the Open Era to win three in a row there. Djokovic has now also moved on to six Grand Slam titles, which puts him equal tenth on the list of male Grand Slam winners in the Open Era.
Djokovic began his Australian Open fortnight with three routine straight set victories. He beat Paul-Henri Mathieu 6-2, 6-4, 7-5 in the first round followed by a 6-1, 6-2, 6-3 victory over young American Ryan Harrison. The third round saw him defeat the 31st seed Radek Stepanek 6-4, 6-3, 7-5 and Djokovic had barely broken sweat to reach the last sixteen. Next up was his epic match against Stanislas Wawrinka, a player known for his breathtaking one handed backhand along with his mental fragility. However Wawrinka played one of the matches of his life and kept the top seed out on court for five hours. At one point Wawrinka led 6-1, 5-2 but as he always does Djokovic found a way to claw himself back into the match. In the end Djokovic won 1-6, 7-5, 6-4, 6-7(5), 12-10 and looked thoroughly exhausted and relieved. Many then questioned what state he would be in for his quarter final against the big hitting world number five Tomas Berdych. However Djokovic displayed his amazing powers of recovery to comfortably win his quarter final 6-1, 4-6, 6-1, 6-4 and followed that up by destroying the fourth seed David Ferrer 6-2, 6-2, 6-1 in the semi-final. Djokovic, as top seed, got an extra day's rest before the final and so he settled down to look the second semi-final between Murray and Federer.
Andy Murray's run to his match with Djokovic was untroubled right up to the semi-final. He won his first five matches all in straight sets against Robin Haase, Joao Sousa, Ricardas Berankis, Gilles Simon and Jeremy Chardy. Next up was the great Roger Federer and some worried that Murray hadn't been tested enough before this match. There was also the fact that Murray had never beaten Federer in a Grand Slam match and many wondered if this would be the time to do it. Murray came out against Federer and played aggressive tennis from the start. He triumphed 6-4, 6-7(5), 6-3, 6-7(2), 6-2 and most observers felt he deserved to win in three or four sets. This win meant Murray was full of confidence, but would he feel the effects of playing a five set semi-final in his next match?
The final started with both men playing tentatively. Murray's serve had been a big factor in his match with Federer but he wasn't making many first serves, Djokovic used this to his advantage and created five break points. However he failed to capitalise on these opportunities and Murray stole the first set 7-2 on the tie-break. The start of the second set saw a crucial game in which Djokovic was serving at 6-7, 0-1 and 0-40. Murray had three points to go up a set and a break and Djokovic looked deflated. If Murray had taken one of these chances he would have been well and truly in the driving seat for the match. Yet again Djokovic dug himself out of a hole and he suddenly had a spring in his step. The second set was a reverse of the first with Djokovic nicking it in a tie-break 7-3. It had taken over two hours for the match to reach one set all and it was starting to take its toll on Murray. He had treatment for blisters on his feet before the start of the third set and looked to be running out of gas. The longer the final went on the more physically spent Murray looked and Djokovic could sense victory. The top seed went up a gear and Murray had no answer to the Serbian's penetrating ground strokes and relentless defence. Murray battled valiantly but ultimately lost the last two sets 6-3, 6-2 as a rampant Djokovic was left raising the Australian Open title once again in the Rod Laver Arena. The final was by no means a classic, however Djokovic did what was needed to be done and that is the mark of a true champion.
Although there was only one winner on the day this past fortnight has been a great start to 2013 for both men. Djokovic has defended his Australian Open title again and looked very sharp whilst doing so. He can now look forward to clay season with a returning Rafael Nadal possibly vulnerable. This could give Djokovic the opportunity to win the one Grand Slam that has so far eluded him, the French Open. Murray on the other hand reached his third Grand Slam final in a row which, along with his Olympic Gold medal, signifies his growing consistency and confidence. He got his first win over Roger Federer in a Grand Slam and can look forward to 2013 with relish. Murray had a poor 2012 in the Masters tournaments and so there are a lot of points he can gain this year. This means he could be replacing Federer as world number two sooner rather than later. Rafael Nadal is due to return next month and at the moment he could be the only man that can stop the increasing dominance of Novak Djokovic and Andy Murray.