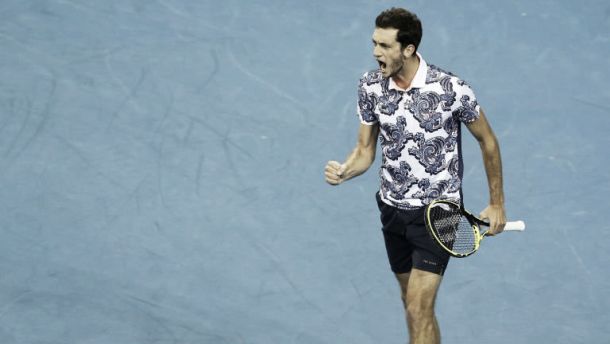 AEGON Championships, Queens Club – Day one round up.
In a day that started with a farewell and ended with darkness, the first day of the AEGON Championships at Queens Club got underway. There were no major surprises or shocks on this first day, but there were some very noteworthy performances from the underdogs and crowd favourites.
Fernando Verdasco started things off on Centre court with a match against fellow countryman Roberto Bautista Agut. Verdasco started off quite poorly and Bautista Agut took full advantage to grab the first set comfortably. Verdasco then seemed to find his feet and the match got so much closer as the break came at a very opportune time and he levelled the very close match. Bautista Agut very nearly made headlines on the first day as he had match points in the final set tiebreak but was unable to convert and will be ruing the missed chances as Verdasco survived that scare to make round 2.
In his last ever appearance as a player at Queens, Lleyton Hewitt had been given a wild card into the tournament, and his match hit the Centre court next, Hewitt was facing Kevin Anderson in this anticipated match up. The crowd were being thrilled with excellent tennis and it got what was deserved as the first set went to a tiebreak that Hewitt won. Anderson was making a fight of this as the second set progressed and finally stole a break of serve to grab the second set. As we moved into the final set Anderson was looking to spoil the party for Hewitt, and he would leave his last ever Queens in the first round as Anderson was just too strong at the end. Hewitt was given a replica trophy as he left for the final time
Now, for the match I was looking forward to, even if with trepidation. A tough match up for James Ward, another wild card entrant, who is looking to secure his Davis Cup team place (co-incidentally to be held at Queens) with some good results on grass (the chosen surface). Ward had been unlucky and drawn Milos Raonic, 3rd seed. From the off this was going to be very difficult for the Brit and he would have to play well to stand a chance. This is just what he did, Ward was able to go toe to toe with Roanic during the first set, and broke serve in the 11th game before serving out to take the set. Roanic had appeared to be struggling in the match, but seemed to gain in confidence in the 2nd set and took it with one break of serve. With some of the crowd behind Ward (who thrives in team events with loads of noisy support), he was still fighting hard. Ward ultimately lost the match, but certainly earned his stripes (or spots ;) ) as not many players have taken a set from Roanic that has not gone to a tiebreak.
Selected results
Fernando Verdasco d Roberto Bautista Agut 3-6, 7-5, 7-6 (4)
Kevin Anderson d Lleyton Hewitt (W) 6 (5)-7, 7-5, 6-2
Milos Raonic (3) d James Ward (W) 5-7, 6-3, 6-2