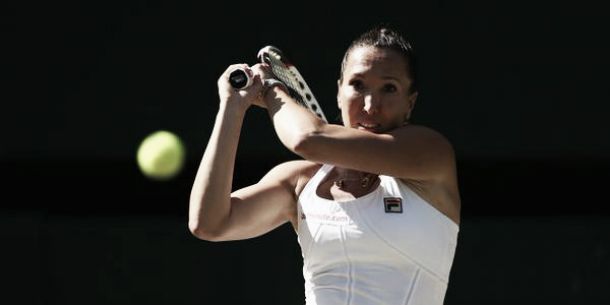 Jelena Jankovic came from a set down today to beat reigning Wimbledon champion Petra Kvitova in three sets, winning 3-6, 7-5, 6-4.
Kvitova came into this round having started her title defence so dominantly with two incredible matches thus far. She has held 14 straight service games in the tournament, was yet to face a break point and had only lost 10 points on her serve coming into this match.
Yet, today she faced a much tougher task than those prior in 28th seed and former world number one, Jankovic.
Jankovic has defeated two Russians on her way to the third round, firstly dispatching Elena Vesnina 6-4, 3-6, 10-8 before again being taken all the way against Evgeniya Rodina in round two, the woman who knocked out Britan's Laura Robson, but defeating her 6-7, 6-1, 6-3.
Kvitova has been far more convincing, playing just four sets of tennis and losing just three games - producing two bagels. A 6-1 6-0 victory over Kiki Bertens kicked off her tournament, whilst a win over Japan's Kurumi Nara followed, the scoreline reading 6-2, 6-0.
She has been incredible so far this week and would certainly fancy her chances of retaining her title if she could come through against Jankovic just as convincingly.
Good start for the champion
Thing started well for the Czech too, with her winning the first set 6-3, again proving tough to break despite her having to save a break point for the first time at Wimbledon 2015.
The conviction she displayed in her shots and her ability to put her opponent on the back foot proved too much for Jankovic to handle, whilst Kvitova's variety in her play also helped her take the lead, as she proved effective both on the baseline and at the net.
Jankovic was coping well with the second seed's serve in truth, returning 62 per cent of her serves and allowing her to win just 74 per cent of shots on her first serve, but Kvitova remained a threat in open play, able to out-think her opponent to stay comfortably ahead, and it was this that gave her the lead.
Jankovic steps it up a gear
Still, it was clear that, despite taking the lead, the Kvitova was not happy with her serving in the first set and she managed to take it up a gear in the second, serving three aces in her first service game having served just one in the first set.
A break of serve followed as she took a 2-1 lead in the set, and this became 3-1 when she delivered another telling service game which included a delightful return on the run just as Jankovic thought she had caught her out.
The Serbian was doing well at the beginning of rallies to play shots deep enough to really trouble her opponent, but Kvitova grew into these exchanges and was often the winner of them, which helped her see another two break points as Jankovic tried to rack up her second game of the set.
Her determined personality and good footwork helped her turn this into deuce though, and a lovely ace after taking the advantage on this helped her hold on and stay in touch at 2-3.
Jankovic looked positive in Kvitova's following service game too, realising that it was now or never for her to get back into the match, but, despite this, a passing shot made of sheer brilliance from the Czech allowed her to quickly put a brief stop to this fight before she closed the game out with a delightful shot down the line.
Still, the 28th seed was not going to give up any time soon, continuing to produce good tennis to keep up with Kvitova, before earning herself two must win break points at 4-3 to the Czech.
The first was countered by a lovely serve and volley routine, making the second all that more important and pressurised - Kvitova unable to cope as a powerful, deep return from Jankovic forced her opponent to put her next shot wide of the line and allow the Serbian to break back, leveling the scores at 4-4.
This momentum carried over into her next service game, with some more fabulous shots reminding Kvitova that she wasn't down and out yet.
She started to really trouble the reigning champion in the latter stages of the set too, forcing her to produce her best tennis just to keep up with Jankovic.
However, the pressure really started to get to Kvitova towards the end, and as she served to stay in the set, a double fault gave her opponent a set point, whilst a lucky net cord on her second serve was all that stopped her from gifting her the set on this point.
She responded brilliantly from this though, turning the slice of fortune into pure quality with a fantastic forehand that took the game to deuce, before then defending another set point for her opponent with that incredibly effective serve and volley routine.
Jankovic was pulling shots out of the top drawer to keep her the chances coming for her to take the set, but was failing to do this when it mattered thus far, until an unforced error by Kvitova eventually gifted the Serb a way back into the match as we went to a decider.
The 28th seed had certainly deserved to go all the way with Kvitova in the match, but the second seed will be disappointed with the manner in which she did this, as it was due to her sloppy play in a spell during which she really struggled to contain her opponent.
She had dominated for the most part of the set, but had crumbled when it mattered and was unable to deal with Jankovic's fighting spirit.
Momentum sees Jankovic take the decider
Jankovic continued to apply the pressure in set number three too, seeing a break point early on as she fought to turn the match around. Kvitova produced when it mattered in the match though, bar her slip up at the end of set two, and was able to save her fifth break point of the day before going on to win the game.
She was no longer looking as comfortable on serve, and the fact that Jankovic was serving first and forcing her to level every time certainly began to have an effect when she was struggling.
The set remained as intriguing as ever as a result, Kvitova on the ropes at times as she failed to raise her game to match Jankovic. A strange decision to challenge one of the Serbian's shots that was called in occurred just as she was dominating a rally at 30-30 in Jankovic's service game, and hawk-eye revealed that she was in fact wrong and that the decision to stop play was a poor one.
Jankovic would go on to win the game - whereas if the Czech had not challenged, she would've probably seen break points - and forced Kvitova to serve to stay in the match, with the third set at 5-4 in the former's favour.
Despite taking a 30-0 lead in her all important service game, the world number two was pegged back and would face match points from the incredibly determined Serbian, hitting the ball into the net to give her victory in the end after she fought back from a set down.
It was an incredible comeback by the 28th seed, with her looking down and out in the first set and in the first half of the second. However, the self-belief and mental toughness she showed to recover from this and step her performance levels up was marvellous, with her hard work getting the victory it deserved in the end.
Kvitova will be extremely disappointed in herself having been so in control, but she crumbled in pressure moments and almost seemed unable to raise her energy levels as the match wore on.
Having looked to be a certain favourite for the title in her dominant earlier rounds, the Czech will now have to watch another woman take her crown this year.
Jankovic will hope that that woman is her, but first she will have to face the challenge that awaits her in round four, with Eastbourne finalist and 13th seed Agnieszka Radwanska awaiting her in the last 16.