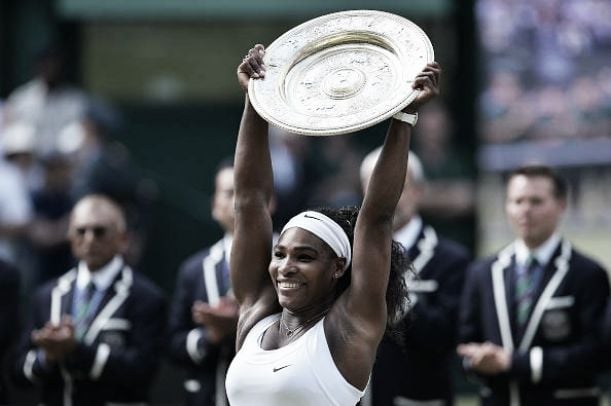 Serena Williams today won her 21st Grand Slam by defeating Garbine Muguruza 6-4 6-4 in the Wimbledon 2015 final.
The ladies' singles came to a conclusion today at Wimbledon 2015 in an intriguing match up in the tournament's final as five-time champion Serena Williams faced first-time finalist Garbine Muguruza.
Looking to stay on course for her first Calendar Grand Slam, following wins at the Australian and French Opens already this year, as well as hoping to add a 21st major singles title to her name, Williams was obviously the favourite, especially having come through against the likes of Victoria Azarenka, Maria Sharapova and her sister Venus to get to the final.
Muguruza has made great strides in SW19 this year though, with a top 10 ranking promised thanks to her fantastic run. At 21-years-old, she is certainly viewed as a future Grand Slam champion and is just looking to secure her first to open those expected floodgates.
The lively Spaniard is an exciting young prospect and a rare export from her home country given how attack-minded she is on the court and how well she plays on all three surfaces, not just clay, and has already beaten Williams in the past, so would not be an easy opponent for the American.
Muguruza starts well but Williams steps up
Muguruza was lively from the off too, showing no signs of nerves and anxiety as she made the first game an extremely tough one for Williams. After four deuces and four break points, many of those helped by her opponent's torrid start that saw her commit three double faults in the game, Muguruza was able to break and take a marvellous early lead in the match - one consolidated by a solid service game of her own after.
The world number 20 was good for her 2-0 lead too, continuing to trouble Williams and threaten a double break, whilst holding her own very well to keep her opponent at bay.
Yet, midway through the first set, the Williams that the world has come to know and boundlessly respect, the one with 20 Grand Slam titles and an Olympic Gold Medal, burst onto Centre Court and broke back to get the match back on serve at 4-4.
She was putting her opponent under pressure in points, adding that little bit more to her serve to prevent Muguruza from returning so well, and had really switched on now - unforced errors and double faults put to the back of her mind.
The Spaniard did well to keep her cool, replying to Williams' raised game with some consistently deep shots that kept the American on her toes at the back of the court, but she was unable to fend her off for much longer in this form as the pressure was piled on, forcing her to gift the world number one a break and set point via a double fault - one which Williams took to win the first set 6-4.
Williams races ahead in second set
Muguruza simply needed not to beat herself up about losing the first set, as she would certainly be disappointed having started so brilliantly. The 21-year-old had played some lovely tennis thus far, and she needed to reach these levels once more if she wanted to fight her way back into the match.
Things started well for her in the second set as Williams was put under pressure in her first service game, however, she managed to hold on and would break Muguruza in just her second service game of the set to take a 3-1 lead.
This quickly became 4-1 and 5-1 as Muguruza really rushed herself to try and match her opponent's tempo, but this didn't help her at all and instead hindered her, with her forehand in particular proving to be extremely inaccurate now and her serve nowhere near as deadly as it was when the match began.
Williams was quick to take advantage as she earned herself three break points, taking the very first to have the opportunity to serve for the Championship.
Incredible fight-back by Muguruza all in vain
However, there was still some fight left in Muguruza and just moments after being broken to love, she did exactly the same to Williams, winning four successive points to prevent the American from taking the title there and then, instead at least prolonging the match and giving herself a glimmer of hope in it.
Still, she was serving to stay in the match next, with the score still favouring Williams at 5-2. The confidence gained from that break was evident though, whilst her opponent seemed to be slightly disheartened as she made some sloppy errors to allow Muguruza to hold, forcing the world number one to serve for the match again.
Williams' composure was still lacking too as she committed her eighth double fault of the match to lay a foundation for Muguruza to build upon - with a delightful passing shot, that her opponent even applauded, and a fizzing return giving the Spaniard three break points to remarkably get the set back on serve.
The American rose to these pressure situations, serving two aces on her way to her first Championship point, but Muguruza saved this before seeing five break points, amidst another match point for Williams, and taking the fifth to narrow her opponent's lead to one of 5-4, with the Spaniard next up to serve.
Yet, the pressure of serving to staying in the match again was just too much this time for the 21-year-old, with Williams' determination proving dominant as she forced three break points and won the match on an unforced error to clinch her sixth Wimbledon title.
Both players showed incredible character throughout the match and certainly played out one of the most exciting finals in recent years - even if it didn't go all the way.
Some of the points played were simply incredible and the way the momentum continued to swing between both women was so unpredictable and enthralling, with the crowd just wanting more and more.
Now though, the attention switches to the US Open for Williams and that elusive Calendar Grand Slam - even if she does not wish to discuss it.