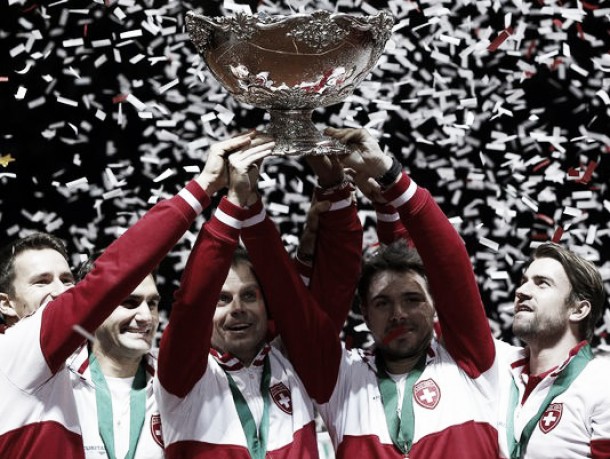 This weekend sees Great Britain and Belgium meet in the Davis Cup final, to be held in Ghent on red clay. Many observers seem to turn their nose up at the Davis Cup, saying that it's irrelevant, or that the on-and-off participation of the top players renders it less interesting as a tournament. Here's why they're wrong, and the Davis Cup is a crucial part of the tennis season.
'Team tennis' brings a different challenge
In what is otherwise almost exclusively an individual sport, the team setting that the Davis Cup provides is both exciting and intriguing, in that we don't know how players will react to a situation where they're not just playing for themselves. Some raise their game in the pride of playing for their country, whereas others don't deal well with the added pressure that comes with the fact that others are relying on a good performance form them. This gives the ties a unique feel that any result is possible - witness Great Britain's run to the final, or Khazakstan's now 6-year presence in the World Group, despite not featuring a single 'big name' in their team.
It can also give lesser-known players a chance to shine, with fans who had never previously heard of them cheering them as passionately as all of their favourite players. This can lead to some surprising results - just ask John Isner, who let a two-set lead slip against unheralded James Ward earlier this year in front of a partisan British crowd.
Different format adds interest
Yes, ok, the overall competition is in the form of a knockout, just like all tournaments but the World Tour Finals. But each individual tie shows us something completely different from the knockout format we see almost every week of the year. Within a tie, the same player can slip to a horrifying loss, but still end up winning the tie for his country two days later, or indeed notch a fantastic win, only to lose a crucial rubber later in the weekend.
It's also interesting to see how a top singles player can claim two fantastic victories, only to see his team lose the tie. There are ties where a defeat is an expected part of a team's victory, or where a victroy is an expected part of a team's defeat.
It's good for there to be something a little different in the calendar - as mentioned earlier, playing as part of a team forces players to think differently about how they approach a match, and this extra challenge can only be good when it comes to watching the matches.
A bigger focus on doubles
Doubles is, unfortunately, so far behind singles in terms of promotion and popularity that describing it as singles' 'little brother' almost seems too generous. It's very easy for the casual fan to ignore it altogether, perhaps paying a little attention when one of their favourite singles players teams up with someone.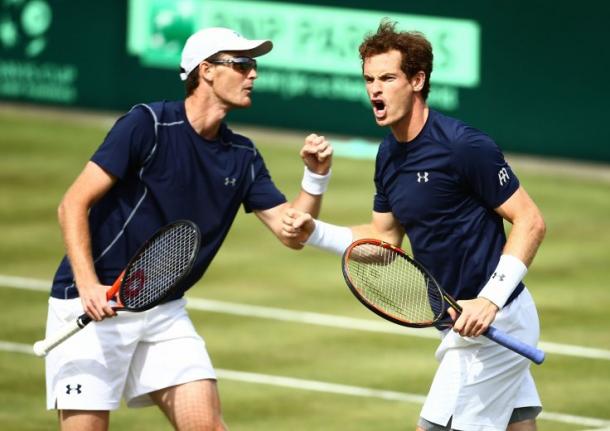 The Murray Brothers have flourished in Davis Cup doubles (Source: IBT Times)
And it's true that even during the Davis Cup, singles is worth four times as much as doubles. But in a close tie where both teams have evenly matched singles players, the doubles is absolutely critical. This makes it a feature of the weekend in a way that no other event manages (bothers?) to do, and this can only be a good thing. Doubles often requires different skills to be successful than singles, and the flurry of fast-paced net rallies or constant dropshot-lob combos are no less spectacular than the punishing baseline rallies currently prevalent in singles.
The doubles rubber can be a vital part of winning a Davis Cup tie - we should celebrate an event that draws people to the less popular but no less entertaining format of the sport.
Davis Cup crucial part of the tennis season
The tournament is one of the oldest competitions in world sport, and the biggest anual global sporting competition. The different situations it puts players under, the added excitement of ties being best of five matches instead of the ususal lose-and-it's-all-over, the importance of the doubles match - all of these things make the Davis Cup an incredibly valuable part of the tennis season. Losing, or diminishing in any way, the Davis Cup would leave the sport very much weaker.
Stay tuned to VAVEL over the next few days for all of our build up to the huge Davis Cup final as GB take on Belgium. We'll be bringing you more reviews of all the action, more previews and more indepth discussion.
You may like our review of the World Group action - https://www.vavel.com/en/tennis/571130-davis-cup-world-group-review-belgium-and-great-britain-defeat-the-odds.html