On Sunday it will have been 364 days since Nico Rosberg made the mistake during the United States Grand Prix, that handed team-mate Lewis Hamilton a third world title, and second in succession.
Since the incident, where Rosberg lost traction and ran wide, on lap 48, he has been the driver to beat. In the 20 races since the 2015 race, Rosberg has won 12 of them, and seemed at times, invincible.
A victory this weekend will put him at least 40 points clear of Hamilton, with just 75 left to drive for, and a growing interior feeling that he can emulate his father, Keke and become Formula One World Champion.
If Rosberg an win at a track Hamilton has won three times at, maybe the doubters will finally start to believe in the German, who would be a fine and deserving World Champion, having been at Mercedes since their comeback to F1 in 2010.
However, the Mercedes duo have a much bigger fight than they did in 2015, with Red Bull ever closing in, and their own Power Units, currently prone to going bang or pop.
Form Guide
There was talk, after the Belgian Grand Prix, that despite Rosberg winning, Hamilton coming from P21 to third was a better result, losing just 10 points to his team-mate. However, Rosberg has been immense since F1 returned from its summer holidays, himself dropping just 10 points, third in Malaysia, whilst Hamilton has had umpteen problems, with his car and starts. He is in the last chance saloon.
Last year, in the torrential rain, it was Red Bull who took the fight to Mercedes, with Daniel Ricciardo and Danill Kvyat vying for the lead alongside the Mercs, before the track dried and the Silver Arrows escaped up the road, this year with a improved Renault (Tag-Heuer) Power Unit, they'll be hoping to maintain a challenge to the W07 Hybrid.
As is often the case in Formula One, when you count a team out, they'll often pull something out of thin air. Although Ferrari haven't won a race this year, and for most parts of it haven't looked liked doing so, their performance in Japan two weeks ago gave the team a much needed boost.
With Kimi Raikkonen looking as confident as he has done so since he returned to Maranello in 2014, it has often fallen to him this year whilst, Sebastian Vettel has endured a mini Annus Horriblis, his run of one podium since Azerbaijan, in Italy, in 10 races was something he didn't even manage in his final year at Red Bull.
He will be hoping for a strong end to 2016, before building a consistent challenge in 2017.
Force India look to be finally winning the battle for fourth in the standings against Williams, who have switched most of their attention to 2017, whilst McLaren will be optimsitc of a result, owing to the fact that Suzuka's medium speed corners didn't match their package's strengths.
An American team will also line up at a US Grand Prix for the first time in nearly 30 years, when Romain Grosjean and Esteban Gutierrez take the Haas out, hoping their strong pace at Suzuka will translate to some much needed points.
What happened last year?
Austin was battered with hurricane that washed out Saturday, led to qualifying on Sunday morning and the race of the season in the afternoon.
Rosberg was unhappy with Hamilton's slightly aggressive move into T1, barging him down to the midfield. As the track dried, there was a rush for slicks, but Hamilton would seemingly have to wait to claim his third world crown, as after the second stops, which he hadn't made yet he was second, but Kvyat crashing lut brought out the Safety Car with a few laps left.
Eight laps from home, on the first flyer after the SC had gone in, Rosberg made his crucial error exiting T15, which led to Hamilton cruising home to the win, and a third world title.
Oh, and Rosberg threw his P2 podium cap back at Hamilton after he 'passed' it to him in the pre-podium room. Vettel claimed yet another podium for Ferrari with third.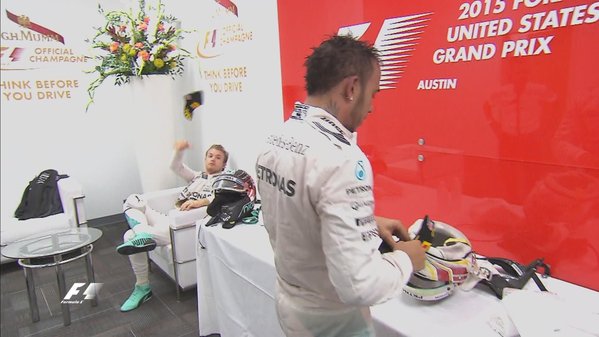 Where will there be some overtakes?
Since it arrived in 2012, the Circuit of the America's (COTA), has given play to some amazing overtaking moves.
T1 is a great place to attempt a move, seeing as the rise to the apex, which is 30m+, allows multiple lines to be taken through it, you can go wide and get the cut-back, or hug the inside and try to block.
In 2014, ​Pastor Maldonado pulled off a brilliant move into T1, allowing him to score his only two points of the season.
Although the esses don't allow for overtaking, they can set up a move. In 2012, Vettel's Red Bull came across Narian Karthikeyan['s HRT in the fast. following segment, which finally allowed Hamilton's McLaren to get close enough down the back-straight to make a move for first, into T12.
The T13-15 complex can allow for some brilliant side-by-side action, with there usually being some ontact during the opening laps at T15, as someone dives for the inside, catching their rival off-guard.
DRS will be in action along the pit-straight, and the back-straight, between turns 11 and 12.
What tyres are Pirellii bringing?
It's the Softest range bar one in Austin, with the SuperSoft being the softest available, with the Soft and Medium tyres on duty, there is no mandatory use of the hardest compounds, as was the case with the Hard's in Malaysia and Japan.
Interestingly, Ferrari have opted just to bring the required single set of mediums, stocking up on the SuperSofts with seven sets, to Mercedes and Red Bull's six sets each.
​​Will it rain?
The weather in Texas is forecast to be dry, with temperatures expected to be in the low to mid 30's on race day. A thunderstorm could hit on Thursday morning, which may leave the track damp in patches as the cars head out for FP1.
​​When is it on?
Action in Austin will be seven hours behind the standard European times, with FP1 underway at 16:00pm on Friday afternoon in the UK. Qualifying will start at 19:00pm on Saturday, with Sunday's race getting underway at 20:00pm UK time.
As ever ​Sky Sports F1 will be showing live coverage of every session, with ​Channel 4​ having a comprehensive highlights package late on Saturday and Sunday nights for freeview viewers.
First Pratice - Friday - 16:00pm - 17:30pm
Second Practice - Friday - 20:00pm - 21:30pm
Third Practice - Saturday - 16:00pm - 17:00pm
Qualifying - Saturday - 19:00pm - 20:00pm
Race - the 56 laps of the 2016 United States Grand Prix get underway at 20:00pm on Sunday evening UK time.
All times UK.