Andy Murray has become the Wimbledon champion for the second time after defeating Milos Raonic in straight sets, 6-4 7-6 7-6. The world number two gave a masterclass in returning as he claimed his second Wimbledon crown and third Grand Slam title.
After Novak Djokovic's shock defeat in the tournament's third round, Murray had become the clear favourite for the title, a first for the Scot, but he dealt with the extra pressure that that perhaps brings superbly. Playing in his 11th major final, Murray was facing a lower-ranked player for a Grand Slam title for the first time, and took full advantage.
Underdog Raonic dangerous opponent for Murray
Raonic, one of the sport's biggest servers, was expected to pose a stern test, having led Murray in both their Australian Open semifinal and Queen's finals earlier this year. The Canadian's tennis this year has silenced those who claim his serve is his only strength, and impressive comeback victories over David Goffin and Roger Federer underlined his form and the danger he poses to all opponents.
However, he had no answer to Murray's outstanding return skills and impenetrable defense in a match which only really ever looked like having one winner.
The first set featured the match's only break of serve, in the seventh game. A couple of loose shots from Raonic along with a trademark backhand pass from Murray created two break points at 15-40, and he forced a volley error from his opponent to take an important lead. Surprisingly, Murray was having an easier time on his service games than his big-serving opponent, and despite being taken to deuce in the very next game, the Scot had little trouble serving out the set.
Murray's return game outstanding
The warning signs were already there for Raonic, Murray with the more impressive serving stats as he won 34% of points on return. Raonic had been averaging around seven aces per set so far in the tournament, and to have his biggest weapon somewhat blunted so early on left him with a sizeable mountain to climb.
The Canadian was playing well, though, charging the net at every opportunity and making good use of his heavy groundstrokes to keep himself in the match. Despite Murray's skills on the return, Raonic's huge serve was doing enough damage to keep him in contention.
The pattern of the match continued in the second set, with Murray continuing his excellent return work while shutting Raonic out of his own service games. The world number two even managed to win a higher portion of points on first serve return than second serve, but was unable to take any of his four break points, and the set headed to a tiebreak.
Murray rock solid in crucial tiebreak
Murray had been the better of the two players throughout the set, but the danger of facing a big server in a tiebreak was all too apparent, just one mistake on his own service points potentially losing him the set.
However, the 2013 champion was able to continue his top return form to take two minibreaks and a 5-0 lead in the tiebreak. It was an advantage he would not relinquish, taking the set moments later.
The mountain Raonic had to climb after losing the first set now looked like a molehill in comparison to the task now facing him. Murray was in control of his own serve, applying constant pressure to his opponent's, and beginning to punish Raonic's many trips to the net, with nine passing winners in set two alone.
Second tiebreak clinches Murray's title
The only two break points in set three appeared this time on Murray's serve - Raonic's first of the match, earned with a crunching second serve return. Unfortunately for the sixth seed, Murray held from there with ease, winning the next four points in a row. For the most part, neither player looked much like breaking serve, and the set again headed to a tiebreak.
This tiebreak looked much the same as in the previous one, Murray dominating from the start to once again open up a 5-0 lead. Once again, this was an advantage too big for him to relenquish and he held firm to serve out the set, and with it his second Wimbledon title.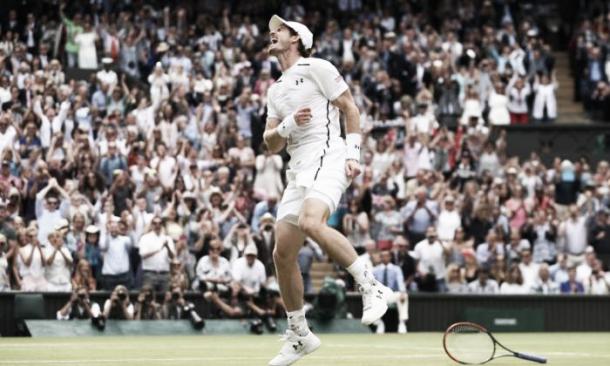 Proud Murray delights in impressive victory
The Scot roared his delight, fist pumping wildly, before returning to his chair, sobbing into the towel with the emotion of the occasion. The now three-time major champion explained how his win felt "extra special" due to his "tough losses" at the tournament. "I'm proud to have my hands on the trophy again", he continued.
Raonic, coming to terms with defeat, was hungry for future success - "it's been a phenomenal two weeks", he said, adding "there's nothing I want more than to be back here".
Such is Raonic's drive, and improvement so far this year that it would be a surprise should we not see him back in a major final sooner rather than later, surely a Grand Slam champion of the future.
Today, though, belonged to Murray, who will head to Rio to defend his Olympic title with renewed confidence.
As he spoke of his desire to enjoy his second Wimbledon victory more than he'd allowed himself to his first, his delight was clear to see.
It's seemed a long time coming, but finally Murray is a Grand Slam champion once again.