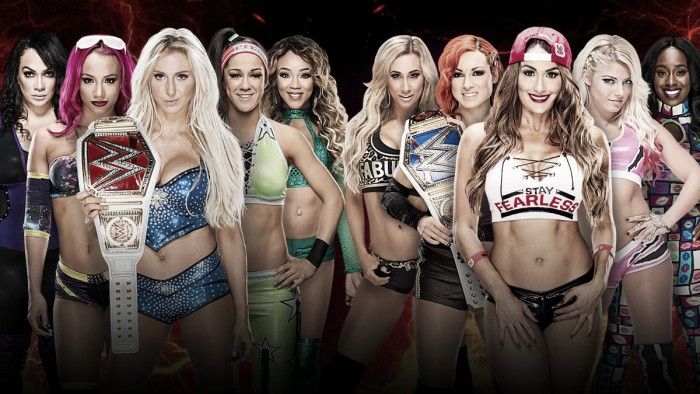 Do you remember the days of extremely short women's matches, where they wouldn't be given any microphone time and would simply be used as models or to provide fans with a toilet break? Thankfully, that is all a thing of the past and it now seems so long ago that fans and the wrestlers had to endure through that, largely down to how fantastic women's wrestling has been in recent years.
The shift was gradual and not always perfect, but change doesn't come overnight and when you look at the landscape of women's wrestling today it is safe to say we will never be returning to what it once was. The women's evolution has been the greatest thing WWE has done in a long time, creating countless new stars and exciting feuds and matches that will go down in wrestling history. However, regardless of all the positive changes, and perhaps it is simply this writer being greedy for more, but it seems like this evolution can still improve and that women's wrestling has got lots of room to grow, and these are five ways in which it can.
1. Main event another special
Now, we are all aware that this has happened both in NXT and on the main roster, most recently at Hell in a Cell when Charlotte and Sasha Banks stole the show with an incredibly impressive main event match inside the steel. But, much like the NXT's iron women stipulation or the main event on Raw between Charlotte and Banks which was a no disqualification match, they all have one thing in common- a stipulation.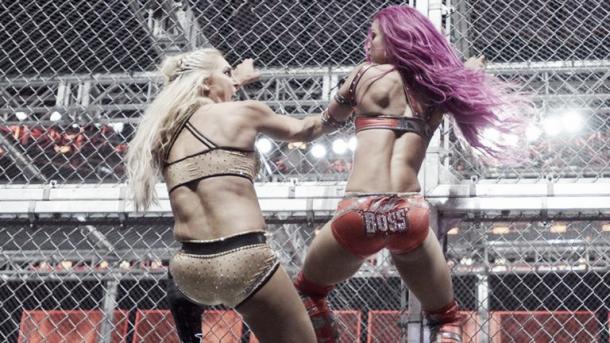 Since the evolution began we have yet to see two women main event a live special without any props or stipulations to help sell the match, and that is exactly what the women's division needs. A main event match with no stipulations, just a simple wrestling match that is built around a good story that fans have invested into. They have the talent to pull off great matches as well as characters that fans deeply care about, so all that is missing is creative taking a gamble and booking it.
Their male counterparts get this opportunity on a regular basis at special events, so why not give the women the chance and show the faith the company has in them? Whilst at the same time, proving once and for all they are all equal and of the same value. Of course, women's wrestling doesn't need to main event every special show, but neither does the men's wrestling, it is simply a case of when the story is right, give it a chance.
2. A focused single's feud at WrestleMania
A total of 10 women were involved in two rushed matches at WrestleMania 33, in a show where the fans had to fight to get the SmackDown Live females on the main card instead of the pre-show. That doesn't scream a women's evolution, rather just the WWE feeling the need to please everyone and throw as many women on the card as if to say 'look at us, we have a fantastic women's roster.'
It is understandable that they would want to get everyone on the card for the biggest show of the year, they all deserve the payday for the hard work and dedication they put in, but it does take away from how special the match is when everyone available is simply thrown into the match. Sometimes, less is more, and in this case, it certainly rings true.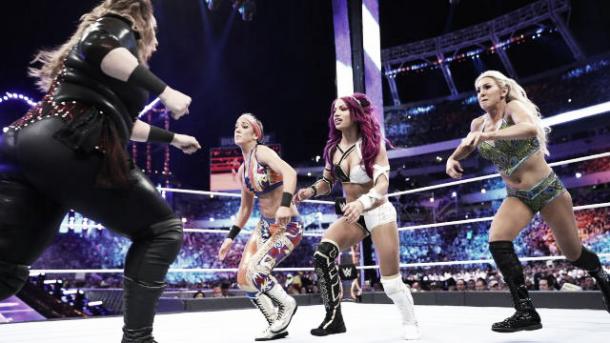 For the past two WrestleMania's the WWE has had triple threats or fatal four ways, and that is something that should change heading into WrestleMania 34. Whilst there is room for perhaps a six women tag, to get more people on the roster, it would be great to have a well-built singles feud that is full of emotion that the fans can really invest in.
3. Move Asuka to the main roster
It doesn't matter if it is Raw or SmackDown Live, the WWE needs to move Asuka to the main roster. She has served NXT well and NXT has done the same for her, allowing her to become accommodated in the American style, whilst she has carried the division on her back from the minute she arrived, but now is the time for them to part ways and the sooner the better.
There are countless potential dream matches for her just waiting for her with the likes of Charlotte, Emma, and Alexa Bliss and her star power can help elevate the entire division to new heights. She is totally unique from anything on the roster and her mystique and charisma will make her an instant hit on the main roster.
2. Women's Money in the Bank
WWE has begun giving the women opportunities in stipulations in recent months, and even though earlier this writer pushed for fewer stipulations in the main events that does not mean there shouldn't be any. It is entertaining to see the women compete in more extreme situations and a women's Money in the Bank could certainly be fun.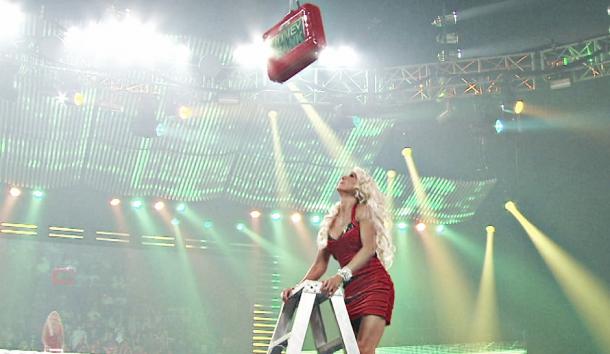 It is a match that fans have debated over for several years but now that the WWE has women who are so talented and with large fan bases it seems like the perfect time to do it. Of course, there doesn't have to be as many crazy spots, but these women are talented enough to put on a match that could easily steal the show.
Imagine placing four of the top women from both rosters in a fun way to have them connect without being drafted, with the winner getting a shot at either title whenever they please. Not only will it give the winner a storyline away from the Women's Championship, it offers a potential draft and a chance to shake things up at some point away from the official yearly draft, which could create a fun moment for the fans at a special event.
1. Make the Women's Tournament a success
WWE has officially announced that a Women's Tournament will be taking place during the Summer, in a similar set up to the CWC, featuring 32 women from around the world. This is a golden opportunity to put women's wrestling on the map in a global way, have them be the sole focus and center of attention, make stars from some of the top independent wrestlers in the world and establish feuds between some of the current roster members.
Just like the CWC and the WWE United Kingdom Championship's have proven, wrestling fans love a tournament and when it is booked correctly, it can be an unforgettable experience. WWE have had two tournaments recently and have had success with them both, learning on the way. The need to invest some story and emotion is key whilst keeping them serious and meaningful at the same time.
With women from around the world coming into the tournament, it also provides a chance for WWE to bolster their rosters on either the main roster or NXT and if they had a surprise winner, it could elevate them to stardom. This is a golden opportunity that WWE has created for itself, now the pressure is on to make sure it works as the benefits could be enormous.