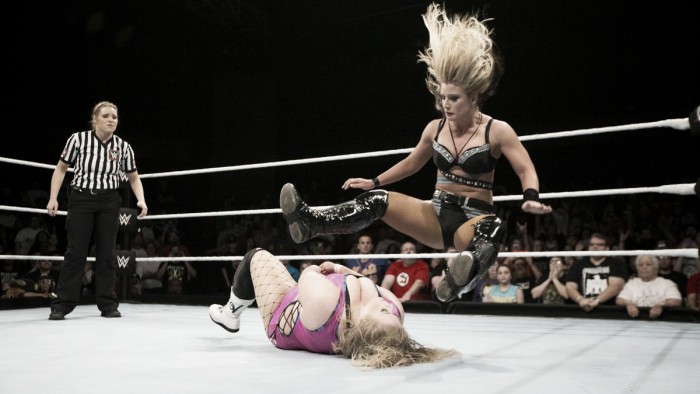 The Mae Young Classic continued with episode seven, featuring the four Quarter Final matches and with only four spots left there was everything to fight for as the intensity and drama were taken up another notch in the quest to crown the inaugural Mae Young Classic winner.
Abbey Laith vs Mercedes Martinez
The first Quarter Final match was between two experienced wrestlers and Mercedes Martinez showed plenty of aggression and physicality in the bout early on, but she was quickly matched by Abbey Laith's agility, something that has been in play from the First Round. Laith also showed her own aggressive style after taking several chops by unleashing several of her own which she realised was necessary to match Martinez.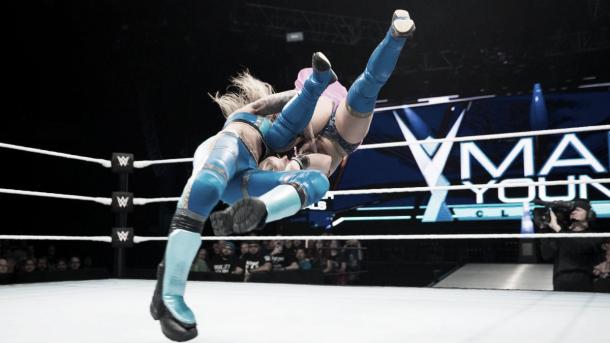 Laith continued to bring the fight to Martinez, diving from the top rope to take her out on the metal grate, both just making it back into the ring to beat the 10 count. Despite the best efforts of Abbey Laith, a Fisherman Buster was enough to grant Martinez a place in the Semi Finals after her most impressive outing of the tournament, but Laith displayed three great matches during her time in the show.
Winner: Mercedes Martinez
Candice LeRae vs Shayna Baszler
Arguably Shayna Baszler's biggest test so far comes in the Quarter Finals as she clashed with the experienced and highly talented Candice LeRae in a real mix match of styles. Right from the start, the Four Horsewomen member hit LeRae with a knee, but she smartly learned the second time to move, sending her to the outside before hitting a Suicide Dive which she turned into an incredible DDT on the outside.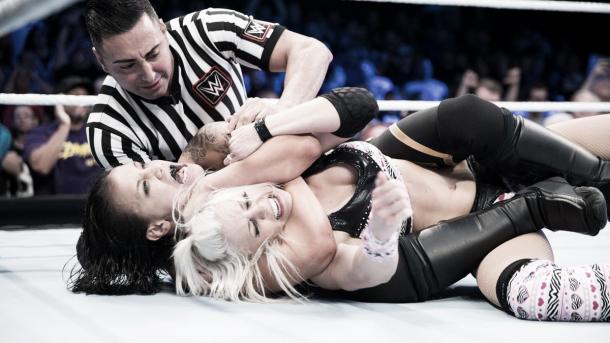 Candice then attempted to hit Miss LeRae's Wild Ride and she was caught mid jump into the Sleeper Hold which brought a quick end to this match in dominating fashion. Baszler then kept the hold locked in to gain some real heel heat, but the way she turned that into the submission so quickly just shows how her matches can end at any moment, making them truly exciting and MMA like.
Winner: Shayna Baszler
Toni Storm vs Piper Niven
The third Quarter Final was another one that saw two very different styles and sizes compete with Piper Niven much bigger and stronger than her more agile opponent, Toni Storm. Both ladies had impressed until this point and there was a clear respect between the pair right from the beginning, even though Storm mocked Niven with the little punch that the Scot has done throughout the tournament, she quickly impressed with her strength and battle.
Both ladies traded pinfalls which led to a double bridge escape with a handshake, but Storm's next bridge would lead to her being squashed as Niven dropped upon her, letting Storm know she was still in a Quarter Final match up.Storm then attempted the Hip Attack that has served her well, but that was avoided with Niven aiming for a Cannonball which was also avoided with Storm then hitting the Hip Attack to great effect.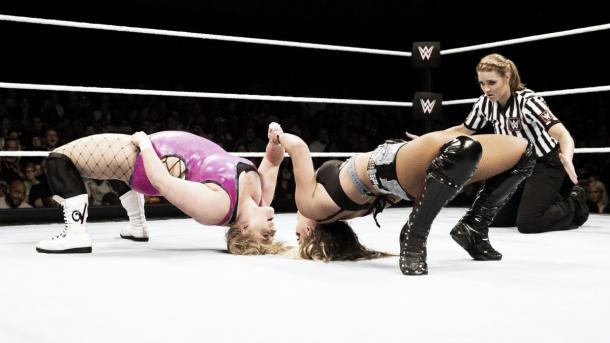 Niven quickly reacted landing the Piper Driver which we have seen earn Piper the victory in the previous rounds, but not this time as Storm kicked out. Niven then looked to drop from the second rope but Storm grabbed and hit her with a major Suplex before a Leg Drop from the top rope to pick up a huge victory after a brilliant, closely fought contest.
Winner: Toni Storm
Kairi Sane vs Dakota Kai
The final spot in the Semi Finals was up for grabs in episode seven's main event between two athletes who have really impressed so far during the tournament. This match was full of strikes and chops right from its inception and Dakota Kai really impressed, matching Kairi Sane move for move, until a huge spear from the Pirate leveled Kai.
However, Dakota battled back and it looked like she had her Double Foot Stomp ready, but Sane managed to avoid it which damaged Kai's knee and provided an opening for Sane to hit a forearm. Kai once again missed with a big boot, damaging the knee again and this set up the Elbow Drop which secured Sane a place in the Semi Finals.
Winner: Kairi Sane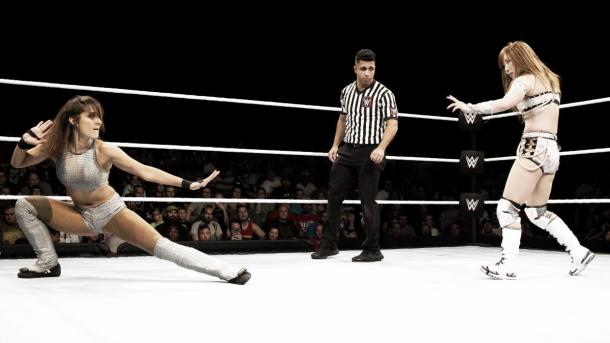 The Quarter Finals were, once again, impressive with four very enjoyable matches that all varied in styles and length which is exactly what you expect from a tournament. Both Piper Niven and Abbey Laith really did themselves proud with their performances throughout the entire tournament and looked good in defeat, whilst all the winners make sensible choices for the final four which should lead to two great matches in the Semi Finals.
Match of the night: Piper Niven vs Toni Storm
Star of the night: Toni Storm