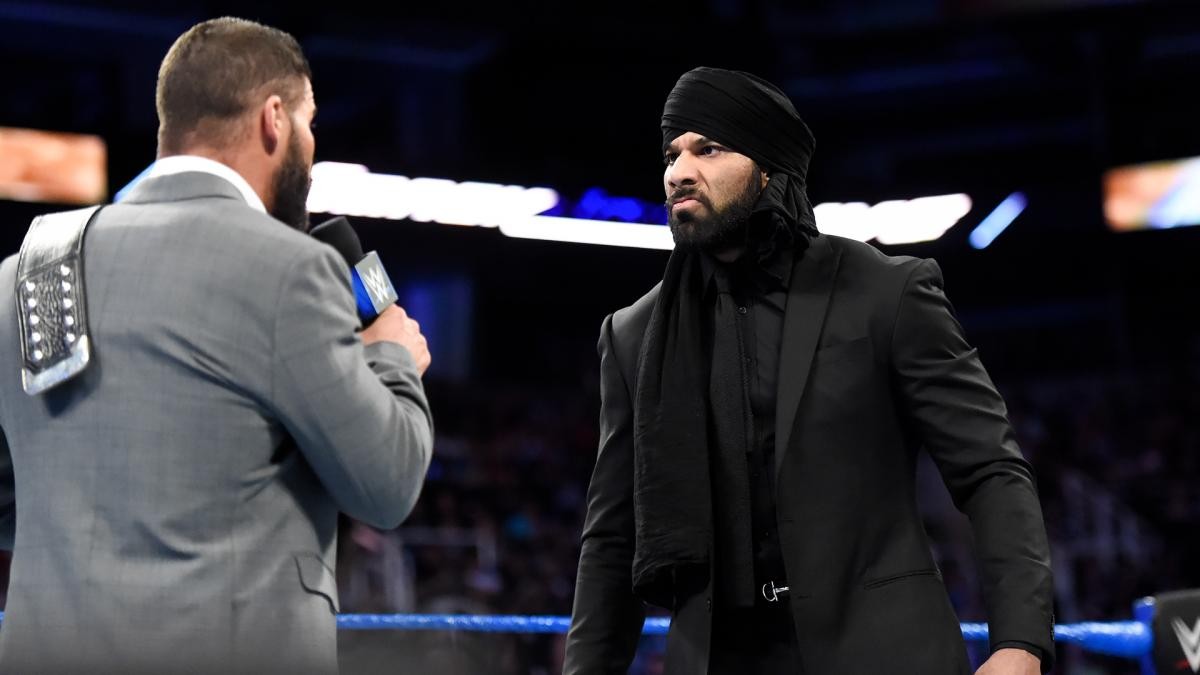 Being a star in the WWE is similar to that of Hollywood. A wrestler could be in the spotlight and the crowd will love it or hate it. A wrestler could be on top of the world and get shafted the next day. Some wrestlers manage to make it work out for them that they become legends and no matter how big or small their role is the crowd will always love them. Fans have seen loads of wrestler come and go in WWE with such a short tenure that some long time fans don't even remember them. One wrestler that has shown to have passion to persevere is Jinder Mahal.
Barely reaching a glass ceiling
Jinder Mahal started his career in WWE as the "brother in-law" of the Great Khali, whom he would have his first feud with on the main roster. Mahal would continue having a mid-card status until eventually falling into the low card category. During the end of Mahal's first go around in the WWE he would join a faction with Heath Slater and Drew McIntyre known as the 3MB. The faction lacked momentum and would end upon the release of McIntyre and Mahal from the company. Some would assume that this would be the last that they saw of Mahal in a WWE ring, but Mahal would prove everyone wrong.
Return with an evolution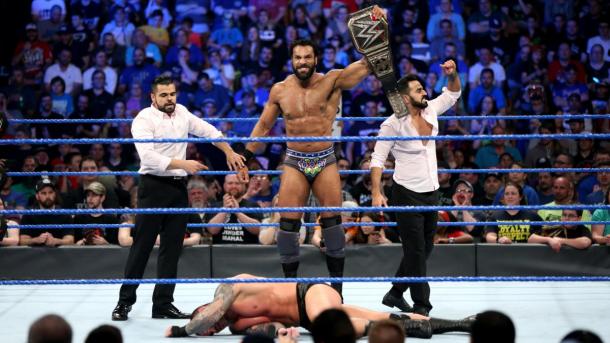 Mahal pursued a short lived independent career before resigning with WWE in July of 2016. Upon his return, Mahal's career began to skyrocket. Within a year after his return, Mahal had a short alliance with Rusev, was runner up in the Andre the Giant Memorial battle royal and became the WWE Champion. Jinder Mahal held the title for 170 days before losing it to AJ Styles.
A dissolving push?
Some say that Mahal dropping the championship was due to him acquiring an injury but that remains a rumor. When asked if Mahal should be worried about losing his push by Sam Roberts, Mahal stated: "I wasn't worried at all. A lot of people say 'It's disappointing you got the push.' No I didn't get the push, I made the push. I believe that every WWE superstar is in charge 100 percent of his own destiny. It's up to me. You know, you drop the title, you win the title, but that's part of the storyline. That match I had with AJ Styles, even though I lost the title, it's not like I lost the match, I really did win. I had an awesome outing, awesome match, came back and got a big hug from Vince."
Since then Mahal has entered a race to win the United States Championship. Sam Roberts also questioned Mahal about this new venture in his career and wondered if Mahal felt it was a demotion for him. Mahal responded with, "No, it's not. It's the United States Championship. I'm still on SmackDown, on the live events I'm still in a main spot, and that's up to me to maintain that level. You know, maintain that level of performance and that's 100 percent up to me. If you see me fall down the card, it's my own fault. If I'm staying at this level, it's because of the hard work that I'm doing and I ultimately will become WWE Champion again. I 100 percent believe that." Mahal clearly has no plans to leave his spotlight any time soon.