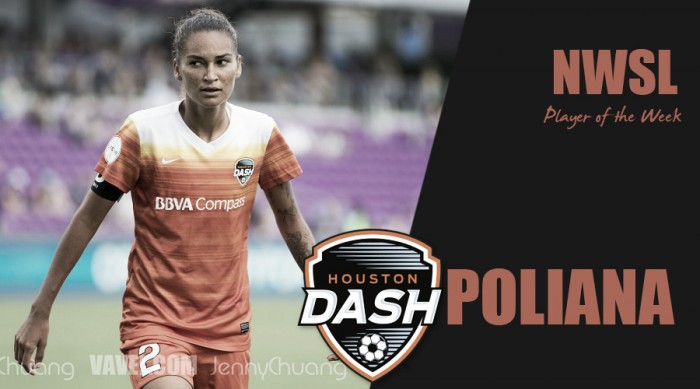 The league announced today that Houston Dash defender Poliana has been named Week 10's NWSL Player of the Week by the National Women's Soccer League Media Association.
The Brazilian international tallied two assists last Saturday when the Houston Dash broke their six-game losing streak as well as the Orlando Pride's unbeaten home streak. Poliana is currently leading her club with three goals, and she has started in five games for Houston so far this season.
The 26-year-old has been with the Dash since 2016, when she signed as a discovery player in January. She made her debut in their home opener against the Chicago Red Stars. The defender scored her first goal for the club against the Orland Pride on September 4. She made a total of 15 appearances for the Dash in her first year, starting in every single one. In 2016, she was also part of the Brazil Women's National Team squad that compete in the 2016 Rio Olympics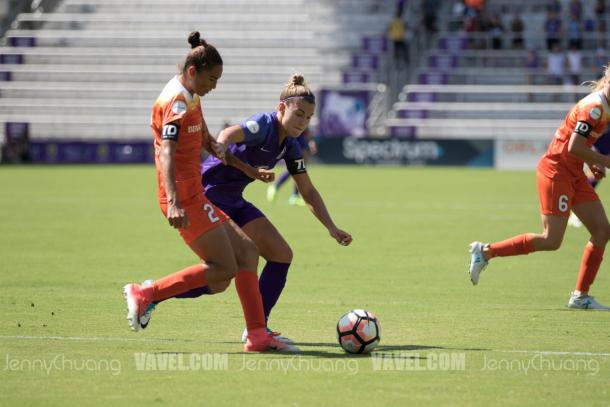 Interim head coach Omar Morales said, "She's been great for us and brings a lot to this team. With the style that we play - we feed off the way she goes forward, we are excited that her hard work was recognized and I'm sure she will continue to have an impact, beginning tomorrow against Boston."
Poliana and the Dash are back in action on Wednesday, June 28, when they host the Boston Breakers. Kickoff is schedule for 9 PM Eastern Time and will be streaming on the go90 app as wella s the NWSL website.
Quotes courtesy of houstondashsoccer.com
Previous Winners
The NWSL Player of the Week is selected each week of the regular season by the NWSL Media Association, a collection of writers that cover the league on a consistent basis. For more information on the NWSL Media Association.