FC Kansas City saw the Houston Dash at Swope Soccer Village in Kansas City to conclude the final match for both teams of the NWSL season. The Blues ended the season with 30 points and stand in seventh place while the Dash stand right behind them in eighth place with 23 points.
Kansas City came out with a strong lead in the ninth minute and midfielder Desiree Scott crossed the ball to the right side of the field to forward Maegan Kelly who headed the ball into the right side of the net past Dash goalkeeper Jane Campbell. Kelly's early goal brought assurance to the Blues with a score of 1-0 for the first half of the match.
Pressure from both sides
The Dash continued to put forth all their efforts to see a goal and in the 42nd minute, Houston defender Cari Roccaro dribbled the ball up the left side of the field and passed the ball to Rachel Daly who made an attempt to head the ball in but fell to the left side of the goalpost. Another opportunity occurred when forward Nichelle Prince dribbled the ball to the box and then passed it through the legs of Kansas City goalkeeper Nicole Barnhart. Defender Sydney Miramontez made an amazing save and cleared quickly from the Dash seeing the back of the net.
Ten minutes in the 53rd minute, Prince passed the ball from the far left side of the box to Kristen Mewis, who passed it to Daly on the right and scored the first goal to equalize the score 1-1. The Blues were close to seeing another goal when Scott passed to Leroux, who took a shot on the Dash goal but was saved by Campbell.
The match continued with pressure and in the 89th minute, defender Camille Levin gained the ball from Shea Groom of Kansas City. Levin passed a give-and-go ball to Sarah Hagen and with Barnhart out of the box, Levin took a shot straight on Barnhart, who made one of the final saves of the match. Five minutes of stoppage time were added, but the score remained at a 1-1 draw.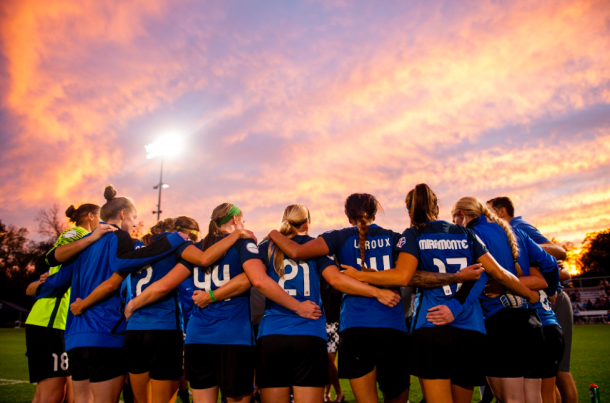 Possible concerns to impact the teams for the 2018 NWSL season
This season has brought about several changes for both teams and one main concern involves the head coach position. The contract for Vlatko Andonovki, Kansas City head coach, expired at the end of this season. With former head coach Randy Waldrum parting from the Dash this past season, assistant coach Omar Morales has come to the conclusion of his position as the interim head coach.