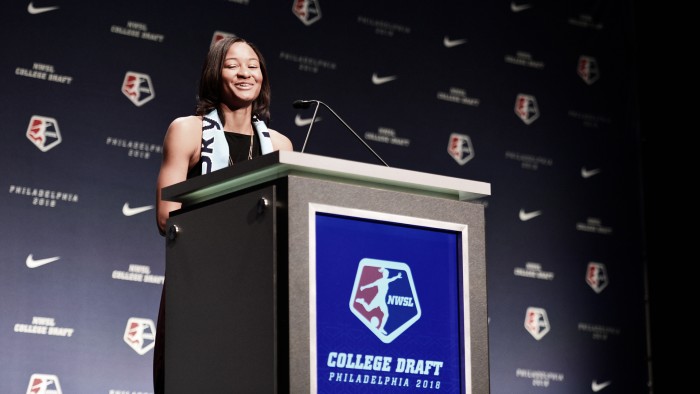 After the exciting end of the 2018 NWSL College Draft, Sky Blue FC adds five players to their roster over four rounds. Sky Blue looks to add Michaela Abam, Imani Dorsey, Amandine Pierre-Louis, Casey Murphy and Kiana Palacios to their roster.
Sky Blue originally had three draft picks, but a trade was announced during the draft that leads them to get the Houston Dash's pick,(6th). The trade sent the number six and number 24 pick to the Chicago Red Stars plus two players to be named later and the number seven pick, an international slot and a player to be named later to Houston. The Red Stars sent the number six and number 13 pick to Sky Blue plus three players to be named later. The details of that trade were released earlier this morning. The players being sent to Chicago from Houston were USWNT international Carli Lloyd and Canadian international Janine Beckie. In return, Houston received USWNT forward Christen Press. The trade between Sky Blue and Chicago saw Jen Hoy, Lloyd and Beckie going to Jersey, and Sam Kerr and Nikki Stanton going to Chicago.
Needed Players Were Drafted
Coming out of the 2017 NWSL season, Sky Blue was looking for a change in their roster. The team was looking to add more defence to the offensive powered team.They found that change in their draft picks. They first selected Michaela Abam out of West Virginia University. The forward/midfielder was apart of the US Youth National team during her high school career. The staff then had the fifth and sixth overall picks, which they used to draft forward Imani Dorsey from Duke University, defender Amandine Pierre-Louis from Quebec, Canada. They also drafted goalkeeper Casey Murphy out of Rutgers University, and forward Kiana Palacios from UC Irvine.
Micaela Abam, Forward/ Midfielder, West Virgina University
The Houston native joins Sky Blue after an amazing senior season at West Virginia University. During her high school career, she was ranked number three in the Texas region, as well as number six overall nationally. During her freshman year, she earned Big-10 newcomer of the year. She also scored her first goal, which was also the game-winning goal in the match against Duquesne. Abam finished season ranked number one in Big 10 Conference in points and goals, and number two in assists. The forward is versatile, as she is able to play as a forward, midfielder and a defender. Sky Blue could get some use out of her, and could even pair her up with Shea Groom.
Imani Dorsey, Forward, Duke University
Imani Dorsey is one of the five players to get drafted from Duke University. During her freshman year, she started 16 out of 18 that she played in. Her senior year, she was apart of the squad that made it to the semi-finals in the NCAA Women's Soccer Tournament against UCLA, who went on to win in penalty kicks. She also lead the team in goals with 14, ending her career with Duke with 60 goals scored. Dorsey could be the link between the forwards and the midfielders for Jersey this season.
Amandine Pierre-Louis, Defender, West Virginia University
Amandine Pierre-Louis joins WVU teammate Abam on the Sky Blue team. The defender hails from Quebec, Canada and is one of two players to get drafted from WVU. She sat out her freshman season, but she decided to redshirt her freshman year. During that season, she saw three goals and two assists in the 21 matches she appeared in. In her junior year, she was moved to outside back and started in all 27 matches which she tallied 2,405 minutes. Put her in the back with Christina Gibbons, Kayla Mills and Erin Simon and you got yourself a great backline.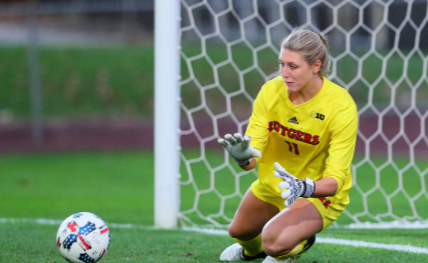 Casey Murphy, Goalkeeper, Rutgers University
It was kind of a surprise to see Sky Blue draft a goalkeeper, considering the fact that they have Kailen Sheridan and Caroline Casey. The New Jersey native red-shirted her junior year due to the Under-20 Women's National Team at the 2016 FIFA Women's U-20 World Cup in Papua New Guinea. During her career at Rutgers, she saw 29 goals against in three seasons. In 2017, she ended her college season with 16 shutouts and only allowing six goals in 21 matches. Murphy is a good pick for the New Jersey team, but just today it was announced that she signed with Montpellier in France.
Kiana Palacios, Forward, UC Irvine
Palacios had an great collegiate career. In her freshman year she started in 14 in the 15 matches she appeared in. During those 15 matches, she scored four goals, which included a three-match goal streak from September 7th to the 14th. During her sophomore year, she lead the team in goals with five, started all 19 matches. Her senior year was by far her best. She scored six goals, assisted six goals and had three game-winning goals. At the international level, she plays with Mexico's U-20's, helping them to the semi-finals in the 2016 U-20 Women's World Cup by scoring three goals. She has been called up to the full team just last year. She appeared in the match against Canada in February and Sweden in July. Palacios could be a key player in the front line since Kerr has been traded.
The NWSL season is expected to kick off on March 24 and 25th.