 The 2018 SheBelieves Cup continues on Sunday with round two of the round robin style tournament. England and Germany will face off as the second match of the day. England will look to continue their dominant streak after earning a thrashing victory over France on Thursday. Meanwhile, Germany hopes to bounce back after a 1-0 loss to the hosts of the tournament, the United States.
England in excellent form
Perhaps the most overlooked team in this tournament, England have come out extremely strong after match day one. They put on quite the show to begin this year's SheBelieves Cup, and could be strong contenders for next year's 2019 Women's World Cup in France.
They dominated throughout the majority of their match against Germany, and despite a few knocks and minor injuries throughout, they looked near top form. With a new head coach, Phil Neville, England looks to be a powerful force within the coming months. Both old and new were able to put on a show for fans despite the dismal conditions at the time of the match.
The most important thing for England going into this match is to not grow too complacent. Complacency is what led France to at least get one back before the end of the match. A shutout will be in England's mind as they face off against the Germans.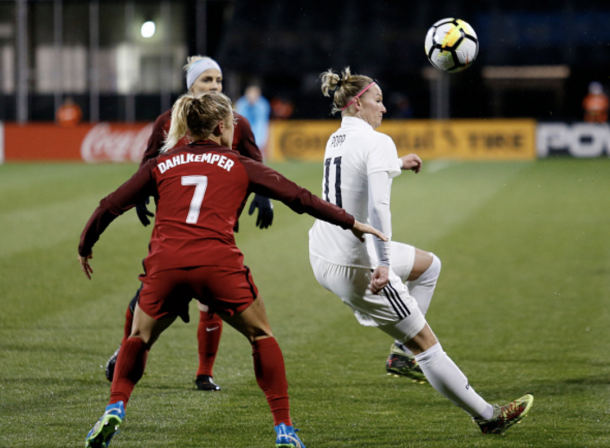 Germany need to win
There are a lot of questions to ask about Germany after 2017 and even after their match against the US. Germany did have a few opportunities against the hosts, but were unable to produce a goal before time ran out. They have not won a single match up against the US within the past three SheBelieves Cup match ups.
Despite the loss, Germany still has a chance to pick themselves back up and get back into the tournament. In last year's Cup, they also fell to the USWNT, but were able to re-collect themselves a for second place finish. They look to earn a win over England for the second consecutive year of tournament play.
There are plenty of young players for this Germany squad, and it will be a true test for them to see how well they can compete against other top ranked teams during this tournament. Although the result against the US was not what they hoped for, there is still time for them to be able to find their rhythm and style again as the World Cup approaches next year.
England and Germany face off in the second day of matches in the 2018 SheBelieves Cup tournament on Sunday, March 4. Kickoff is scheduled for 3 pm Eastern Time at Red Bull Arena in Harrison, New Jersey and will be aired on ESPN3.