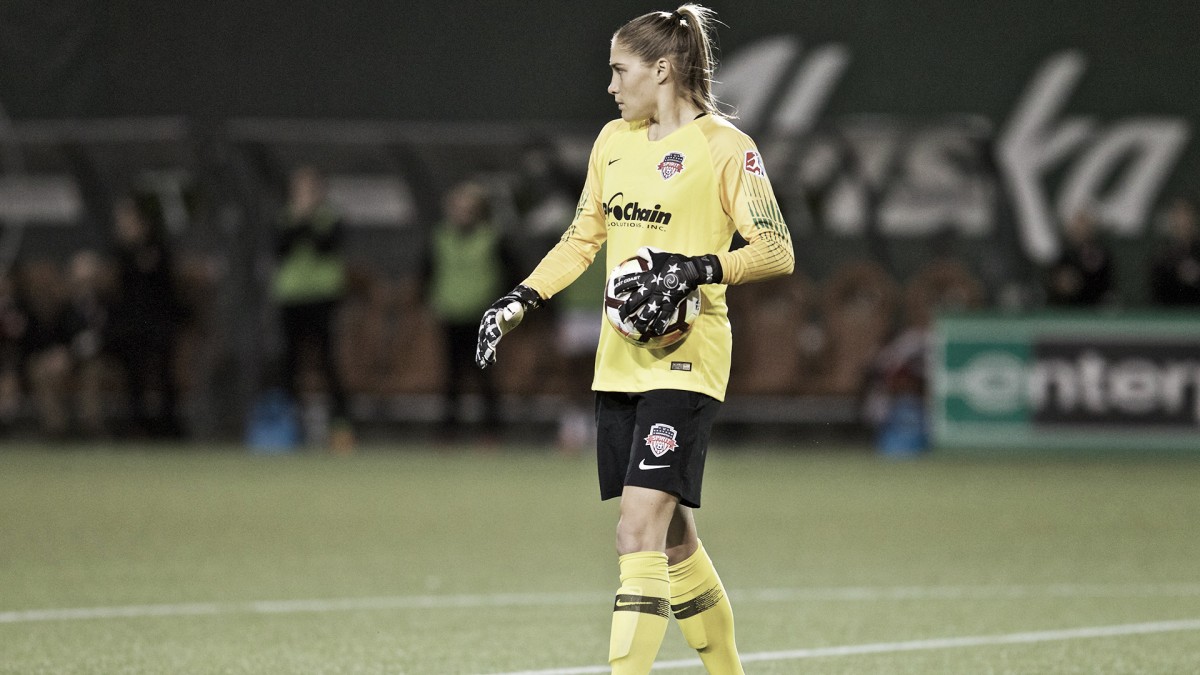 Four North Carolina Courage players highlight the NWSL Team of the Month for April. The team is voted on by the NWSL Media Association for the best performances per month. The Washington Spirit also had four players named with Utah Royals, Portland Thorns and Chicago Red Stars rounding it out with one each.
Defensive power
Spirit goalkeeper Aubrey Bledsoe made the list after earning Save of the Week back-to-back- the first for a saved penalty kick and the second for a diving save against Chicago. Bledsoe made 15 saves in three games and helped her team earn two points to close out the month.
The back four was highlighted by Jaelene Hinkle and Estelle Johnson and USWNT players Becky Sauerbrunn and Emily Sonnett. Hinkle not only had 12 tackles and six interceptions for the Courage, but also created nine offensive chances. Johnson had 22 clearances, eight interceptions, three tackles and four blocks in the month and made a key save to earn a draw against the Thorns. Sauerbrunn helped the Royals with six interceptions and clearances, one block and three tackles. And Sonnett recorded 12 interceptions, three tackles, one block and two interceptions.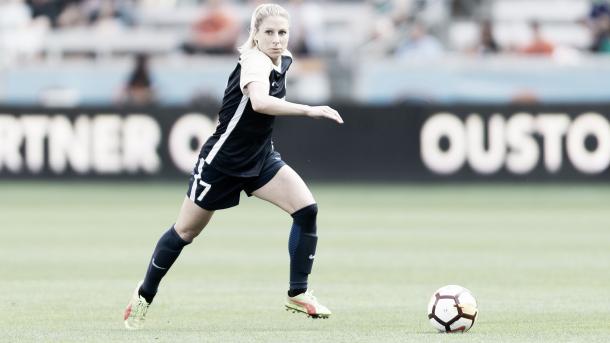 Midfielders and forwards lead the way
The three midfielders named were Sofia Huerta of Chicago and Crystal Dunn and McCall Zerboni of North Carolina. Spirit forwards Mallory Pugh and Francisca Ordega and Courage forward Jessica McDonald round out the list.
Huerta, who was named player of the week for week four and player of the month for April, had two goals, six shots on goal and nine chances created. Dunn had three goals and an assist and Zerboni had two goals, was named player of the week twice, and recorded 18 interceptions and 14 tackles defensively leading the courage to a 3-0-1 record for the month.
For the forwards, Ordega has scored three goals in three straight games for the Spirit and also won 11 tackles on the defensive side. Pugh scored a goal and tallied an assist, adding three chances created and a 76.8% passing accuracy. McDonald scored a goal, added two assists and created eight chances for the Courage.