This is the second time Washington Spirit will travel to Utah Royals FC. Tailles from Kelley O'Hara and Diana Matheson helped take down Washington for Utah's first win in franchise history. Currently Utah Royals FC are in the playoff hunt in sixth place (6W-6L-7D) with 25 points, 4 points off the last playoff spot. With a win, Utah can draw even with the Chicago Red Stars for fifth place in the NWSL table. While Washington is out of the playoff race, in eighth place (2W-13L-4D) with 10 points, will try to play spoiler.
Utah back on track
Forwards Christen Press and Katie Stengel scored in Utah's comeback win against the Houston Dash last Sunday. Stengel continues her hot streak and now leads the team with four goals. Press scored her second goal of the season since coming back to the NWSL from Sweden. Duo defenders Becky Sauerbrunn and Rachel Corsie have been outstanding as of late. Corsie has earned Save of the Week for Weeks 17 and 18 and earned a spot on Team of the Month for July. Sauerbrunn has lead the Utah's backline to the third lowest goals against in the league with 19. Only North Carolina Courage and Seattle Reign FC have less goals against. Sunday against the Dash was veteran goalkeeper Nicole Barnhart's third start of the season in releaf of the injured Abby Smith. Smith may make her return to goal as she is not listed on Utah's injury report. If Smith is not in the starting lineup, Smith should be available off the bench. Sunday's victory over the Dash broke Utah's four game winless streak and jumped over Houston for the sixth spot in the standings.
Utah Royals FC injury report:
OUT: Alex Arlitt (left knee strain- Season Ending Injury), Makenzy Doniak (left knee ACL tear- SEI), Mandy Laddish (right hip contusion - SEI), Kelley O'Hara (right hamstring strain)
QUESTIONABLE: Desiree Scott (right quad strain), Elise Thorsnes (left hamstring strain)
Washington playing spoiler
With the playoffs out of reach, Washington will look to ruin Utah's drive to the post-season. Last Sunday, Mallory Pugh made her return to the Spirit in the second half against Seattle. Pugh has been out of the lineup due to a right PCL sprain suffered on May 27. Washington's young midfielders Rose Lavelle and Andi Sullivan reunited with Pugh for the final 21 minutes in Seattle. Look for the trio to spend more time on the field as they get back into form. 2017 Rookie of the Year Ashley Hatch leads the team in goals (4), shot on goal and shot attempts. Defender Estelle Johnson has been the backline's workhorse leading the league in clearances (106). Goalkeeper Aubrey Bledsoe still leads the league in saves (85) despite not starting Washington's last match against Seattle. Backup goalkeeper Didi Haracic, who took over for original backup Kelsey Wys, made her first start last week making four saves in the loss. Washington Spirit will look to break a six game losing streak and try for their first win since May 23.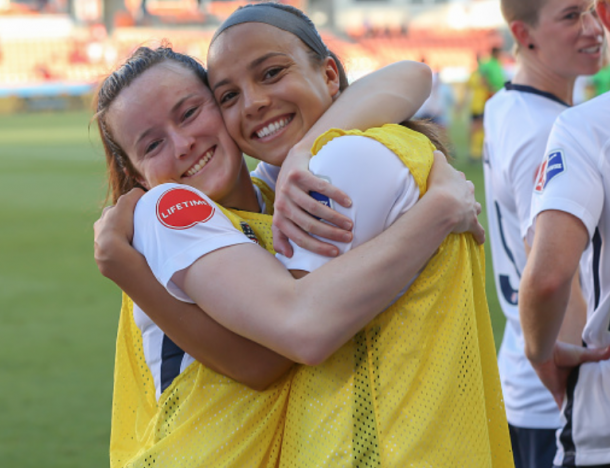 Washington Spirit injury report:
OUT: Estefania Banini (right MCL sprain), Cheyna Matthews (pregnancy), Tiffany Weimer (left knee Baker's cyst - D45), Kelsey Wys (right knee meniscus scope).
Utah Royals FC vs Washington Spirit can be seen on NWSLSoccer.com and on the NWSL app at 10:00 PM EST.