 Coming into the Monte Carlo Masters, Italian tennis player Fabio Fognini is making a comeback from injury. The last event that the current world number 31 has played was in late February at the Rio Open, where he retired in the round of 16 to Spaniard Daniel Gimeno-Traver 6-4 1-3 due to his injury. The Italian has suffered from a nagging abdominal injury since.
He shared his thoughts on his recovery process in an interview with Italian newspaper La Gazzetta dello Sport: 'I had pain to do anything: eat, speak, go the bathroom. At the beginning I was not in a good mood. It was very painful, I had to stay three weeks sat on the sofa doing nothing.'
The Italian has also taken to social media several times to update fans on his condition.
Making His Comeback
Now after seven weeks of absence from tour, the flamboyant Italian is making a come back at one of his favorite tournaments in Monte Carlo. He faces off against friend and compatriot Paolo Lorenzi in the first round tomorrow.
Fognini and Lorenzi also played as doubles partners today with the former Australian Open champion falling in a tight 6-1, 6-7(5), 10-8 match to Treat Huey/Max Miryni on the first day of main draw action.
He shared his thoughts on returning at this Masters 1000 event on his beloved clay courts.
'Maybe it would have been better to start over from an easier tournament but I am quite calm. Obviously I don't have big expectations. How am I now? I have to serve faster, but it's normal after the injury I come from. Mentally I remain a little bit influenced but in general I have good feelings.'
Thoughts on Djokovic
Fognini was also asked if world number one Novak Djokovic could win this year's Roland Garros event. Here are his thoughts: 'In our sport you have always to look to a tournament after the other. Paris surely is a bull's-eye of Nole, who recently seems unbeatable. It looks like recently he can realize all his dreams. At least from the tennis point of view. When he seems tired, he always gets some magic, he always gets his level up in the right moment.'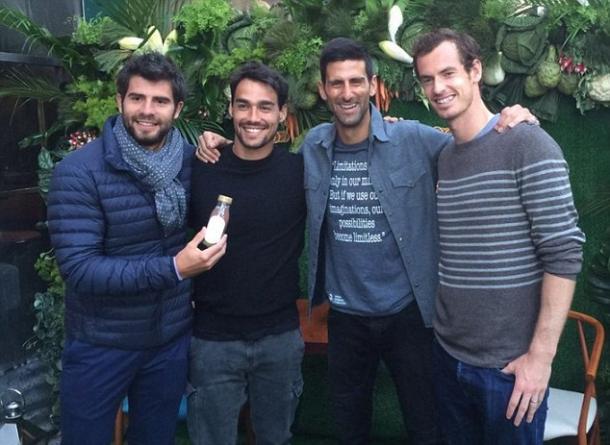 The Italian showed admiration for his friends amazing accomplishments. If he plays well he could set a possible third round clash with Djokovic here in Monte Carlo.