The tickets were sold out and the Court Millennium was packed. The people came to Estoril enjoying some tennis and their national holiday. As there were two Portuguese players playing today, the crowd went crazy and cheered for her home players that were not able to surpass their challenges.
Court Millennium
The journey on the Court Millennium started with the match between Leonardo Mayer and Pedro Sousa. The rgentine took the victory in straight sets 6-1, 6-4 and is through to the second round.
At 3 p.m. GMT, the Portuguese wildcard Frederico Silva faced the former ATP world number nine, Nicolas Almagro. The experienced player won in straight sets 6-3, 6-2 and will now face fourth seed and local player, João Sousa. This will be their first ATP Tour meeting as they played each other in Spain on the national teams championships. Almagro said at the end of the match: "I'm very happy and confident on my game. I'm fit and we'll see, you never know, this sport it is a little bit different than the others, sometimes you need to win and you lose, sometimes you need to lose and you win and well, we'll see, you never know."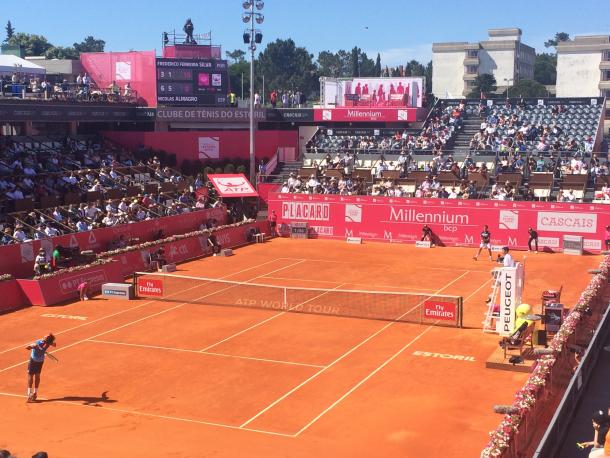 To finish the day, Borna Coric defeated Andrea Arnaboldi 6-4, 6-1 and will play the winner of Rogerio Dutra Silva and Benjamin Becker. The Croat talked to the press at the end of his match: "I played well. It was a hard match but not very hard so I thought I could practice after the match, I'm very fit." When VAVEL asked about his girlfriend being here with him, he answered and joked a little bit: "My whole team is here except my dad. It's a very nice tournament so I decided we should all come. My girlfriend is here and it's very nice. It's a nice city and we can go for a drink at night or for a walk. Having my girlfriend is a good thing because I'm a very jealous guy and it's good she's not far [laugh]." When asked about a possible title here he said that, "It's a very long way, I just won my first match. I'm playing some good tennis but it's a long way."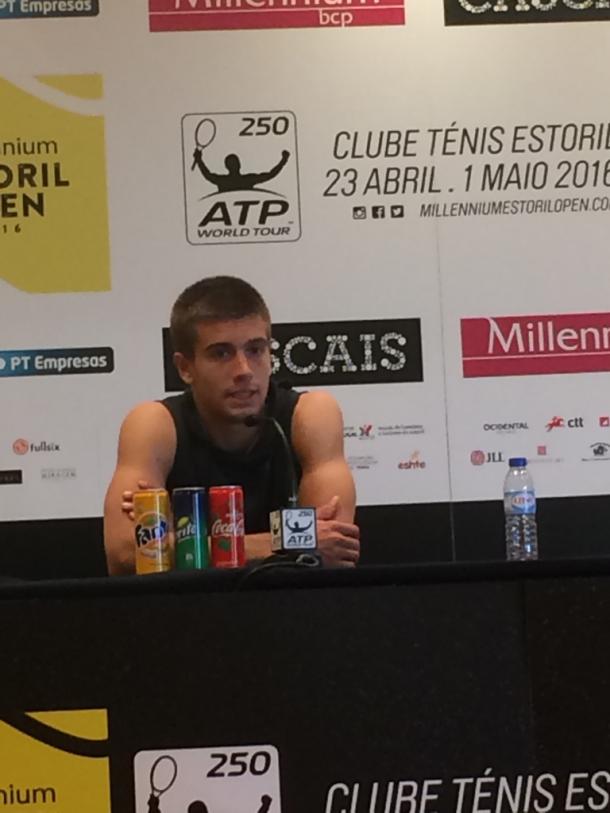 The doubles main draw matches started today as well, and the debutants were the first seeds Lukasz Kubot and Marcin Matkowski who defeated the doubles pairing of Taro Daniel and Daniel Gimeno-Traver. The first seeds found themself in trouble but were able to take the match in a thrilling final set tiebreak. They won 5-7, 6-1, 11-9.
After the doubles debut, Stephane Robert, a qualifier, defeated Thomas Fabbiano in straight sets by a double 6-2. Stephane Robert is going to face in the second round, the winner of Guillermo Garcia-Lopez and Michael Berrer.
At the end of the journey on Court Cascais, the local players and alternates Pedro Sousa and Rui Machado faced Pablo Carreno Busta and Inigo Cervantes. In the end, the Spanish powerhouse won 6-4, 6-2.
Tomorrow
Tomorrow will be a day with a lot more more matches. The day will have eight singles matches and two doubles matches.
Court Millennium
Guillermo Garcia-Lopez and Michael Berrer will be the first players to step up on court. Guillermo Garcia-Lopez was a semifinalist here last year losing to the eventual champion, Richard Gasquet. The Spaniard will try to improve is record here and maybe get the title. This will be their sixth meeting. Garcia-Lopez leads their head to head 4-1. They haven't met each other since 2011 at the Australian Open.
Next up will be Gastão Elias and Paul-Henri Mathieu who will fight for a place on the second round and for a chance to play the first seed, Gilles Simon. This is going to be their fourth meeting with all the victories falling to Mathieu's side. they never met on an ATP World Tour main draw. About the match, Gastão Elias that entered the top100 for the first time today, said to the press that he is going "try not thinking a lot about the top 100 debut and focus on tomorrow's match".
"I arrived here with five consecutive victories," said the Portuguese. He also said: "It's going to be a tough match, I already lost to him three times but this time it's different because I'm playing at home and that's going to be a motivation for me. I know him very well."
The last singles match on the Court Millennium will featured Paolo Lorenzi and Elias Ymer, an ATP rising star who qualified to the main draw by defeating Franko Skugor this past Sunday.
To end the day on the main court, will be played a doubles match between the local wildcards Felipe Cunha-Silva/Frederico Gil and Eric Butorac/Scott Lipsky, the fourth seeds.
Court Cascais
Kyle Edmund and Daniel Gimeno-Traver will fight for a place on the second round to start the day on Court Cascais followed by Daniel Munoz de la Nava vs Inigo Cervantes.
The third match of the day on this court is going to be a doubles match between Johan Brunstorm/Andreas Siljestrom and Kyle Edmund/Frederico Silva, a doubles team contemplated with a wildcard.
Last match on Court Cascais will oppose Roberto Maytin/Miguel Angel Reyes-Varela and Borna Coric/Franko Skugor.
Court 3
In addition, Tuesday will feature matches on Court 3 as well. The day starts with Benjamim Becker vs Rogerio Dutra Silva followed by Taro Daniel and Steven Diez.
To finish the matches on Court 3, Jonathan Erlich/Colin Fleming battle against Marin Draganja/Aisam-Ul-Haq Qureshi.