 World number seven Garbiñe Muguruza progressed to the third round of the Australian Open after beating Samantha Crawford 7-5, 6-4. The Spaniard has never progressed past the fourth round in Melbourne Park despite her success at other Grand Slams and will be hoping to build on her good start.
Muguruza overcomes wobble to claim first set
The American, known for her big serving and powerful game, opened up the match by serving but Muguruza immediately brought up two break points as she looked to start well. Crawford was able to save one but an excellent Muguruza winner which hit the baseline clinched the perfect start. Crawford had an opportunity to immediately break back but Muguruza fended off the break point and held after deuce.
Crawford looked like she would get herself on the board at 30-0 but Muguruza won four straight points to give herself a 3-0 lead. Her injury that was worrying her in her first match was not apparent and she was cruising. Crawford was determined though and brought up two break points at 15-40, which she took the first of to get herself on the board at 3-1. Her serve was now firing and she held to love before bringing up three break points on Muguruza's serve, but the Spaniard was able to save all three. Crawford got another opportunity after the deuce and this was taken to level at 3-3.
Crawford was now firing and opened up a 30-0 lead in the next game before Muguruza came back to have a break point at 30-40, which was saved. The seventh seed brought up another break point and Crawford also saved this, before clinching the game after multiple deuces. Muguruza had a more comfortable hold to 15 in this competitive set, which was underlined again as Crawford held but only after multiple deuces like her previous service game. Muguruza held to 30 before manufacturing a break point opportunity at 30-40 which she was able to take to be in a position to serve for the first set at 6-5. She had a set point at 40-30 but served a double fault before taking her second set point after the deuce to claim the first set 7-5.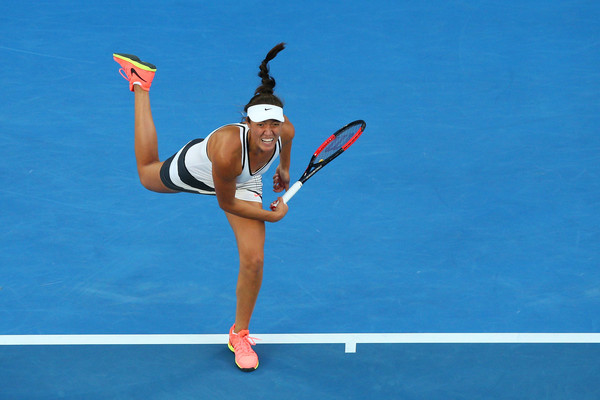 Muguruza edges tight second set to clinch win
The second set started with the American serving and for most of the set, there was little opportunity for either player to make a breakthrough. For the first eight games, neither player had a break point and only one of the service games went to deuce. Both Crawford and Muguruza were being patient and biding their time. The first opportunity came on Crawford's serve with the score at 4-4. Crawford had edged ahead at 40-30 but Muguruza was able to force deuce. Crawford had another opportunity to hold serve but Muguruza leveled again and brought up a break point. Crawford then served a double fault at the most inopportune of moments to leave the Spaniard serving for the match. Muguruza brought up a match point at 40-30 and she only needed one to clinch the match 7-5, 6-4.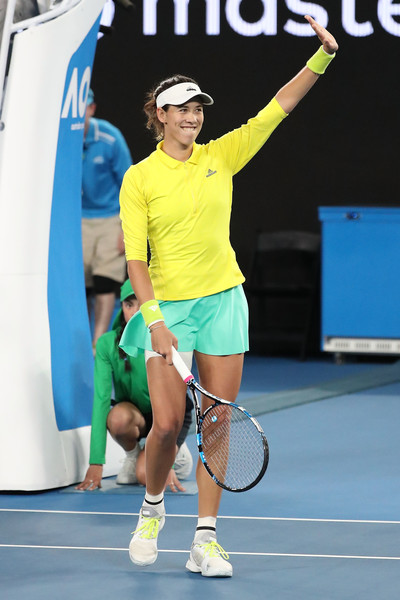 Garbine Muguruza will play Anastasija Sevastova in round three after the Latvian beat Kristina Kucova. The Spaniard has matched her performance of last year and will have aspirations of reaching the latter stages of the tournament. Crawford won her second Grand Slam match, after reaching the second round of Wimbledon last year, and will be looking to build on this for a successful year ahead.