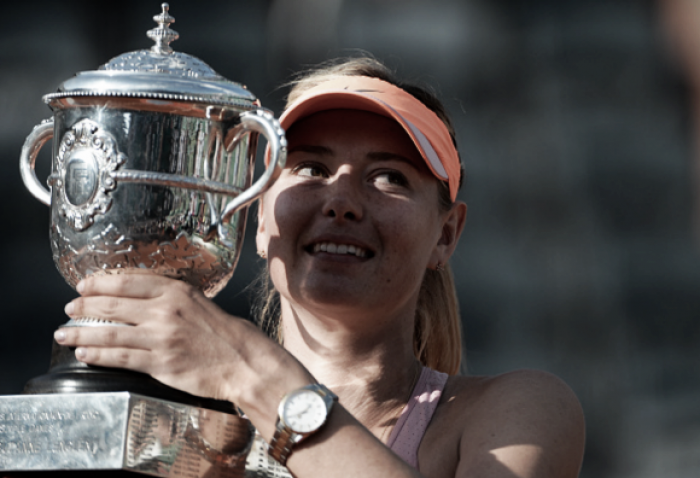 As we found out earlier today, Maria Sharapova will not be receiving a wild card into the French Open; this includes both the main draw and the qualifiers. Due to this, the Russian will now have to look forward to the grass season and Wimbledon.
The writers of VAVEL USA gathered to discuss their thoughts on the two-time champion not receiving a wild card, if she will receive a Wimbledon wild card, how she will fare for the grass court season, and more.
What are your thoughts on the French Open to not grant Maria Sharapova, a two-time champion, a wild card to the event?
Oliver Dickson Jefford: I was very surprised when I saw she had not received a wild card even into qualifying. It's certainly a very brave decision and I can understand why they have made this choice.
Pathik Gamana: I think it is unacceptable for the French Open to deny a former two-time champion a wild card to at least the qualification stage.
Tevon King: I think the FFT are showing a strong stance. However, I have been critical of Sharapova but I guess once your time is up, everyone deserves a second chance.
Max Gao: As a longtime supporter of Maria, I can certainly understand why the French Tennis Federation would want to protect their image and deny her the wild card after this whole fiasco but I was incredibly surprised that they denied her any sort of wild card, even to the qualifying draw. And the fact that they offered those wild cards to French players who have barely made a huge mark on the ITF Pro Circuit was just a huge, indirect slap on the wrist.
Ayushi Thakur: I think it sends out the right message and I think it took a lot of courage for them to come up with that decision too(especially since they're anyway lacking a lot of star power this year). Just because a person is a former champion at a place, it doesn't necessarily mean that they should be assured wild cards.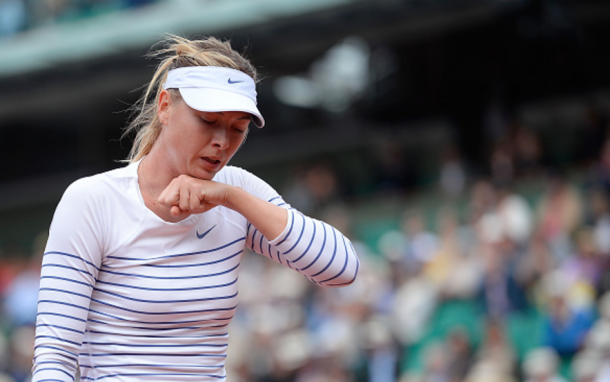 Now that she has to go focus on Wimbledon, do you think she will get a wild card into the All-England Club?
PG: Well, last year Wimbledon did say that they would welcome her back but that was too soon as her ban hadn't been fully confirmed by that stage, so I think that they should stick with their word rather than follow the French and not give her one.
ODJ: Her ranking is now high enough for her to make the qualification rounds at Wimbledon I believe, so I don't think she will be given a wild card into the main draw. The tournament directors are probably thankful, however, that any decision they make will be under less pressure than what the FFT were facing.
PG: Just because the media are slamming her, doesn't mean All-England Club should listen to them. The British media slam most people who dope.
AT: Not anymore, since she's already been assured a place in the qualifiers, so the all England club might just take the easy way out and not announce wild cards of any kind for her. Plus, there's been a lot of controversies lately surrounding it, with people like Murray reiterating that she shouldn't be given wild cards.
MG: That's true, Pathik. They obviously always get the final say, but as one of the most scrutinized figures in our sport in the last 14 months, it's very possible that the All-England Club will take the easy way out like Ayushi said and deny her a wildcard to the tournament that is considered the most prestigious event in all of tennis.
TK: I do think Sharapova will get a wild card into the main draw at Wimbledon as the British players who continue to get wild cards into the main draw, are not making a lot progress and are not competing regularly at WTA events.
MG: I believe the All-England Club is less biased when it comes to this situation, from what I've seen, so I can only hope that they'll stick to their senses and give her a wild card.
AT: But Tevon, that's the same with the French players who've been given wild cards into Roland Garros too. Alize Lim has been given wild cards thrice already, and she's not won more than 5 games in each of those tournaments, so the quality of players being given the wild cards isn't very high.
ODJ: I know the AEC have denied this, though the fact that spectators will have to pay £5 to watch the Wimbledon qualies this year, and that they have limited the number of people who can come into 1000, suggests to me that she will be playing the qualifiers.
MG: Yeah, that's what gets me every time, Oliver. The All-England Club will also be looking to make this decision from a financial standpoint, mind you.
Frenchman Constant Lestienne received a wild card despite serving a ban for gambling on the sport. Do you think gambling and doping should receive an equal level of punishment? Why or why not?
TK: Both offenses bring the game in disrepute. Gambling to fix matches is not right but doping to have an advantage over your opponents is a worse offense. As I previously said I was initially against Sharapova for what she did but she's served her time and she is entitled to return. However, it seems odd that Lestienne gets a wildcard for committing an offense and Sharapova doesn't.
AT: While both doping and gambling harm the integrity of the game, doping disturbs the physical equality of the matches etc and gambling doesn't really have such an impact on the other players (except for monetary benefits to the player themselves).
ODJ: Absolutely. In this case, I believe that Sharapova made a genuine mistake, whilst you can't accidentally place a bet on your sport. Lestienne should be being made to work his way back into the sport, not get an instant chance to play at his home Grand Slam tournament.
PG: Both offenses are bad but like Tevon said earlier, people deserve second chances only if they won't bring the game to disrepute again. Although in Maria's case, she made a genuine honest mistake while Lestienne fully knew what he was doing betting, so just because he's French doesn't mean he should be given a wild card, he should be made to work to earn that wild card.
MG: I agree with almost everything Tevon said. Doping is clearly the bigger offense, but Sharapova's use was ruled unintentional. Also, I still find it troubling that someone whose best result was losing in the final of a small ITF event would be able to get a wild card, even if he is French.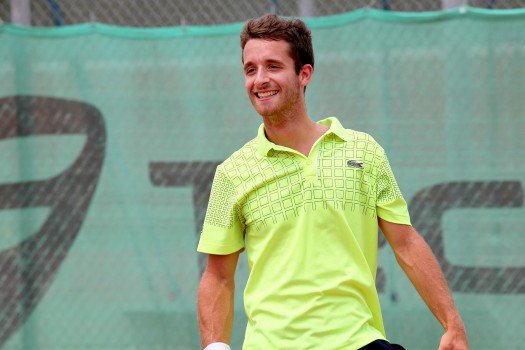 Do you believe that if she were French that she would have been given a wild card?
PG: Oh definitely, Noel. The French would want as many home players playing, so they are likely to forgive and forget but because Maria isn't French they think she doesn't deserve one at all.
ODJ: 100 percent. I do believe that if she was French that she would have been given a wild card. The French Open would love their home players to do well and are crying out for a winner at their Slam.
AT: Maybe, and maybe not. I sometimes feel like since Sharapova is such a high profile case, that they want to make an example out of her, and publicize not giving her wild cards etc. I don't remember such a big deal made out of Cilic and Gasquet's bans? So I feel as though if she was as popular as she is right now, even if she was French, they might not give her the wild card.
PG: The reason is Max, like Oliver said, they want a home player to become a Grand Slam champion, so they are likely to give him a wildcard which I think is unfair because like i said, he knew what he was doing.
MG: Look, I get them wanting to support their own players but to give wild cards to players who have never cracked the top 100 or come that close? That's what gets me. And fair point, Pathik.
I totally agree with your point (Oliver) about how much the French are dying for one of their own to take home the crown.
PG: I agree with that point, Max. They should give players a wild card if they have proven themselves or they are young and nearly cracked the top 100. Lestienne has done neither.
ODJ: The French Open and Wimbledon are both guilty of handing wildcards to players who you will only ever hear about at that tournament. Aside from the Sharapova debate and whether she would have received a WC if she was French, that needs to be looked at.
MG: Yeah, but the other slams are just as guilty sometimes. However, I think the FFT and All-England Club are always more inclined to do that.
Do you find it odd that Premier events such has Stuttgart, Madrid, and Rome gave Sharapova a wild card for their benefit from the French did not?
ODJ: I don't think it's that odd. Though those tournaments do still make a lot of profit, they are more in need of revenue and the whole story of Sharapova's return would have attracted a lot of people that may not have gone to the tournament beforehand.
MG: Exactly, Oliver. You stated everything I was about to say. It's all about attracting the attention to the tournament for the comparatively smaller events that lack in big names.
PG: I was literally about to say the same thing as Oliver. The tournaments are attracting more crowds to come.
ODJ: A tournament like the French Open will always sell tickets no matter who is there or not.
TK: I agree with what Oliver said, the smaller tournaments needed Sharapova there especially Stuttgart in order to get more spectators and money.
PG: Exactly, Oliver. Those tournaments don't need Maria there. The tournament will be big with or without her, it is just whether they want her there or whether they think it will her their reputation.
MG: The French Open and all the other slams will not be as affected if one big name drops out because they will have plenty of attention regardless. But I do wonder if they will later regret this decision as far as the women's field is concerned now that Serena, Maria, Vika, and possibly Petra, will all be out because they are some of the most popular players with fans, at least to talk about above anything.
How do you think the other tournaments in the lead-up to the U.S. Open will react when it comes to the topic of wild cards for Maria if she is still unable to get into the bigger tournaments like Toronto and Cincinnati?
ODJ: I think they will give them to her.
PG: The US love her or I hope so, so she will have no problems in getting them, especially at the US Open.
Finally, what do you guys expect from Maria during the grass court season?
MG: While grass might not be her best surface, I expect Maria to be back more motivated than ever and just enjoying her tennis more than anything else. She was born to compete, and that's exactly what she'll do.
TK: If she plays some warm up events in Birmingham and Eastbourne leading up to Wimbledon, she could cause some damage at Wimbledon and possibly win there for the second time.
MG: It's also hard to judge the quality of someone's game based on a couple of tournaments on only one surface, and I'm still interested to see how the rest of her game matches up against the others on grass.
PG: I think she will do just fine. Yes, it isn't her preferred or favorite surface but I think should she play some warm up tournaments, heading into Wimbledon, hopefully, all will be ok
ODJ: Well, now she is out of the French Open she will have more time to prepare and that can only be a good thing. She'll undoubtedly play a couple of warm-up events and it seems to me that she'll be in the main draw at Wimbledon, whether as a qualifier or a WC. I think second week and beyond is a possibility if she gets a good draw.
AT: If the draw is favorable, she might have a chance at Wimbledon but I think she still needs a few more tournaments to get back in the rhythm. I think she should be back to her former potential by the time the hard court swing comes around though.
ODJ: When she won Wimbledon in 2004 when she was only 17 most people expected many more SW19 titles to come. With Serena, Vika, and potentially Petra out, this may be her best shot to finally get her second Wimbledon title