 Svetlana Kuznetsova came through yet another tough and physically draining match as she had to battle for more than two hours for her third straight match at the French Open, this time with the match extending to a marathon 3 hours and 10 minutes in her third round encounter against Zhang Shuai, who provided a very tough and spirited fight. It would be Kuznetsova's 12th appearance in the second week of the Roland Garros in just 16 appearances, an incredible feat.
Kuznetsova almost loses huge lead but remains composed
Zhang came into the match firing as she was the one who dictated play with her powerful forehand early on, hitting four winners on that wing which came along with the same number of errors as it cost her greatly, allowing Kuznetsova to take the first break of serve in the lengthy 8-minutes game. Some inconsistent and wobbly groundstrokes almost saw Kuznetsova throw back the advantage, but Zhang herself failed to convert her two break points as the Russian got through a nervy opening service game to consolidate the break in yet another physically draining game.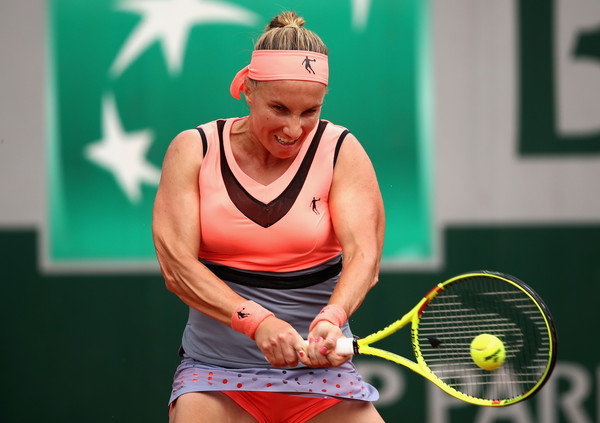 It was yet another marathon game which followed as both players continued to trade unforced errors, with neither being able to convert their chances efficiently. Nevertheless, Zhang took advantage of two Kuznetsova forehand errors at the crucial moments as she finally got herself on the scoreboard after 24 minutes of play, after just three games were completed. The first game that did not feature a break point finally arrived upon us as Kuznetsova held her serve despite being extended to deuce by Zhang, who threatened to break but was unable to earn any break point opportunities.
The Chinese then had her first comfortable hold of service as she closed out the fifth game with an ace, lessening the deficit to just one game. Kuznetsova had the golden opportunity to extend her lead in the seventh game as she led 30-40 on Zhang's serve and owned a break point. However, she missed an easy volley on that crucial point and eventually allowed Zhang to hold her nerves and get through the tough game, holding her serve for 3-4 despite being just one point away from being 2-5 down.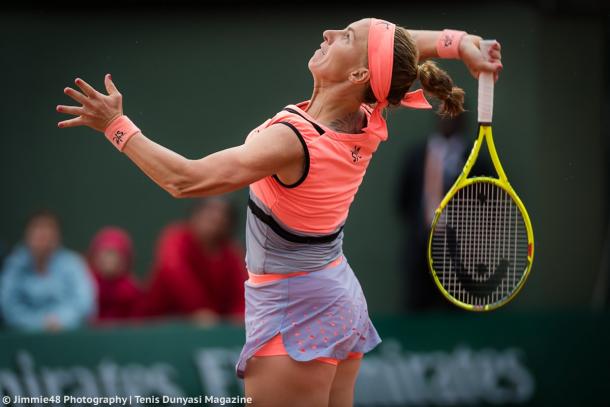 It was from then when Zhang started to mount a huge comeback, winning eight of the next nine points to take the lead for the first time in the match, being just a game away from winning the first set. The Chinese then had a set point but failed to convert, allowing Kuznetsova to narrowly hold serve and level the scores.
After an exchange of service holds, the set was taken into a tiebreak to decide the winner. Jumping out to a formidable 5-1 lead within a blink of an eye, the Russian looked to have sealed the first set. However, her inability to convert her chances proved to be costly as Zhang managed to return level on serve in the tiebreak with the scores being at 4-5. Kuznetsova then eventually got the first set within 74 minutes of tiring tennis after Zhang shanked a big forehand into the net, concluding the set which was full of twists and turns.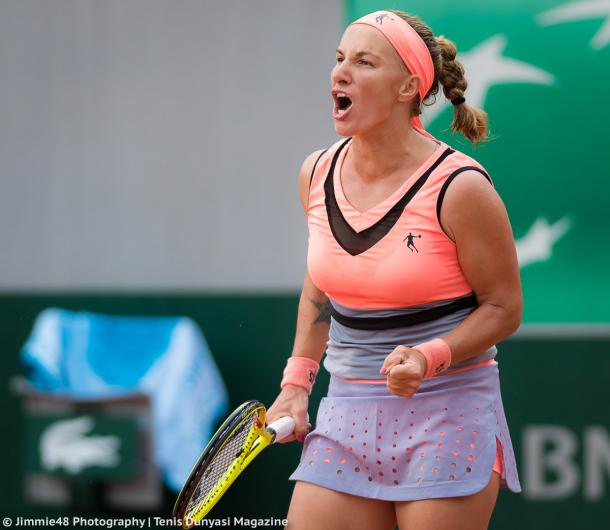 Zhang mounts a comeback
Zhang had the perfect start to the second set as she looked to mount a comeback after failing to convert her chances in the first, breaking serve in the opening game of the set as Kuznetsova threw in a double fault on break point. Zhang looked focused and determined as she easily consolidated the break to open up a 2-0 lead. Kuznetsova then fought back to win three consecutive games as she came up with some excellent offensive style of tennis, taking the lead for the first time in the second set.
The momentum shifted back to the underdog as she was all fired up, starting to dictate play with some powerful and solid groundstrokes once again. The scores went in the favour of Zhang, who regained her lead and looked poised to level the match. Despite getting broken straight back, Zhang managed to outhit Kuznetsova, who played way too defensive, getting her fourth break of serve in the match before comfortably serving out the set to 15, sending the match into a decider after a marathon 126 minutes of play.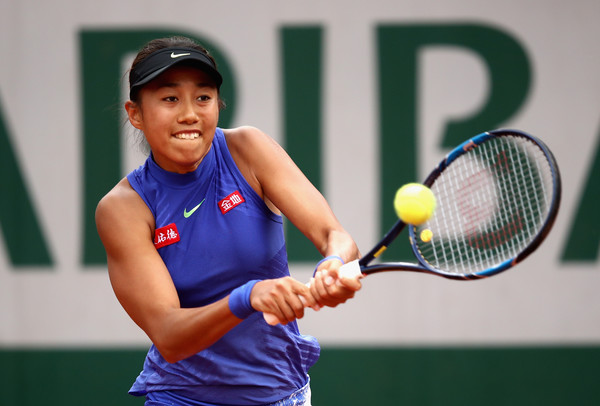 Kuznetsova almost loses lead once more but comes back to triumph
Kuznetsova had to endure a nervy start to the final set as Zhang managed to extend her return game to deuce for three times, but was unable to earn any break points as the Russian escaped by a whisker with a backhand winner on her third game point. This gave her the momentum and confidence to make the first breakthrough of the final set, breaking serve in her first return game as she started to play some aggressive tennis, coming up with some strong returns to open up a 2-0 lead.
It was one-way traffic as Kuznetsova consolidated the break with a love service hold, with Zhang starting to falter. Four consecutive errors from the Russian then saw Zhang get on the scoreboard in the final set, lessening the deficit. The Chinese originally had the golden opportunity to return on serve as she earned a break point in the fifth game, but Kuznetsova fended that off with a big forehand winner, helping her to eventually hold her serve in a tight game to hold onto her lead.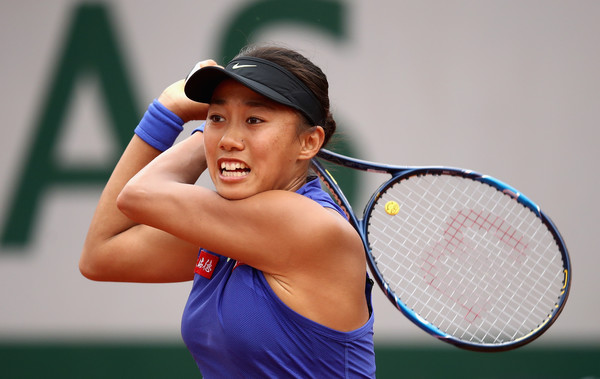 After an exchange of service holds, Kuznetsova finally found herself just one game away from the victory as Zhang had to keep her service game to stay in the match. She did just so, fighting off the determined Kuznetsova to grab a late hold of service and look mount an improbable and late comeback. A miracle was created when Zhang battled tears from a disputed call and she managed to fend off two match points before breaking back to return level on serve all of a sudden.
With the momentum running in her, the Chinese cruised to an easy love service hold and the upset looked possible once again. However, some errors from her saw the Russian earn another two match points at 5-6, with the Chinese serving this time. With some great stamina and will to triumph, Kuznetsova eventually fended off an inspired Zhang after a marathon 3 hours and 10 minute of play, prevailing 7-5 in the final set. She also had to overcome 63 unforced errors of her own, with this match being a lacklustre, yet dramatic match for both.