 Year-end world number one Rafael Nadal has pulled out of his quarterfinal matchup at the Rolex Paris Masters against Filip Krajinovic due to a knee problem. The Serbian now moves into the semifinals for not only his first-career Masters 1000 semifinal, he will now move into the top-50 to end the season after starting the year ranked outside the top-200.
Sad Day For The Event
The Spaniard looked to be struggling at times yesterday during his three set win over Pablo Cuevas, and he confirmed it during his impromptu press conference that he called today. He told the media that at some points during the match, he couldn't move. Tournament director Guy Forget told him thanks for trying, and that he understands it's a sad day for the tournament to see him withdraw.
Nadal said that after the match last night that he got treatment on the knee but that it was impossible to go out on court today and potentially maybe, play three more matches. The 31-year-old said he came here to win, an event he's never won, but is sorry to the fans and organization which are like family to him.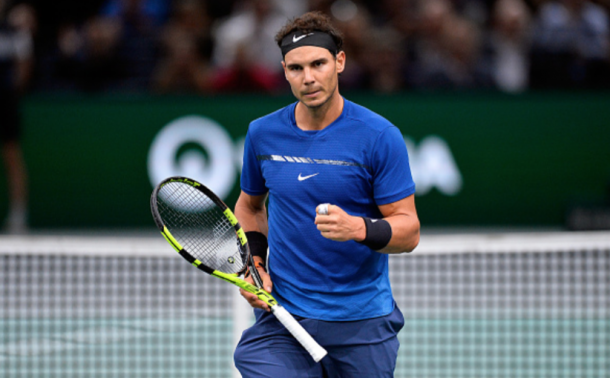 Hopes To Be In London
In addition to saying that he couldn't play three more matches in Bercy, Nadal said that he was not gonna talk much about London and the World Tour Finals. He said that he was going to do his best to play in London, but that his main concern is not the World Tour Finals, but more so that he can continue playing tennis long-term.
Nadal will be the top seed at the World Tour Finals if he decides to play and would be one of the favorites to win alongside Roger Federer. The Spaniard has never won the title at the year-end event.