 When the draw for the Australian Open qualifying came out, one of the matches that everyone had their eyes pointed to was the Taylor Fritz vs Sam Groth. It was a battle of two players at their different points in their career. Fritz is still only 20 and still has a long professional career ahead of him to try and win titles while Groth was going to retire after this event.
The American edged out Groth in three sets, 6-4, 3-6, 7-6(3). Fritz will now face Mathias Bourgue in the second round of Australian Open qualifying. Bourgue defeated Belgium's Arthur de Greef in three sets.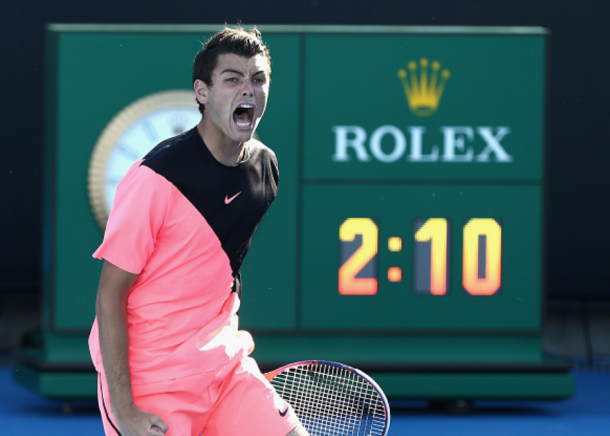 Next Up For Groth
The Australian is still set to play once more in his home Slam in front of his home crowd. He is going to team up with Lleyton Hewitt in the men's doubles as the two look to put on a show for the Aussies. Hewitt retired after the 2016 Australian Open but played twice in 2017, playing for the Australian Davis Cup team and at Wimbledon.
Groth spoke earlier to RSN Radio about partnering with Hewitt. "Him and I have actually been hitting balls since I got back to Melbourne, for sort of the last month or so in secret, doing stealth sessions before we came out with the announcement."
"So there's going to be no doubt he'll be hitting them well. I wanted to go out on a big high, and for me, Lleyton's a guy who over the last few years I've played my biggest matches with, especially in Davis Cup."
Groth and Hewitt played doubles together at the 2016 Australian Open. The pair reached the round of 16 before they lost to Vasek Pospisil and Jack Sock.