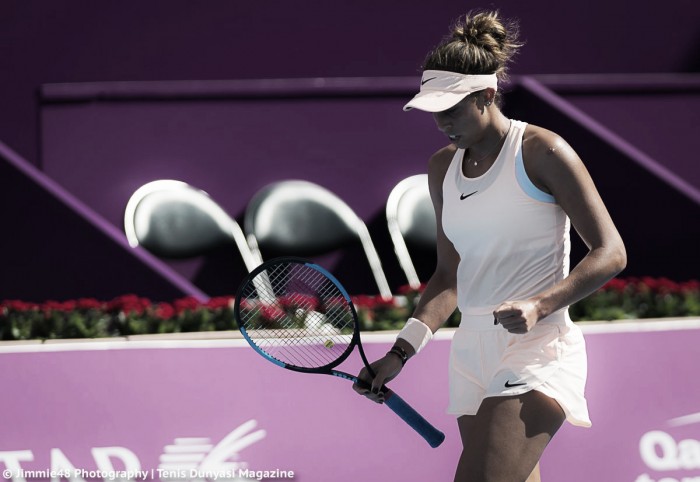 Madison Keys earned an emphatic and one-sided victory over the dangerous Wang Qiang in the first-round of the 2018 Qatar Total Open as the American looked impressive during her clinical display which lasted just a quick 56 minutes.
A repeat of their Melbourne encounter earlier in the year, Keys once again prevailed in straight sets and now proceeds into the second round, where she will face compatriot and qualifier, Catherine Bellis.
Keys storms through one-sided opening set
The American came into the blocks firing on all cylinders, and she was swinging freely as the world number 14 jumped out to an early lead having won the first eight points of the match. A quarterfinalist at the recent Australian Open, Keys' outstanding form allowed her to ride on her momentum and consolidate for a commanding 3-0 lead.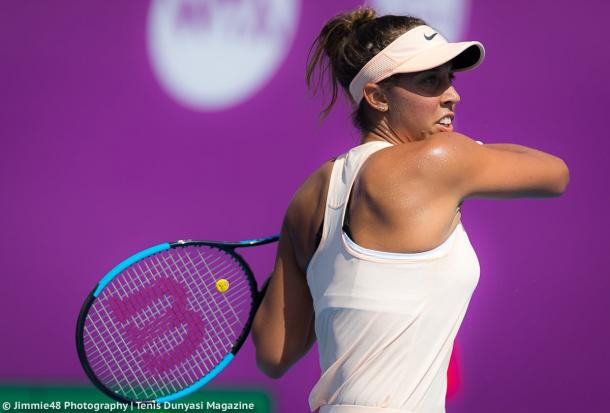 The play was largely dictated by Keys, and that was an understatement considering how Wang is also considered an aggressive baseliner. She was unable to gain any rhythm on her groundstrokes and failed to get on board.
Magnificent forehands from the US Open finalist were enough to help her earn a formidable 5-0 lead before Wang finally spared herself some embarrassment with a comfortable service hold. Yet another winner for Keys allowed her to clinch the first set 6-1 within a blink of an eye, needing just 18 minutes to do so.
Keys overcomes slight wobble
It was a better start to the second set for Wang, who earned a solid hold before almost producing a breakthrough. Keys had an increased unforced error count which proved costly as the American started to misfire more often, allowing the Chinese to find a way to take the lead.
After the one-sided opening set, there was an obvious dip in Keys' level of play as she started to lack in terms of intensity, and Wang perfectly took advantage as she powered herself to a surprising 4-2 lead.
However, things went all wrong for her from then. Keys reflected her tough mentality and composure when she regained her confidence, finding the rhythm on her shots before firing straight back to level the scores.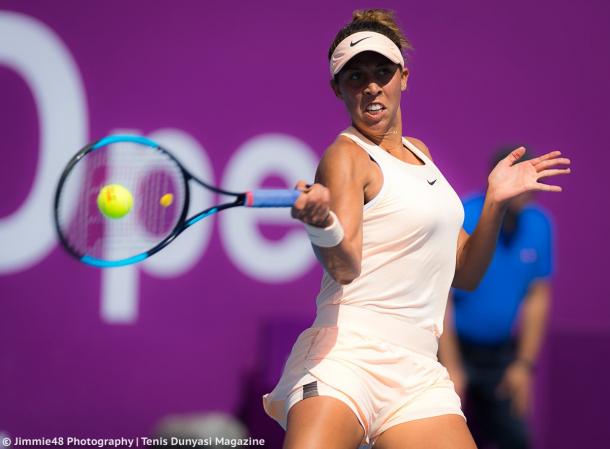 Her momentum did not just end there, though, as she rattled off four consecutive games to finally seal the impressive victory after a mere 56 minutes, asserting her authority across the court.
Match Statistics: Keys firing on all cylinders
Keys' first-serves were simply incredible after she claimed a spectacular 81 percent of points behind those powerful serves. Her aggressive tennis was working really well today, having hit 24 winners alongside a price of 22 unforced errors, though it did not prove costly ultimately.
Wang could do nothing as she was limited by Keys' unstoppable tennis, ending the match with just three winners and 11 errors. Nonetheless, it was a decent second set from the Chinese but eventually, it was the American who proved to be too strong once more.