 When the offseason rolls around, one of the hottest topics that come about in tennis are players potentially switching brands for either clothing, racquets, or shoes. Novak Djokovic was rumored to switch to Asics after being seen in Asics during the offseason during a hitting session.
Asics officially announced Djokovic as a brand ambassador today. The Japan-based company gave the former world number one his own shoe, basing it off of their popular Gel Resolution. The shoe will be called the Gel Resolution Novak. The terms of the Serbian's deal with Asics were not disclosed.
Second Big Move For Djokovic
The move to Asics is the second biggest move for the Serb in over half a year. Originally, Djokovic's footwear was Adidas. Last summer before the French Open, the former world number one switched from Uniqlo to wear Lacoste, his current apparel sponsor.
This will be the first time in a long time we will not see the former world number one the Adidas Barricade. Adidas released their own line of Djokovic Barricades which had the Serbian's "ND" logo on it as well as a picture of Djokovic's face on the tongue of the shoe, In 2013, the world number 14 inked a long-term deal with Adidas, saying the Barricade was his favorite shoe. However, the Serb left his footwear choices open and opted to go to Asics staring this year.
Djokovic now joins the likes of David Goffin, Coco Vandeweghe, and Gael Monfils as notable top players wearing Asics. However, those three players have both an attire and shoe deal with Asics.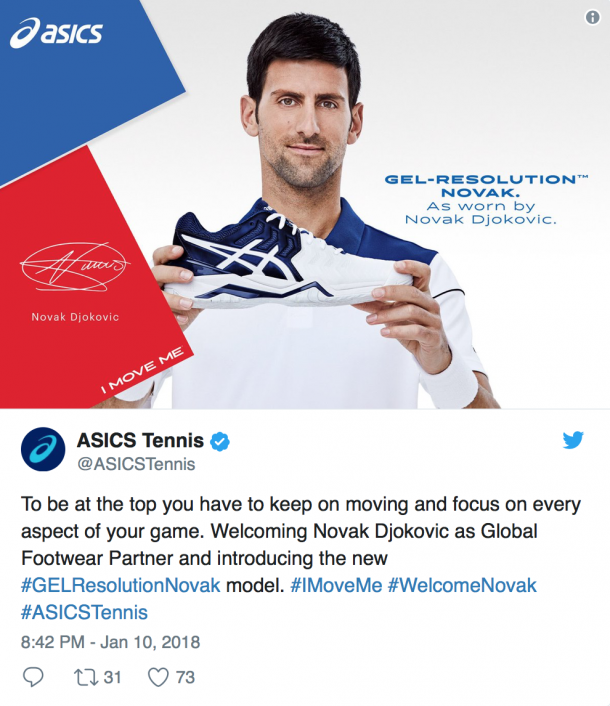 Asics CMO Speaks
Asics' CMO, Paul Miles, spoke at Djokovic's unveiling and said that the move to sign Djokovic was to compete to be number one in tennis footwear globally. Miles also added that Asics is the number one footwear brand in several European markets.