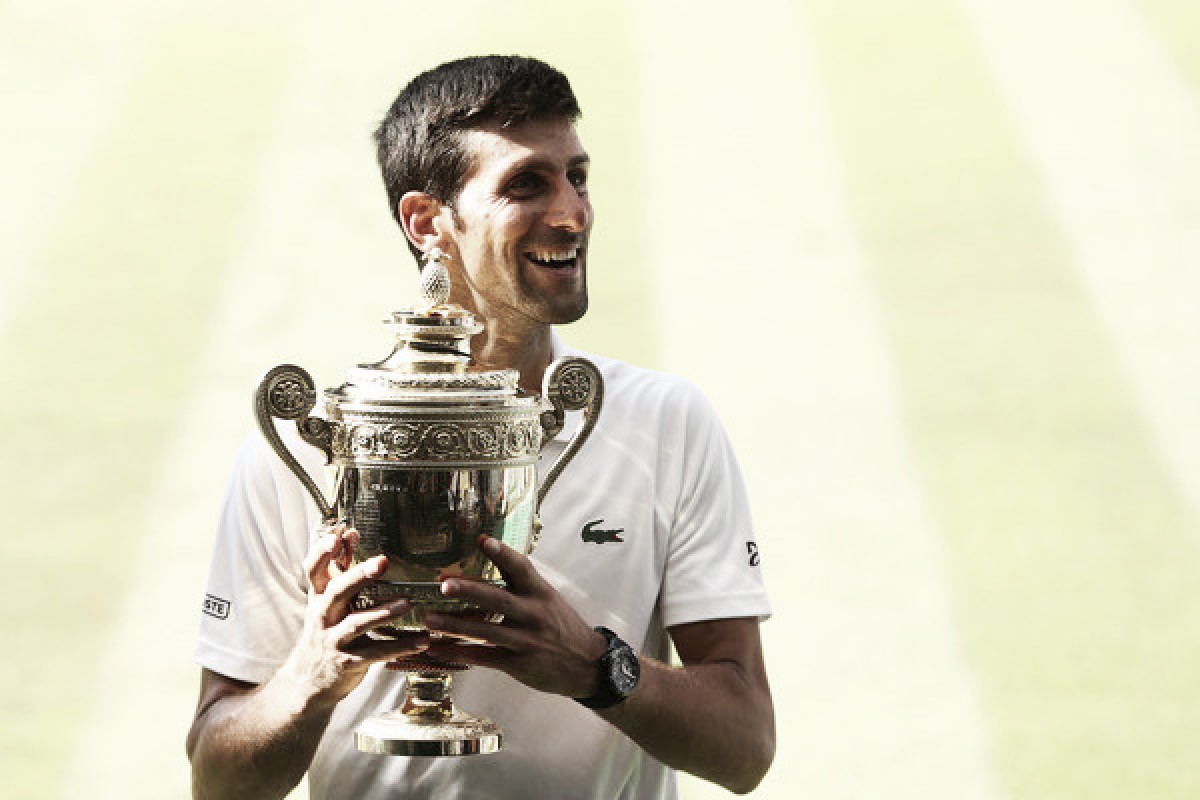 It was not really expected of this match to be of high quality, as eighth-seed Kevin Anderson had less than 40 hours to recover from his 6 hours and 35 minute battle against John Isner, and just two days before that, went over 4 hours with Roger Federer. 12th seed Novak Djokovic didn't really get caught up in marathons on his way to the semifinals, but played probably the match of the tournament against Rafael Nadal, winning 10-8 in the fifth set yesterday, playing five hours over two days. If Djokovic didn't seem an overwhelming favorite before, Anderson has played five and a half more hours than his opponent.
Djokovic Takes The First With Ease
The set was started off with a break on Kevin Anderson's serve, which would be a sign of what was to come. Djokovic consolidated the break, but it looked like Anderson might hang in there as he held his serve to love, making it 1-2. The 12th seed lost only two points over the next three games, including a break on Anderson's serve, and Djokovic led 5-1. Anderson held to make Djokovic serve for the first set, and the Serb had no issue with that, taking the first set 6-2 after 29 minutes. The key to Djokovic's dominant performance was his incredible serving, losing only three points on his service games. The 31-year-old also pounced on Anderson's second serve, where the giant won only 36% of points. The South African also didn't help himself by making 11 unforced errors to Djokovic's one.
Anderson In Trouble, Djokovic Makes It Double
Anderson had his right elbow treated by the physio between sets, so we now knew that other than just general fatigue, he was plagued with an injury. The set started again with a break on Anderson's serve, something that we barely saw from the eighth-seed throughout the tournament. Generally, the set took the same trajectory as the first, where Djokovic led 5-1, Anderson held, and the Serb served it out for 6-2, this time after 43 minutes. However, it seemed that despite injury and fatigue, Anderson was playing better and better as the match wore on, first pushing Djokovic to deuce, and even getting a break point when Djokovic was serving the set out. This would be a sign of things to come. Anderson became more efficient on the return, and Djokovic started to make mistakes on his own, tallying up six unforced errors.
Slightly Dramatic Finish
This third set was like something out of Isner vs Anderson. It was a strong serving performance on both sides for the first seven games, no one getting more than two points on each other's serve. To the surprise of many, it was Djokovic's serve that started to crack, giving away a breakpoint at 4-3. Anderson kept his cool on his serve, but was very active on the return, getting five setpoints on Djokovic's serve, making the Serb work hard to get to the tiebreak, in which he ultimately succeeded. The former number-one used his vast experience, he turned it on exactly when he needed. Both players held for Djokovic to get a 2-1 lead in the tiebreak when he got a double mini-break on Anderson's serve and consolidated it for a 5-1 lead.
That was the first time in this set that Djokovic won two consecutive points on Anderson's serve. The South African giant was not giving up, bringing it back to 2-5, saving a match point at 2-6, before he finally succumbed. Djokovic served on his second match point at 6-3 and fell to his knees after Anderson's forehand hit the net, and rose as a Wimbledon champion. This was Djokovic's thirteenth slam, his fourth Wimbledon, first since this recent comeback. Novak Djokovic will rise by 11 spots in the rankings, reentering the Top 10 for the first time since October 2017.