Rafael Nadal will go for a fourth Rogers Cup title on Sunday after another late-night victory in Toronto. The world number one needed an hour and 49 minutes to fight past first-time Masters 1000 semifinalist Karen Khachanov in two tight sets to advance to his fourth final in Canada.
The top seed broke early in each set but was still forced to battle, with Khachanov managing to force a tiebreak in the opener. But as the night progressed, Nadal continued to elevate his game and hung on for a 7-6(3), 6-4 victory.
Early lead slips but Rafa recovers
Due to yet another rain delay, the match started after 10 pm local time, more than two hours after the scheduled start time. After a shaky opening game, Nadal looked like he was in a hurry to get back to the hotel and rest up for the final when he went up love-40 on his opponent's serve courtesy of some deep ball striking. After Khachanov saved the first two break points with some big hitting of his own, he sent a forehand long to go down 2-0 to start the match.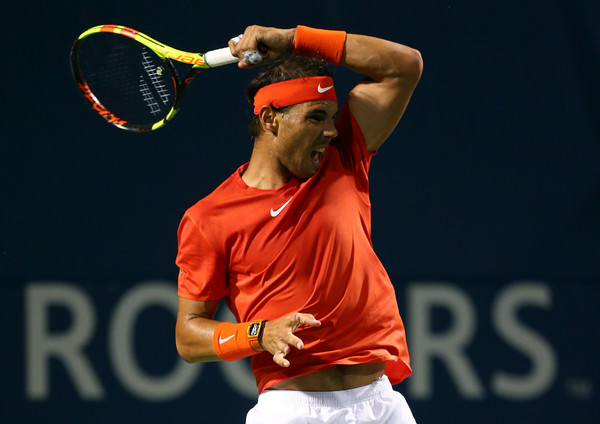 Despite the early deficit, the Russian showed no fear, teeing off on every soft Nadal shot that he could and went up love-40 in the very next game. The Spaniard would fire a forehand wide to give the break right back. Khachanov would hold to love to level at two all.
Nadal had the best chance to reclaim the break when, at 3-4, Khachanov double-faulted at 30-all to go down break point, but he recovered by cracking an ace to erase the threat. In the next two games, the server went down love-30 but won four unanswered points to hold, including when the Russian was serving to stay in the set at 4-5.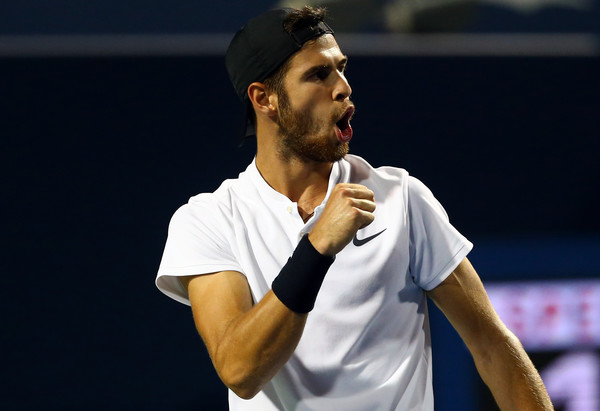 In the tiebreak, Khachanov got off to a quick start, taking a minibreak on the very first point when Nadal pushed a forehand wide. However, he would give it right back by sending a backhand of his own wide. Nadal would take his first minibreak lead when Khachanov fired a forehand long to go down 4-2. On the very next point, still on his own serve, the Russian sent the exact same high forehand long from the midcourt to put Nadal within two points of victory. The top seed went up 6-2 and converted his second set point to take the opening set.
Nadal hangs on to reach final
Once again, Nadal opened the set with some great pressure on his opponent's serve. At 1-all, Khachanov failed to put away a volley and Nadal ripped a backhand passing shot past him to set up a double break point opening. Once again, Nadal would toss heavy a heavy spinning shot straight down the middle that landed just inside the baseline, only for Khachanov to overcook his forehand to surrender the break.
Unlike the opener, there was no tentative play from Nadal once he took the lead. He was now cruising, pummeling Khachanov around the baseline during the rallies and giving him no openings. The world number one had a chance to add a second break in his next return game after curling a forehand passing shot up the line for 30-40, but the Russian saved it with a forehand winner.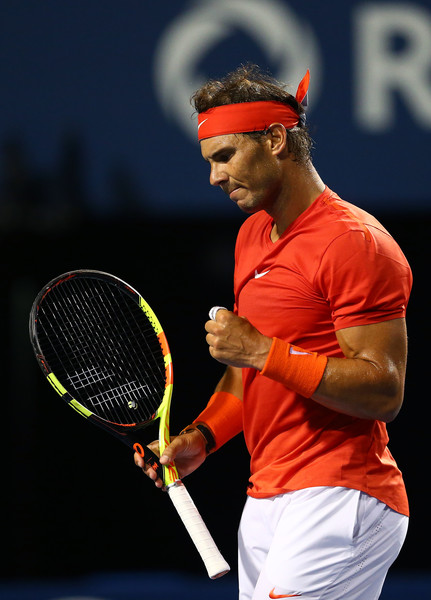 Despite failing to add to his lead, Nadal was still in charge. He did not need another break as he easily hung on to his remaining service games. The Spaniard would clinch his spot in the final with an emphatic smash winner in the tenth game.
By the numbers
Unlike the previous match, where Nadal faced fourteen break points, the Spaniard defended his serve far better in this match, only facing one break point which came in the third game of the match. He did so by winning a solid 71 percent of his first serve points and even managing 58 percent of his second serves. As always, he attacked his opponent's second serve, winning 50 percent when Khachanov missed his first serve.
Nadal will go for a fourth Rogers Cup title on Sunday. To claim it, he will need to put a stop to Stefanos Tsitsipas' giant-killer run as the top seed will meet the young gun with the title on the line. This is their second meeting overall and second in a final, with Nadal only dropping three games in the Barcelona final back in April.