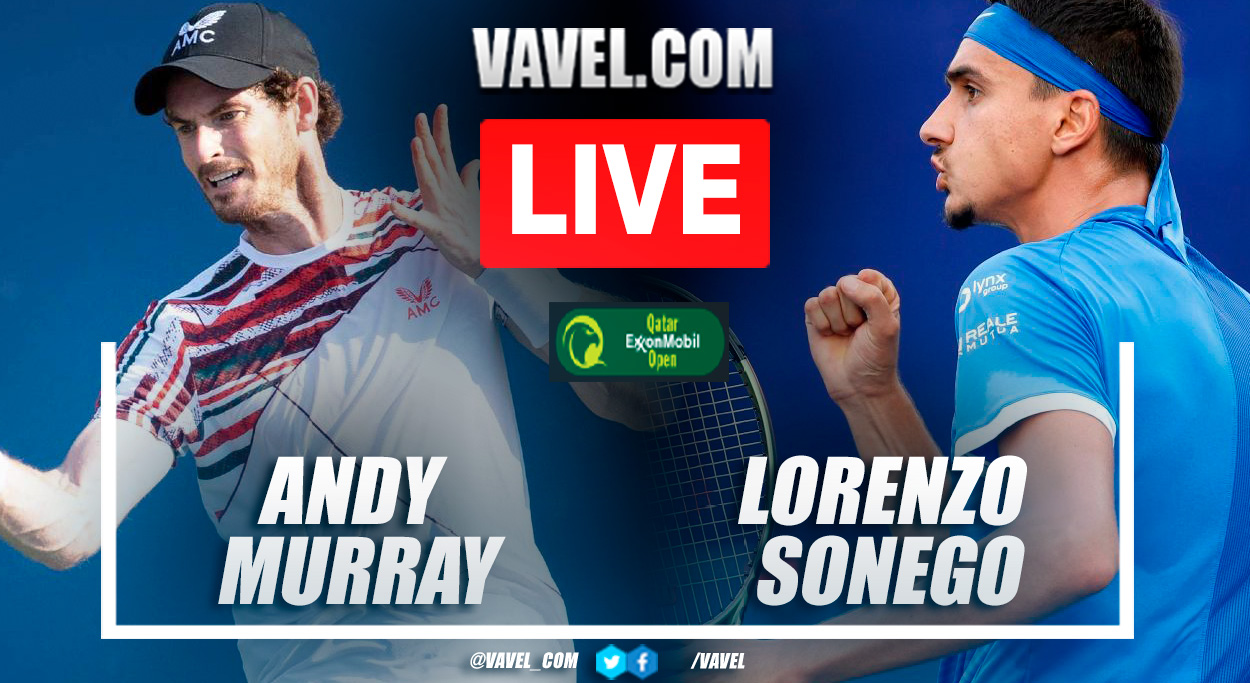 Higlights
With this point Murray closed the game
3° Set Andy Murray (4-6 6-1 7-6)
3° Set Andy Murray (4-6 6-1 6-6)
3° Set Andy Murray (4-6 6-1 5-5)
3° Set Andy Murray (4-6 6-1 4-4)
3° Set Andy Murray (4-6 6-1 3-3)
3° Set Andy Murray (4-6 6-1 2-2)
3° Set Andy Murray (4-6 6-1 1-1) Lorenzo Sonego
2° Set Andy Murray (4-6 6-1) Lorenzo 1h
2° Set Andy Murray (4-6 5-1) Lorenzo Sonego
2° Set Andy Murray (4-6 4-0) Lorenzo Sonego
2° Set Andy Murray (4-6 2-0) Lorenzo Sonego
1° Set Andy Murray (4-6) Lorenzo Sonego
1° Set Andy Murray (2-4) Lorenzo Sonego
1° Set Andy Murray (1-3) Lorenzo Sonego
1° Set Andy Murray (0-2) Lorenzo Sonego
All set
Andy Murray one of the Wildcards of this tournament
ATP Ranking of Andy Murray and Lorenzo Sonego
Alexander Zverev awaits in the round of 16
Third appearance in Doha of Lorenzo Sonego
Andy Murray's record in Doha
1 hour
Stay tuned for more information about Andy Murray vs Lorenzo Sonego
How to watch Andy Murray vs Lorenzo Sonego?
What time is the Andy Murray vs Lorenzo Sonego match at ATP Doha?
Andy Murray has been preparing for his two tournaments in Dubai in February.
Murray, two time ATP Doha winner
How does Lorenzo Sonego arrive?
How is Andy Murray coming along?
Background
Venue: The match will be played at the Khalifa International Tennis, located in Doha, Qatar, which was inaugurated in 1992 and has a capacity for 10,000 spectators.
Preview of the match
Welcome to VAVEL.COM's LIVE coverage of Andy Murray vs Lorenzo Sonego at ATP Doha