After losing their first five meetings, seventh seed Grigor Dimitrov finally managed to defeat Juan Martin del Potro in the third round of the Western and Southern Open on Thursday, out-duelling the powerful Argentine in a grueling two-set battle. There were times in the match when Dimitrov struggled to keep up with del Potro, but in the end, the Bulgarian was just a bit more consistent and came up big when he needed to, edging the former US Open champion 6-3, 7-5.
Quick start from Dimitrov
The seventh seed was ready to rock from the very start, pummeling the ball and forcing the 6'6 Argentine to scramble around the baseline. Dimitrov was rewarded with a triple break point opportunity in his opponent's opening serve game and while del Potro managed to save the first break point with an ace, he sent his volley long on the second to surrender the break. Dimitrov had a bit of trouble consolidating, needing to battle through deuce to take a 3-0 lead. But del Potro began to settle in after falling behind an early break. Before too long, he had found his range on his ground strokes and was matching Dimitrov's baseline aggression.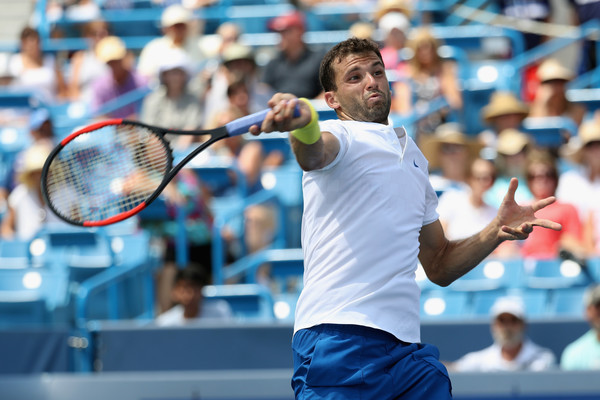 However, he struggled to make any inroads on his opponents serve and found himself two points from dropping the set on his own serve at 5-2. He would rally before nearly reclaiming the break in the following game. Serving for the set. Dimitrov fell behind 0-30 and sent a forehand long to fall behind break point. A titanic rally ensued, ending when the Bulgarian rifled a forehand winner down the line. Two points later, del Potro sent a return long to give Dimitrov the opening set.
Del Potro can't hang on
The towering Argentine didn't find his level in time to make an impact in the opening set, but he wasted no time in blasting his way to a lead in the second. In Dimitrov's opening service game, del Potro forced him to deuce before reaching break point courtesy of a double fault. On break point, he blasted a massive forehand winner to secure the break. He would hold for a 3-0 lead.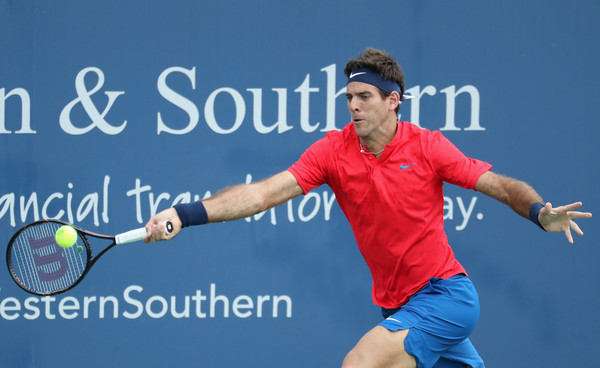 Things would start to fall apart in the fifth game, as del Potro needed to fight through a deuce to hold for 4-1. After Dimitrov held to close the gap, the Argentine sent a forehand long at 30-all on his own serve to set up a break point. The Bulgarian would rip a forehand passing shot up the line that just dropped inside the baseline for a winner to put the set back on serve. Now serving to stay in the set, Dimitrov found himself under pressure again. At 30-all, del Potro hit a near-perfect counter drop after chasing down the Bulgarian's drop shot to set up break/set point. But some big hitting from Dimitrov drew an error. Del Potro would miss two more set points in the game before Dimitrov held.
In the following game, the Argentine was visibly struggling, at one point needing to take an extended break between points. He was now struggling with his movement and was committing errors with shots that were normally routine. Dimitrov took advantage, going ahead 15-40 before converting a break point at 40-AD to take a 6-5 lead. He would serve out the match in the very next game.
By the numbers
Del Potro's serve was not as formidable as it sometimes can be, as he only put 48 percent of his first serves in play and only won 47 points when missing his first delivery. He only managed to save three of six break points against his own serve. Dimitrov was far stronger, putting 67 percent of his first serves into play, winning 73 percent of those points, as well as 54 percent of his second serves, although he did double fault five times. The Bulgarian saved four of the five break points he faced.
Dimitrov, one of only three top-eight seeds remaining, will meet Yuichi Sugita in the quarterfinals.