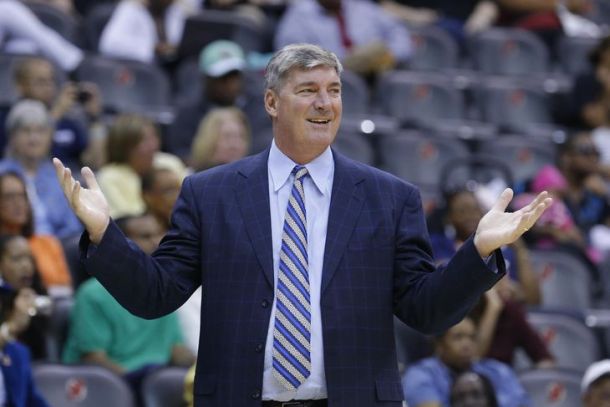 With the 2015 season winding down, this is a great time to take a look at some candidates for WNBA Coach of the Year. With many options available, let's take a look at four choices - two from each conference - that could be considered frontrunners.
Stephanie White, Indiana Fever - With a solid veteran team without a lot of star power except for Tamika Catchings, the Fever reside in second place in the Eastern Conference with a record of 15-9 and are just 1.5 games out of first place. The Fever has an excellent system on both ends of the floor and play it well. They might be the best quick passing team in the league. Their ball movement is second to none. With contributions up and down the roster from veterans Briann January, Shavonte Zellous, and Marissa Coleman as well as rookie Natalie Achonwa, their coaching is what keeps the Fever in title contention.
Bill Laimbeer, New York Liberty - The veteran coach, winner of multiple WNBA titles is possibly having his best coaching season. The Liberty plays in his image, bringing defense every night as well as using a combination of speed and a solid post game to get the offense on track. At 16-7, they are in first place in the Eastern Conference and have the second best record in the league. They bring constant energy and are definitely a mirror image of their coach. With MVP candidate Tina Charles, veterans Epiphanny Prince and Swin Cash as well as outstanding rookie Brittany Boyd, the Liberty has the talent to deliver on the vision of their outstanding head coach.
Sandy Brondello, Phoenix Mercury - There could not have been a tougher beginning to a season for a coach. With perennial MVP candidate Diana Taurasi and do-everything forward Penny Taylor taking the year off as well as center Brittany Griner serving a suspension for the first seven games, the Mercury got off to a 3-3 start and was held together with great work from Brondello and her staff. With a full roster, the Mercury is in second place in the Western Conference with a record of 15-10. With a full bench, including DeWanna Bonner, Candace Dupree and Leilani Mitchell, there is enough depth on the roster for the Mercury to contend.
Cheryl Reeve, Minnesota Lynx - There are two schools of thought on Reeve. One is that the talent level is so high they don't need an outstanding coach. Not true. There is enough talent on this team that needs touches, and that talent needs to be managed and placated. Reeve is the perfect person for the job. Quick execution and precision passing are her style along with pressure defense, and the Lynx players deliver. With MVP candidate Maya Moore and steady veterans Seimone Augustus, Rebekkah Brunson and the mid-season addition of center Sylvia Fowles along with on-court leader Lindsay Whelan, the Reeve led Lynx have the best record in the league at 18-7.