 Australia rolled to their third straight win at the Rio Olympics as they defeated France 89-71. Penny Taylor was the dominant figure in the game, recording 31 points, nine assists, and five rebounds. Liz Cambage added 16 points and seven rebounds. Olivia Epoupa paced France with 15 points and seven rebounds. The Aussies remain undefeated in Rio thus far.
Aussies break open the game in the second quarter
The Aussies only held a two-point lead after one quarter at 21-19, but they turned up the defensive pressure in the second ten minutes, limiting the French to just 10 points to take a 46-29 lead into the halftime break. France was only outscored by one point in the second half 43-42, but the damage already done in the first half was too great for Les Blues to overcome.
Key performers
Taylor scored 31 points in 27 minutes of action. She spread the wealth with nine assists and even chipped in with five boards. Cambage and Marianna Tolo provided Taylor with sufficient support, combining for 30 points and 11 rebounds.
Australia clamped down defensively, holding France to 41.9% from the field while shooting 49.1% themselves. They also excelled from the free-throw line, going 26-28. Both teams were sloppy with the ball, Australia committing 18 turnovers, France 17. Taylor spoke about the win:
"We knew France was going to be one of our toughest games," Taylor said. "They are so versatile with their players and we knew that it was going to go for 40 minutes. They came back at us a few times but we really clamped down our defense."
Taylor was very humble when asked about her sensational 31 point contribution: "We have relied heavily on Liz the first two games and she's performed, so dominant on the inside, and when she got into some foul trouble we needed our guards to step up a little. Tolo came in and contributed amazingly in offensive and defence. So it was a great team effort."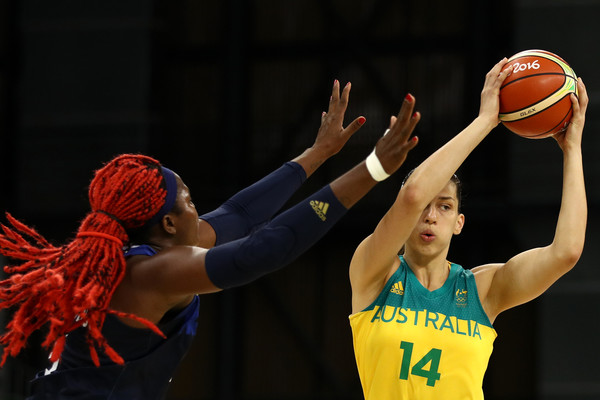 Next games
Australia is next back in action against Japan. The Japanese have already picked up wins over Belarus and Brazil before being stopped by Turkey. Japan is a solid team, but they probably will be no match for this powerful Australian team, who look to be silver medal favorites.
France will also return to the court on Thursday against hosts Brazil. Brazil have lost all three games and are not expected to provide France with much of a challenge after blowout losses to Australia and Japan before losing a close game to Belarus.