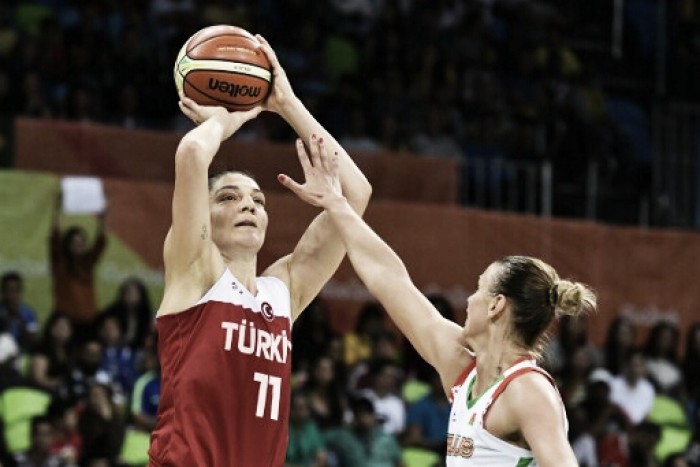 Nevriye Yilmaz scored 26 points and LaToya Sanders added 22 points as Turkey withstood a late charge by Belarus to pick up a 74-71 win at the Rio Olympics. Lauren Harding led Belarus with 17 points.
First half played to a standstill as Belarus wins first quarter, Turkey the second
A low scoring quarter saw Belarus overturn a sluggish offensive start, a 9-7 deficit midway through the first quarter turning into a 19-13 lead, ending the quarter on a 12-4 run. The Belarussians also played magnificent defense, holding the Turks to just two field goals in the final 6:36.
The second quarter saw Belarus extend their lead to eight points on a Harding jumper to make it 23-15. It was the Europeans turn to go cold, almost two and a half minutes without a point, Yilmaz and Sanders scoring seven points in that span to pull within one. After Belarus regained a five-point lead at 30-25, Turkey closed the half on an 8-3 run to knot the score 33-33.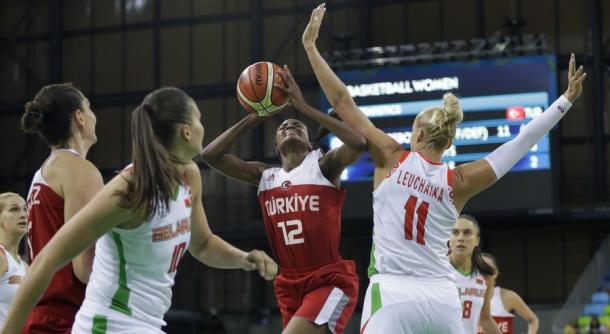 Turks fall behind in third quarter, reverse course heading into fourth, hold off late Belarus surge
Belarus started the second half on an 11-4 run to take a 44-37 lead, Tatsiana Likhtarovich scoring five points in that period. The Turks were struggling, but they slowly reeled their European opponents in, finally regaining the lead 50-49 on a bucket by Yilmaz with 2:10 left in the quarter. A three-point field goal by Tatyana Troina gave Belarus their final lead of the game 52-50 as Turkey closed the quarter out on a 7-2 run to take a 57-54 lead into the final ten minutes.
Turkey extended their lead to eight once again 64-56 on an Isil Aben layup with 6:09 to play. As they held their working margin, Belarus made one final charge, cutting the lead to one on a pair of Harding layups with 1:47 to play. Those would be Turkey's last points as Ablen would hit two free throws and Turkey's defense did the rest to hang on for the win.
Next games
Turkey closes out group play against hosts Brazil on Saturday. The Brazilians are winless, so Turkey should feel confident about picking up a win. The Turks are tied with Japan for the final knockout stage spot, so this game is a must-win.
Belarus wraps up their preliminary round schedule also on Friday as they face Australia. The Aussies are undefeated in Group B, so the prospects of a win are slim at best for the Belarussians, who are mathematically still alive for a quarterfinal berth, but their chances can only be rated as slim.