 Gaelle Skrela scored 18 points and Sandrine Gruda chipped in 17 points off of the bench as France rebounded from their first loss to defeat host nation Brazil 74-64 at the Rio Olympics. Brazil remained winless in the competition at 0-4.
Brazil jumps out to early advantage, France rebounds to lead at the half
Brazil hadn't won a game yet, but they got off to a quick 7-0 lead, holding the French scoreless for the first 3:49. France finally got on the board at the 6:11 mark courtesy of an Endy Miyem three-point field goal. Les Blues continued to claw their way back, pulling to within one on a Miyem layup. Both team ended the quarters on runs, Brazil 8-2 to take a 19-12 lead, France 8-1 to knot the score at 20-20 after ten minutes of play.
Erika De Souza made a couple of layups for the Brazilians at the beginning of the second quarter, but the South American side went ice cold the rest of the quarter, scoring just five points. France trailed 29-24 but went on an 11-0 run over the final 4:56 of the half, five different players contributing to the cause. The French led by six at the half, 35-29.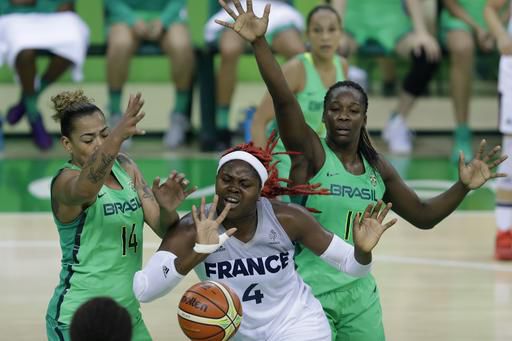 France maintains working margin throughout second half to earn bounce-back win
Brazil closed to within 35-33 on Damiris Dantas layup a minute into the second half, but France responded with a 10-2 run to take their largest lead of the game at 45-35. A Valeriane Ayayi three-pointer staked the French to a 53-39 lead with exactly 3:00 left in the third quarter. Brazil would score the final four points of the stanza to cut the lead to single digits at 57-48 with 30 minutes played.
The fourth quarter was played in a nine to fifteen point window, Skrela, and Gruda combining for 13 of Les Blues' 17 points in the final ten minutes. France held Brazil to 42 percent shooting while outscoring the South Americans 25-9 off of the bench, most of that due to Gruda's efforts and the fact that Brazil only played three players aside from their regulars.
Next games
France close out group play Saturday with a game against Japan. The Japanese are 2-2 and would advance to the quarterfinals with a win and still may advance with a loss pending results elsewhere. The French are al but in the quarterfinals with a 3-1 record, trailing only Australia.
Brazil finish group play and their Olympic campaign with a matchup against Turkey. The Turks are tied with Japan and can advance to the quarterfinals with a victory, something they will be favored to do.