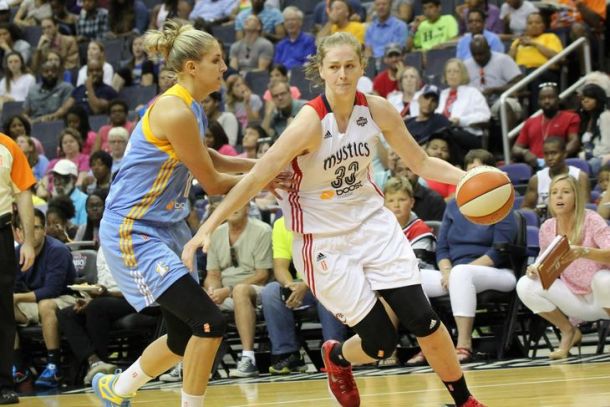 It's playoff time in the WNBA, and we are examining the first round series in each Conference.
Eastern Conference
(1) New York Liberty vs (4) Washington Mystics:
The Liberty are heading into the playoffs in somewhat of a slump. Granted, they have been resting players after clinching the overall best record in the league during the last week of the season, but they will be ready for this series; a Bill Laimbeer coached team will always be ready.
The Liberty are led by MVP Candidate Tina Charles (averaging 17.1 points and 8.5 rebounds for the season), Epiphanny Prince (15 ppg), Kiah Stokes (5.8 ppg, 6.4 rpg, 2.0 bpg), and Tanisha Wright (7.4 ppg and 3.5 apg). With the absence of rookie Brittany Boyd due to injury, the Liberty will be counting on Sugar Rodgers even more than usual. The X-factor for the Liberty is veteran Swin Cash. She has been there before and has won multiple titles with Laimbeer. Her experience will be counted on in clutch situations.
The Mystics are led by a veteran head coach in Mike Thibault, outstanding guard Ivory Latta (team leading 13.7 ppg), Emma Meesseman (11.6 ppg, 6.3 rpg, 1.4 bpg) who has a dependable inside-out game, and second year center Stefanie Dolson (10.6 ppg, 5.6 rpg). Dolson started off hot but has been in a slump of late. It is imperative for the Mystics that Dolson finds her game. The Mystics X-factor is Kara Lawson. She has the experience to keep Washington out of trouble when she is on the floor. If healthy, Lawson could make a difference.
(2) Chicago Sky vs (3) Indiana Fever
The Sky are led by coach Pokey Chapman and leading MVP Candidate Elena Delle Donne (23.4 ppg, 8.4 rpg, 2.1 bpg) who is having a season for the ages, along with Cappie Pondexter, (15 ppg) center Erike de Souza, (5.5 ppg, 5.5 rpg) who had big shoes to fill after the trade of veteran center Sylvia Fowles, and floor leader Courtney Vandersloot (11.4 ppg, 5.8 apg, 1.3 spg). The X-factor for the Sky is the outstanding bench player Allie Quigley, who provides instant offense off the bench averaging 11.1 ppg and could easily be the sixth woman of the year this season.
The Fever boast the outstanding Head Coach Stephanie White who had a great rookie season as well as one of the best players in WNBA history Tamika Catchings (13.1 ppg, 7.1 rpg) who is the inspirational leader of this team. Catchings is ably supported by Marissa Coleman (10.4 ppg) Briann January (8.1 ppg) and rookie Natalie Achonwa (8 ppg). The X-factor for Indiana is Shavonte Zellous who embraced her role coming off the bench and contributed 8.4 ppg. This could be the best of the first round series.
Western Conference
(1) Minnesota Lynx vs (4) Los Angeles Sparks
Four-year veteran head coach Cheryl Reeve leads a loaded roster with do-it-all MVP Maya Moore (20.6 ppg, 6.7 rpg, 3.5 apg, 1.6 spg), veteran center Sylvia Fowles (15.3 ppg, 8.3 rpg), Seimone Augustus (13,8 ppg), and Lindsay Whelan (both if healthy), and sparkplug Anna Cruz (8 ppg, 3 apg) along with veteran Asjah Jones. The X-factor for the Lynx is veteran frontcourt player Rebekkah Brunson (7.8 ppg, 8.1 rpg). On a team full of All-Stars, Brunson is the unsung hero. She does all of the dirty work, plays hard on both ends and shows up every night. That is what an all-star does.
Veteran head coach Brian Agler in his first year with the Sparks is a proven winner with a WNBA title under his belt. Agler directed the Sparks into the playoffs despite numerous injuries to key players. Led by Candace Parker (19.4 ppg, 10.1 rpg, 6.3 apg, 1.9 spg, 1.8 bpg) for the second half of the season, this was one of the better teams in the league over the last month. Assisted by Nneka Ogwumike (if healthy), Jantel Lavender (14.5 ppg, 8.3 rpg), Kristi Toliver (12.4 ppg), and veteran Alana Beard (7.8 ppg), this team has enough firepower to make this a series if everyone is healthy. The X-factor for the Sparks is Ana Dabovic whose play off the bench late in the season has been vital to the Sparks playoff run.
(2) Phoenix Mercury vs (3) Tulsa Shock
The Mercury led by the always quotable head coach Sandy Brondello had a solid year even without Diana Taurasi and Penny Taylor. Led by DeWanna Bonner (15.8 ppg, 5.7 rpg), Brittney Griner (15.1 ppg, 8.1 rpg, 4 bpg despite missing the first seven games of the season), Candice DuPree (14.1 ppg), and Leilani Mitchell (6.7 ppg), this team can score with anyone. There is a lot of firepower on this roster. The X-factor for the Mercury is Monique Currie a veteran with an outside touch, good hands and superlative leadership skills. This team is a load for anyone to have to play and try to stop.
The Shock were an up-and-down team this season after losing All-Star Skylar Diggins to an injury. Head coach Fred Williams adapted and led this team to the third seed. Odyssey Sims (16 ppg, 3.8 apg) took over the reigns of this team and was capably abled by Riquna Williams (15.6 ppg), Karima Christmas (10.6 ppg, 1.1 spg), and young center Courtney Paris (6.6 ppg, 9.3 rpg, 1.2 bpg). The X-factor for the Shock is veteran Plenette Pierson (12.8 ppg) who does a bit of everything and is a steading influence on and off the court.