While the WWE Championship may still be around the waist of Jinder Mahal, one superstar is carrying less luggage - much to his disappointment.
Baron Corbin thought he had a golden opportunity to announce himself on centre stage and flip the SummerSlam card on its head, when he pounced on the weakened Maharaja.
However, John Cena ceased his opportunity to teach the former NXT star a lesson he will never forget only adding fuel to the fire ahead of their battle at the Biggest Party of the Summer.
Cashing out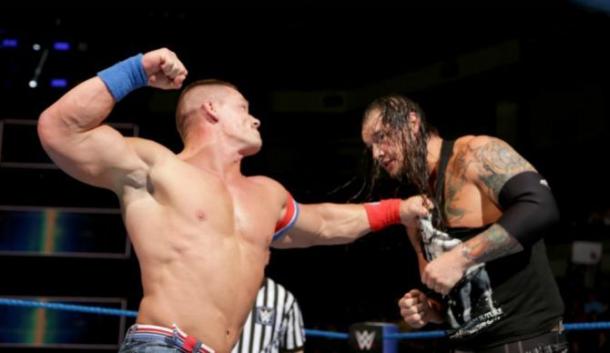 Corbin must have thought he hit the jackpot when he halted his SummerSlam opponent Cena from pinning Mahal after the sixteen time World Champion hit an Attitude Adjustment from the second rope.
However, while his plan worked to perfection, the bonus ball of a broken and seemingly unconscious Mahal was an opportunity to good to pass up.
Believing his moment had come, The Lone Wolf handed his briefcase to the official before cashing in, while being delayed by the struggle of The Maharaja in getting to his feet.
Still reeling from the earlier attack, Cena tried to interfere but was knocked back by Corbin, but the distraction was enough for Mahal to roll up the challenger and retain his championship.
The backfiring of the plan enraged the former football player and boxer who became a part of a less than illustrious trio including John Cena and Damien Sandow.
What it means for the future?
With Corbin now without his briefcase, he still has a major opportunity ahead of him as he faces Cena in singles action at SummerSlam.
While the accusation of "burial" may be ripe with fans of the Lone Wolf, a victory over a 16-time world champion may be a future title shot in itself.
Corbin still has a bright future within WWE, with Dave Meltzer claiming many times that the company are "high" on the 32-year-old as well as Brawn Strowman.