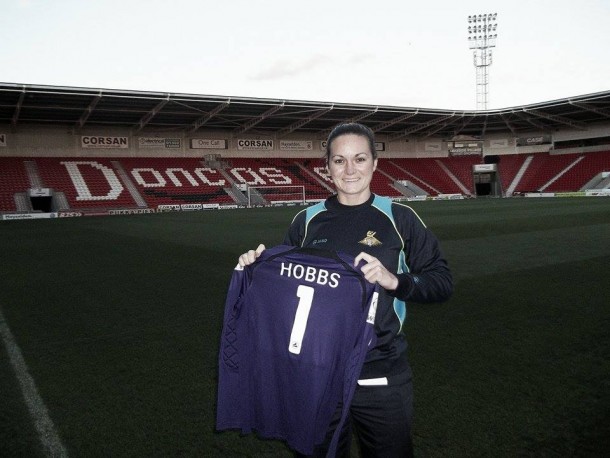 Doncaster Belles goalkeeper Nicola Hobbs has put pen to paper on a new deal with the club.
The club's number one stopper played an integral part in their promotion to FAWSL 1 this year, conceding just 15 goals and keeping 10 clean sheets as the team finished second in WSL 2, earning automatic promotion to the top flight.
She has now been rewarded with a new two-year contact, and deservedly so.
Hobbs "delighted" with deal
Speaking about the new contract, Hobbs revealed that she is "delighted" and "really happy" to extend her stay with the club.
Hobbs described Doncaster as "the club for [her]," something which she has "know for a long time," making it a "relief" to have signed a new deal.
She spoke about how she has settled in at the club as, "even though [she's] not from Yorkshire originally." she "live[s]" there, "work[s]" there and "[does] a bit of coaching work" around the area, meaning "it feels a bit like home."
"I enjoy it here, it's got a good club atmosphere," Hobbs continued. "They look after you and treat you as one of their own."
The goalkeeper is also looking forward to the added training she'll get to do now as well, saying that "it becomes a lot harder...but easier at the same time."
"Obviously, I'll need to commit more," she added, but this won't be a problem as she has "signed a contract because [she] want[s] to train more, not because [she has] to train more."
"I want to be better, stronger and fitter as a goalkeeper."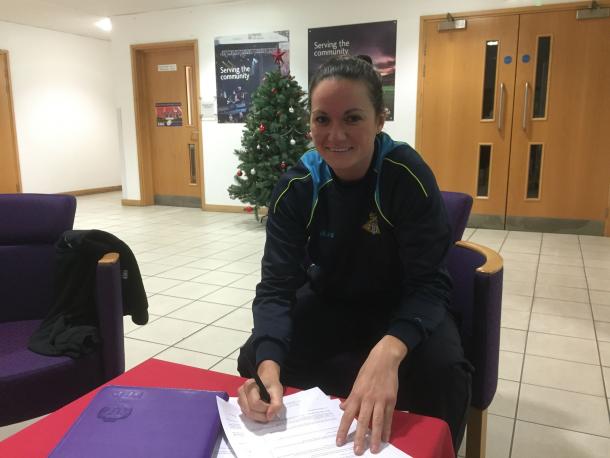 Club equally thrilled
Doncaster Belles' Club President Sheila Edmunds was as pleased with the new deal as Hobbs is, saying it is "fantastic" to keep hold of someone she described as "one of the biggest strengths" in the team's "defence."
Edmunds stressed the importance of "keep[ing[ the nucleus of [the] team" as they move up to WSL 1, as "they know how they work together."
Furthermore, Hobbs is someone who will "[embrace] the new-comers" if the Belles "bring in a few additions," the Club President saying the 'keeper is "great for doing that."
Hobbs is the fifth player to sign a new deal for the club since their promotion, with Ashleigh Mills, Sophie Barker, Emily Simpkins and Jess Sigsworth all doing the same as they keep the core of the squad together in order to establish themselves in the top flight.