 Jürgen Klopp admitted that Liverpool's celebrations at going 4-1 up away at Arsenal were a little premature and says he believes his side can still improve despite winning 4-3.
On an enthralling afternoon at the Emirates Stadium, Philippe Coutinho cancelled out Theo Walcott's opener with a breathtaking 30-yard free-kick just before half-time.
A fast-paced start to the second-half saw the Reds score three goals in 11 minutes as Adam Lallana, Coutinho again and then Sadio Mane appeared to put the away side in cruise control.
The last of those goals, a terrific individual move which ended with Mane finding the top corner, produced incredible celebrations between the winger, his teammates and the manager on the touchline.
Only a minute later, Alex Oxlade-Chamberlain had reduced the arrears with a low strike before Calum Chambers headed home a free-kick to narrow Liverpool's lead to 4-3.
They were able to hold out for a morale-boosting opening Premier League weekend win, though Klopp acknowledged his side were complacement in thinking the game was won after their fourth goal.
Klopp highlights the mistakes his side made as they played second-fiddle to dominant Gunners in first-half
"Scoring four goals is wonderful, conceding three is the opposite of that emotion," Klopp told reporters in his post-match press conference.
He admitted that his side "didn't start well in the game" because his side were only "50 per cent of being convinced" about "what we had to do."
On their tactical mistakes, Klopp said that they had a "high formation" but not a "compact formation" which meant it was "much too easy [for Arsenal] to play football" in between the "rows in the spaces" that Klopp says were afforded by Liverpool.
He explained that their selected formation was in order "to close spaces" but says that it had the opposite effect, leaving Arsene Wenger's side with "open spaces" to exploit going forward, which he said "makes absolutely no sense."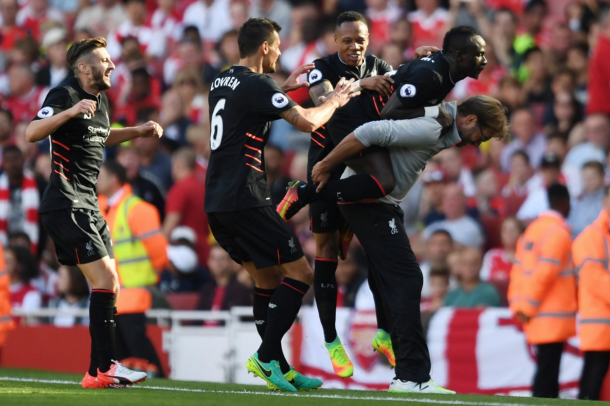 "They felt better and better and better and we [felt] not very good," Klopp said, on the way of the first-half, insisting that his side "asked for the goal [against] and got it."
He praised his side for coming "back in the game" and having "more direction" and being "more compact" defensively, adding: "This was a really intense game for both sides and Arsenal made something like a little break in their game. We used it for being more of a threat to them."
The German acknowledged that they needed "45-minutes plus" to win the free-kick and then hailed "the genius" of Coutinho, saying that he was "really happy" to go into half-time level because they "could speak about everything" and their game "was clear."
He admitted their mistakes "were so big" that it was "easy to speak about them" in the changing rooms at the interval because the players "already felt it" although they "couldn't change it in the game."
Reds boss pleased with his side's response at the break and says they "deserved" to win
Klopp opted against making any substitutions at half-time, but he made tactical changes, which clearly had a profound effect as Liverpool romped to a 4-1 lead in resounding fashion.
He spoke about how they "changed our way of defending" to combat Arsenal's attack and Klopp revealed that he and his backroom staff told the players "where the spaces were" and "where we could go."
"Arsenal were better in the first-half, of course, but the goal and the penalty was after we'd lost the ball," continued the Reds boss, who declared his team had "good orientation" and "used the wings" and "the width of the pitch" in the second-half.
He said that because of their play, Arsenal "had to run" and that was "really difficult to do this for 90 minutes", as he also lauded his side for coming out after the break and scoring "wonderful goals."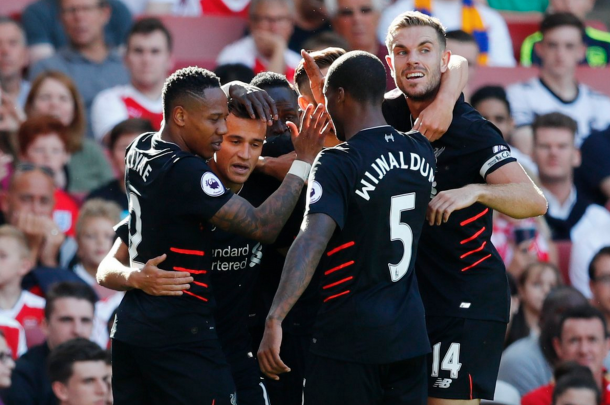 Klopp added: "I made a big mistake as I was involved in the celebrations. That will happen one or two times in my life hopefully but not so early in a game because it was the wrong sign for all of us. It felt for everybody in that moment, 'that's it', but then you have a look at the watch and see there's still half-an-hour to go and that's not too good."
He further explained that Arsenal "fought back, showed character [and] scored the goals" which got them back in the game, but Klopp said his side "defended not so good" though after scoring their third "were back in the race and compact again."
Klopp added that their substitutions helped them out because they were "better in the deep space" and allowed them to defend more solidly, although he was disappointed that "unfortunately" they "did not really have counter-attack moments" which he believes "would have helped a lot."
He said that there was "pressure" from Arsenal but not "the highest pressure" because he could not "remember big chances apart from the goals."
"It was hard work but a deserved win in the end," Klopp concluded. "It feels brilliant at the moment, actually."