Jürgen Klopp bemoaned Liverpool's decision-making and their inability to take advantage of their 81 per-cent possession as they fell to defeat against Burnley on Saturday afternoon.
The Reds controlled proceedings, but could not translate their dominance of the ball into goals at Turf Moor.
Instead, Sam Vokes' second-minute strike gave the newly-promoted Clarets the ideal start and the visitors couldn't respond as Andre Gray increased the lead before half-time.
Despite registering 26 shots on goal, just five came on target, as Burnley scored two goals from just two shots on target to take their first three points against Liverpool in 42 years.
Reds boss disappointed by Reds' underwhelming display
Speaking in his post-match press conference, Klopp acknowledged that possession is "what we did well" but insisted that "you have to use it."
He explained that it "makes no sense" to "suffer under your own ball possession" and said that it wasn't that his team "didn't want it" because "six or seven times", Philippe Coutinho "alone" was in "the right position to shoot."
The German noted that there were situations when his "could be clinical" but "even then" they "didn't score", adding: "That's how it is and we have to accept it."
He declared that he will "watch the game again" but that he will "not see a lot of surprises" the second time back, insisting that they still "had a lot of time to win the game" even after going 1-0 behind early on.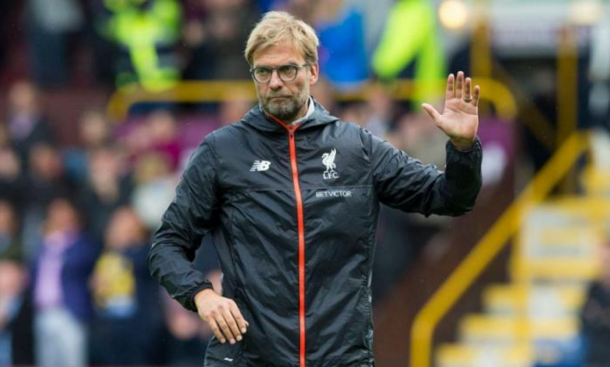 Klopp told reporters that Liverpool still had "a possibility" to win at half-time despite trailing by two, but insisted that his side "were not where we should have been" in "the last moments" and called it "a little bit of the problem, in the box, around the box."
He admitted his frustrations at seeing his side launch "really good crosses" into the box when "nobody was in the box" or taking "shots when the whole box was full."
"Our timing and decision-making today was not really good," said Klopp, who tried to explain that perhaps it "might have been forced by the result" and "by the passion of the opponent" but dismissing that it is "how it is."
Klopp: Normally, we win a game like this if we don't make mistakes in the wrong moment
The result represents a frustrating setback for Klopp's charges - who opened the season last weekend with a morale-boosting 4-3 victory away at Arsenal.
In the final third, it was almost a direct contrast to their performance in North London, struggling to fashion any clear opportunities throughout as Burnley's resilient back-line denied them any space to do so.
But defensively, there were more than a few of the same problems that threatened to undermine their win in the capital in the previous game - as Burnley all too easily managed to score twice in the first 45 minutes.
Klopp admitted that they "saw the situations coming around the goals" and insisted that it "doesn't mean that you should concede goals in these situations."
"We could finish the analysis pretty quickly and say 'okay, we lost 2-0 so why would we want to talk about it? Or, what you saw is not important because it's not allowed to lose here 2-0'," the Reds boss admitted, saying that it's "not the way" he does it.
He noted that it was "a difficult game" in which Liverpool "lost the ball in the wrong moments" and "in open moments" which left them vulnerable to the "counter-attack and counter-pressing."
He suggested that the first-half performance "was not for drawing self-confidence" and said that they "lost a little bit of timing and patience and all this stuff."
Klopp also criticised Liverpool's "timing in offensive situations" as he said it was both "really not good" and "not the best", adding: "One or two little counter-attacks of Burnley, that's it."
He acknowledged that there "are different ways to play football" when questioned about Burnley's defensive approach, as well as speaking about his side having "in both halves about 80 per-cent possession."
But he accepted that Burnley, and in particular their two strikers Vokes and Gray - both of whom found the back of the net - "did really well" as "physically strong guys" while the rest of the team "defended with big heart."
"I respect this, but usually in a game like this, we win if we don't make mistakes in the wrong moment," he added, insisting that they did and simply "have to accept the result and carry on."