When Manchester United travelled to the Emirates on October 4th, 2015 things were looking good. Sitting top of the league on the back of some good results and plodding away nicely in the Champions League and League Cup, Louis van Gaal's side were ready to establish their presence as genuine title challengers and big players in the European scene after a one-year sabbatical.
However, October turned out to be the month where things began to unravel for the Dutchman and his team.
Nightmare at the Emirates
Arsenal are traditionally a side Manchester United did well against. There was a blueprint to playing against Arsene Wenger's men which 9 out of 10 times usually worked. However, this time around, van Gaal went with a very immobile and defensively vulnerable starting XI (Ashley Young playing at fullback was a key demonstration of this) and United were blown apart by a rampant Gunners in 20 first-half minutes as they raced to a 3-0 lead that could easily have been more.
Despite a promising 3-0 victory over Everton, October 2015 by and large turned out to be a disappointing month for the reds, failing to win any other game apart from the away victory at Goodison and picking up results that saw them get knocked out of the League Cup and on the way to being knocked out of the Champions League.
That trip to the Emirates was a critical point at that phase of United's season. A victory against Arsene Wenger's side would have been a real statement of intent and would definitely have secured Champions League football at the end of the campaign and might just have created a stronger belief in themselves and their manager within the squad which could have led to something even better.
However, that opportunity was lost when Louis van Gaal's tactics exposed his team's vulnerabilities and led to a humiliating defeat. Following that game, there were never-ending stories of players questioning the manager's tactics and decision making while seeds of doubt began to be sowed in the mind of fans as well.
October 2016 is looking like a critical month in United's current season. Sitting at 6th place in the table with the 5 teams above them looking ominously better in form and ability to win games, United need a good October.
Anfield calling
The game at Anfield following the international break is a key one for the Reds and, in particular, their boss Jose Mourinho. Just as van Gaal began to lose confidence with fans and players alike with a poor strategy against the Gunners, a poor game plan against Liverpool at Anfield, in a season where fans have questioned some of the manager's choices would not bode well for the Portuguese tactician.
Many already wonder if Jose Mourinho has lost his golden touch with former France international Christophe Dugarry effectively accusing him of becoming a lazy tactician.
Games like this one against Liverpool used to be the ones that Jose thrived on. He would usually come up with a strategy that helped him to achieve the result he needed, no matter how dark or unattractive it may seem to the neutral observer. Similar to a game he managed as Chelsea boss where a title-chasing Liverpool side succumbed to his Chelsea and Demba Ba.
It is telling that presently there is not any supreme confidence that Jose Mourinho has any such strategy under his sleeves and many would expect a victory for Jurgen Klopp's side.
Liverpool, though, are not without their weaknesses and it would be a test of Jose's prowess as a manager whether or not he is able to capitalise on them.
Will the real Jose please stand up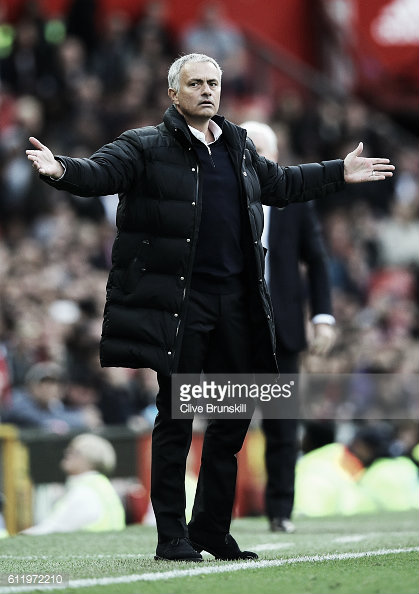 October also sees games against Chelsea in the league, Fenerbahçe in Europe, and Manchester City in the League Cup.
Thinking back to Jose Mourinho's Inter Milan, we are reminded of one of the Portuguese great exploits; how he came back to hunt Chelsea and how he tactically out manoeuvred Pep Guardiola's Barcelona to claim an unlikely treble for the Italian side.
The question on everyone's lips is; does Jose still have what it takes? Is he still that tactical genius that he used to be or has his luck ran out? This month will go a long way to answering these questions.
Should Jose pull off impressive victories against Liverpool, Chelsea, and Manchester City as well as Fenerbahçe and Burnley, then the world will sit back and acknowledge that the old Jose Mourinho never left the building and that last season with Chelsea was a blip. United would re-emerge from the shadows as unlikely title contenders, striking fear to the opposition simply because of who sits on their bench.
However, should Jose fumble in his tactics as his predecessor did on that fateful day last season at the Emirates, then the knives would be truly drawn. Should United have a bad October, the chances of the team's confidence in themselves and their manager recovering would be very minimal and the Old Trafford faithful could be well staring at another failed season.
One thing you can be sure of is that Jose Mourinho is well aware of this. Expect him to be ruthless, expect him to box clever, expect him to be doing whatever it takes to win because this is the kind of month that super coaches are made for and Jose will be determined to prove to the world that he is still one of them.