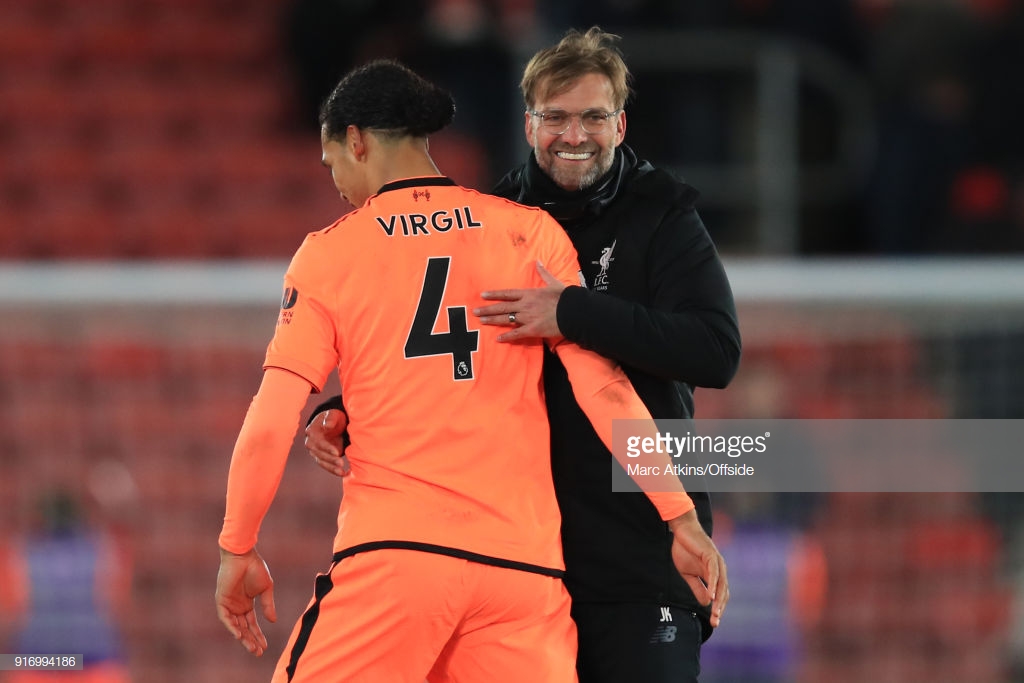 Liverpool manager Jürgen Klopp was full of praise for his side who left the south coast on Sunday with a victory against an energetic Southampton team that was very threatening at times, especially in the first-half.
Roberto Firmino and Mohamed Salah both scored one goal and set up another as Liverpool moved within two points of second thanks to their defeat of relegation-threatened Southampton on Sunday. Firmino's 20th goal in all competitions put Liverpool ahead after just six minutes from Salah's pass before Firmino returned the favour with a stunning flick, setting up Salah for his 29th of the season.
The home team threatened an equaliser with a spell of sustained pressure, but Loris Karius pulled off a handful of saves to ensure the visitors' lead remained intact. A tight second half followed, but the away side enjoyed success in keeping their opponents at arm's length throughout, much to the delight of the manager.
"Right things at the right moment"
Klopp spoke of his delight for the away win in his latest press conference and when asked to give his verdict on Liverpool's performance and the result, the German boss admitted that he din't think it was brilliant, "but we were ready for hard work, doing the right things at the right moment, reacting in a good way in the second half.
"There were a few things we didn't do too well in the first half, but we scored fantastic goals – that's how an away game should be," he added. "They were two great goals, to be honest, but we were not in a few situations active enough in our formation, it meant they could play the diagonal balls pretty easy from the centre-halves and full-backs.
"They had their chances in these situations, they had possession and played good football," he continued. "Then, second half, we controlled the game, really. We were much more active again in these half-spaces and still created fantastic chances which we didn't use, but after 2-0 it wasn't a big problem," Klopp added.
"It will stay tight until the end"
The win meant the Merseyside outfit move just two points off of Manchester United in second after their shock defeat to Newcastle United on the same day. It also meant Liverpool leapfrogged Tottenham Hotspur in returning to third, and the race for the top-four is still very much open for grabs for all the top-six insisted Klopp:
"The only thing we can do is win our games," he insisted. "A few times we will meet one of the big opponents, but not too often."
He went on to explain that "you have a draw like Tottenham, you think, 'OK, like before' but the only thing you can do is to win your games. It will stay tight until the end. I am pretty sure the quality of the teams is too big," he countinued.
"The interesting thing is in the last few years since I am in, in the middle end of the season a few teams had already reached their targets – to stay in the league or whatever," the German manager continued, "but I don't think apart from Leicester and Burnley and maybe Bournemouth this morning is already fixed, so they will make the final part of the season really interesting for all the people who are not directly involved."
However, the defeat means the Saints moved back into the relegation zone as other teams around them such as Huddersfield Town, Newcastle and Swansea City all picked up important wins.
The Saints came into this clash unbeaten in six games and looking for their first back-to-back league wins since April last year, but were undone by the quality of Liverpool's front-line and now remain winless at St Mary's since November 26.
Their seven-game streak without a home league win is a joint club record and sees them remain in the relegation zone, one point away from 17th-placed Huddersfield.