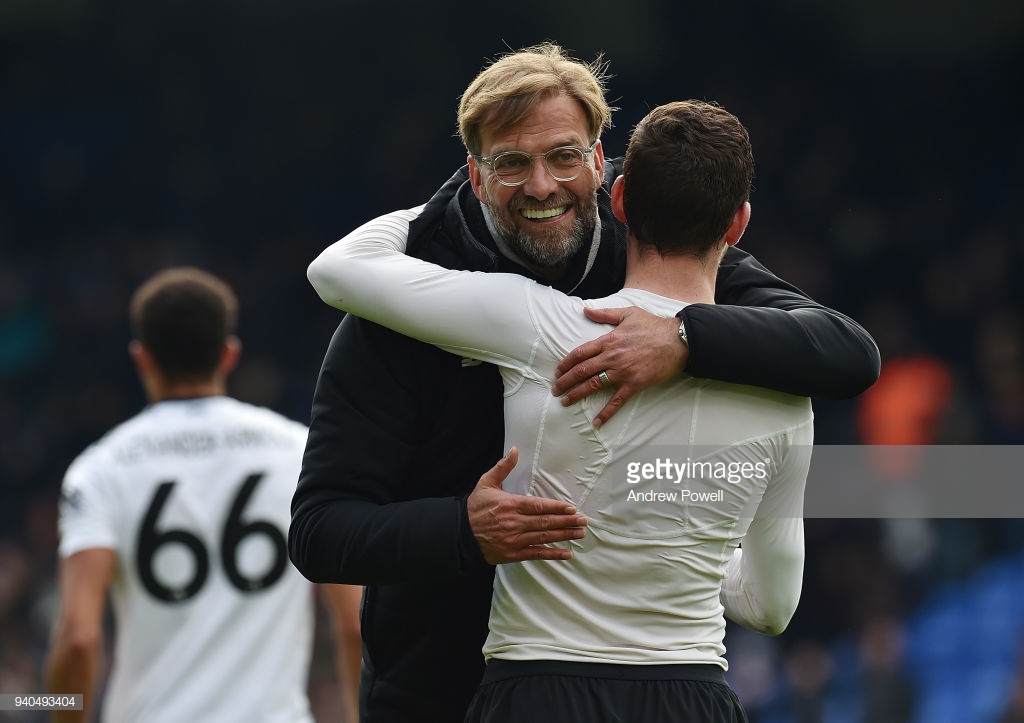 Liverpool manager Jürgen Klopp was full of praise in Liverpool's comeback victory against Crystal Palace to secure their first league double over the London outfit since 1998.
A 2-1 win at Selhurst Park saw second-half strikes by Sadio Mane and Premier League top-scorer Mohamed Salah to earn the Reds all three points as they continue their push for another top-four finish.
The Egyptian's 85th-minute winner saw the 25-year-old net his 29th goal of the season and equal Cristiano Ronaldo's record for most goals in an English league campaign.
Former Reds boss Roy Hodgson's side took the lead after 13 minutes when Loris Karius fouled Wilfred Zaha to give the hosts a penalty and escaped an early sending off. Luka Milivojevic converted the spot-kick, but the visitors eventually took their chances and earnt themselves a vital win.
Reds on-course for another European finish
With Liverpool locked in a battle for a top-four finish, and two of their rivals meeting today when Chelsea were defeated 3-1 at Stamford Bridge to Tottenham Hotspur, adding paramount importance to yesterdays result.
"It feels much better [than a big scoreline], to be honest – 100 per cent better. It gives you more. A 5-0 is a big joy from a specific moment; the fourth goal is already 'wow' and then the fifth.
"This game was intense until the last second. Four minutes [added on] was really hard – right, for sure, but really hard. I'm absolutely over the moon about it", Klopp explained to LFCTV
At halftime, the Reds were on the brink of back-to-back away league defeats for the first time this season. However, Klopp's team-talk obviously proved dividend in his team coming from behind to secure victory for only the second time this season.
The win also was a testament to his side with the majority returning to the first-team action just two days after his full squad reconvened from international duty which delighted the German manager.
"It is so difficult to come here. We get a lot of information from the national teams but you still don't know exactly," continued the German.
"You saw that physically we were not at our highest level. Then the pitch was difficult, it was a little bit slippy. Being 1-0 down, everything was served for a really average day.
"So coming back like this is really good. We were not at our best but these 'dirty' wins on an average day are really important to stay up [there]. Cool."
Lallana injury only negative to otherwise perfect outing
Klopp's satisfaction was only tempered by the sadness of Adam Lallana's injury which could see him a doubt for this summers World Cup in Russia.
The 29-year-old– who has missed the majority of the season already – was forced off the pitch just minutes after coming on as a substitute, having fallen awkwardly in an early challenge.
"The big, big, big disappointment and frustration, of course, is that Adam Lallana is injured again. That feels really bad for all of us," said the boss.
"He is so important to us in the dressing room and on the pitch. Now, again, we cannot really use him.
"We will see how serious it is but in the first moment it looked bad. Hopefully we will find something and say, 'OK, it's not that bad'. That would be the best. But it's not cool in the moment."
Liverpool will now turn their focus to the all British Champions League quarter-final against Pep Guardiola's champions-elect Manchester City with the Citizens returning to Merseyside for the second time in a week after their 3-1 victory at Goodison Park on Saturday.