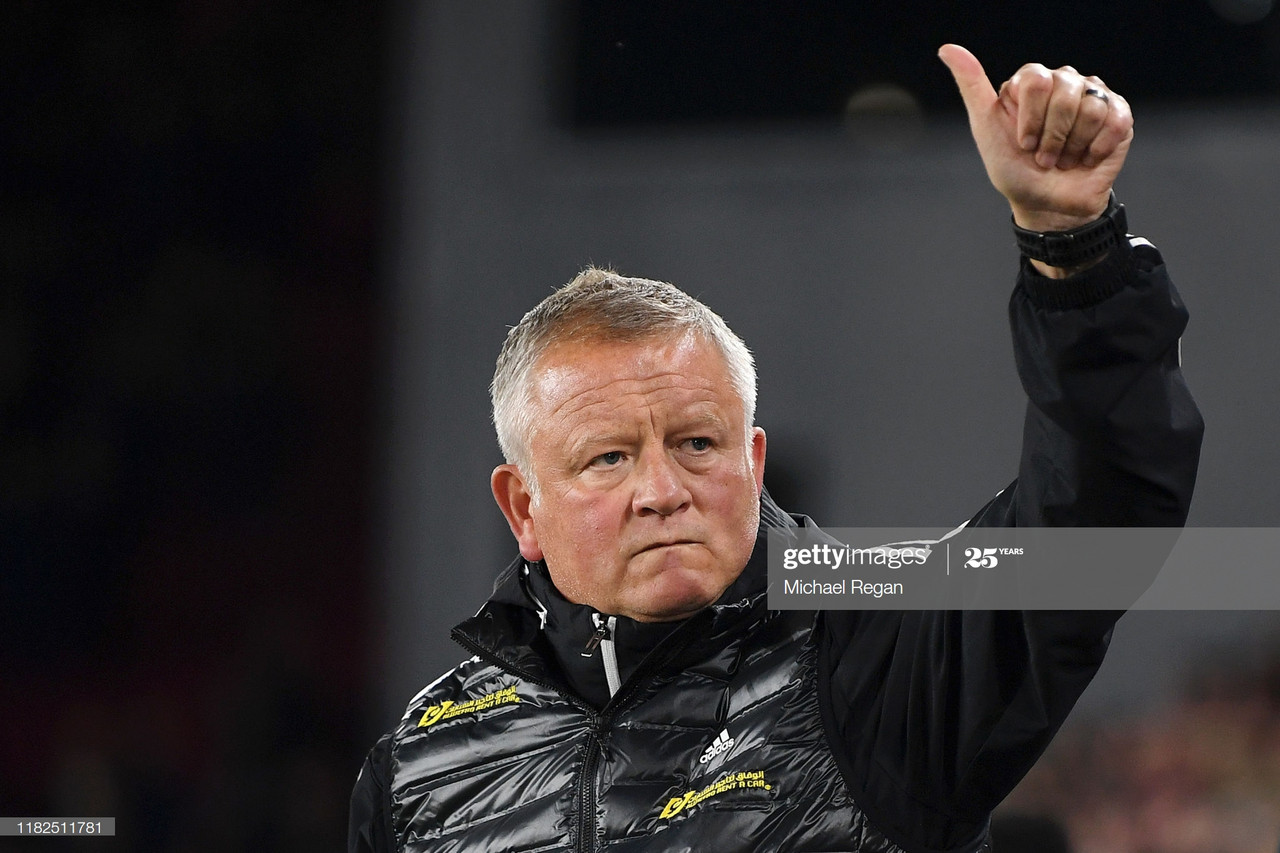 Sheffield United manager Chris Wilder has said 'the attitude of the players has been outstanding' after picking up four points in their last two games.
The Blades had a difficult return to football following the break, drawing one and then losing three consecutive games before picking up a win in an impressive 3-1 victory against Tottenham Hotspur last Thursday.
Wilder's side host Wolverhampton Wanderers on Wednesday coming off the back of a draw against Burnley on Sunday and they currently sit in eighth place.
Wilder looks forward to big week
Sheffield United have impressed throughout the duration of their first season back in the Premier League for twelve years.
With five games to go, the Blades are still in the hunt for European football but face some big challenges, in the form of Wolves and Chelsea visiting Bramall Lane.
Following a dip of form at the beginning of the restart, the Blades seemed to have found their mojo and Wilder has praised the attitude his players have showed.
"The attitude of the players has been outstanding," he said.
"The competitive nature has come back in to us. We have to keep consistent with that approach, especially with the week we've got coming up with Wolves and Chelsea coming to Bramall Lane."
The restart has also had negative effects on the Sheffield United squad, with many key players being ruled out due to injury including John Fleck, John Lundstram and Luke Freeman who are all missing for this week's fixtures.
"We're a bit stretched but we'll get on with it and produce performances like we have done over the past week," Wilder said in Monday's press conference.
With his squad being stretched Wilder gave a Premier League debut to Jack Rodwell, who was signed by the Blades in January, but he said that the Premier League winner may have a chance to feature more prominently in the future.
"It's been difficult for Jack because Basham's been up there," he said
"Bash has to recognise he needs to keep his performances top drawer. Jack's been pushing. There's an opportunity for him to play."
Wilder praises opposition
Ahead of the game on Wednesday, Chris Wilder has been full of praise for Wolves manager Nuno Espirito Santo and his squad. He said that the Portuguese manager has "the ideal personality" of being calm off the pitch but passionate on it.
"He's a really good guy," Wilder said
"Always have a beer afterwards. I've got a lot of respect for him. He's got some fabulous players there. It's going to be a challenge for us on Wednesday night.
"They've done brilliantly. A really powerful football club packed full of international players. It's another huge challenge."
Sheffield United drew 1-1 with Wolverhampton at Molineux back in December but their last visit to Bramall Lane was in the Championship in 2017, with the Blades winning 2-0.
Wilder says that Wolves team were a Premier League side playing the Championship.
Wolves were crowned Champions that season, finishing on a total of 99 points.