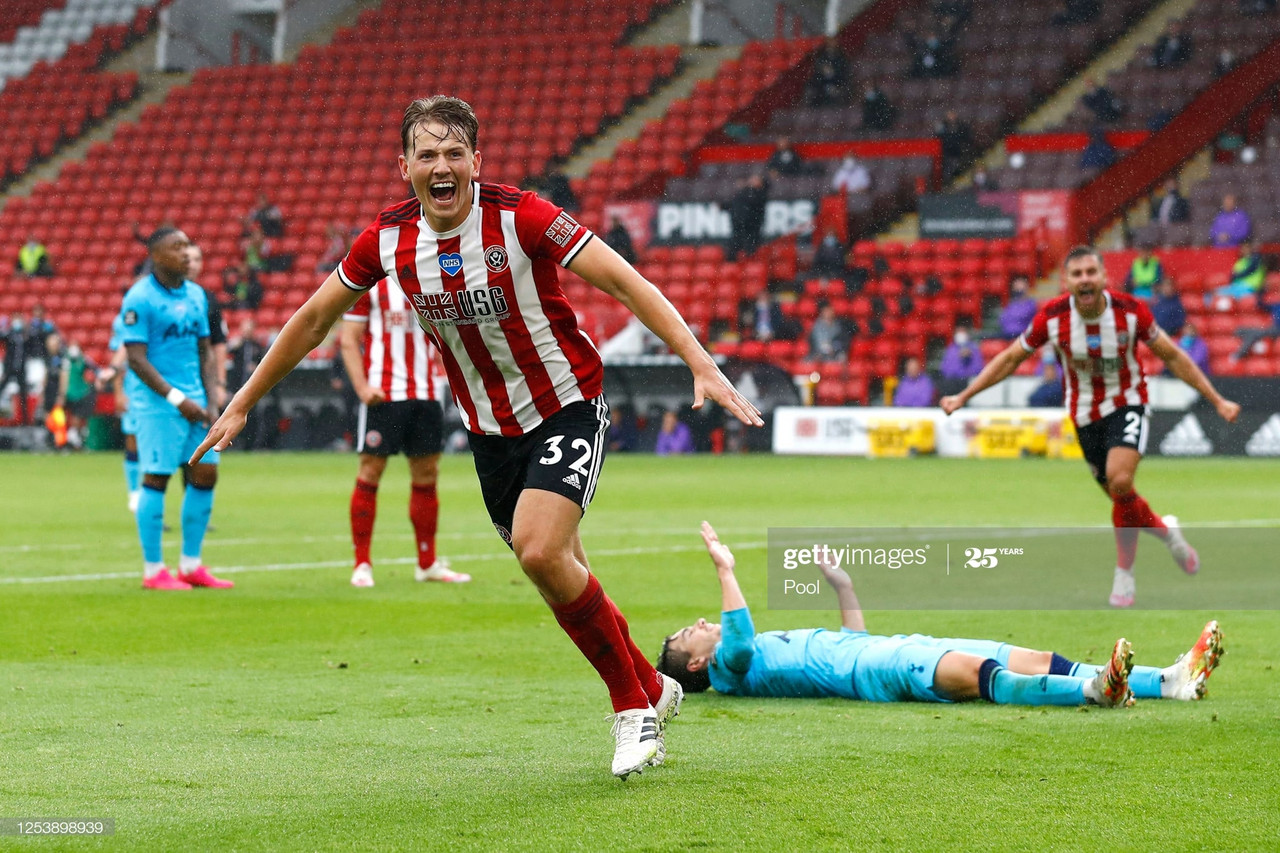 Sander Berge has labelled Sheffield United as "warriors" ahead of a huge week for the football club.
Sheffield United, who are enjoying their first season back in the Premier League for twelve years, currently sit in eighth place. They now face Wolves and Chelsea at Bramall Lane in the space of four days in a week that could define their season.
The Blades have picked up four points in their last two games after losing the previous three in all competitions. Berge has played a big part in the two previous wins, scoring his first goal for the club in the 3-1 win against Tottenham Hotspur last Thursday.
However, Berge is not concerned by the prospect of games against top four challengers Wolves and Chelsea.
"Everything is possible," he said in Monday's press conference.
"Whoever we play we feel like we can beat. That's the mindset we have. Those performances are needed now in the most decisive games of the season."
"We are efficient but we're warriors. People are sacrificing their own health to make that ball stay out of our net."
Berge is loving life at Sheffield United
Sander Berge did not initially adapt to the Premier League as well as he would have hoped after he joined the Blades for a club-record fee from KRC Genk in January.
However, the Norwegian used the 100-day absence of football to develop himself physically and get up to speed with the Premier League and thus feels he is now getting more comfortable with each game.
"I'm gradually getting up to speed to where I want to be and how I want to perform," he said.
"We knew sooner or later I'd pick up the pace and get into my game more and more. I felt way more comfortable in the last few games."
The lockdown has helped the 22-year-old to develop physically but also saw him thrown into an odd situation in a country he had recently moved to.
"Most people say how tough it must have been for a young lad coming to a new country. I just felt very privileged to come to Sheffield United, to live my dream of playing in the Premier League for a special club."
Berge has also praised the Sheffield United dressing room on how it helped him to become 'one of the group' in new surroundings.
"The best dressing room by far [for me]. It feels like I'm the little brother which they care about. No matter who you are or how old, everyone's treated the same way. That's what I love about this club."
Berge wants to do Norway proud
There are only a handful of Norwegian players currently playing in the Premier League, including Bournemouth's Josh King.
Berge is a fully capped international and is looking to do his country proud at Sheffield United in the Premier League.
"The Premier League is huge in Norway. It feels like you're playing for so many people more. You're representing everybody at home and they're supporting you. It feels great."
When adapting to life in England, Berge admitted to spending a lot of time with Sunday's goalscorer John Egan. Speaking about his goal, he said, "it was ridiculous."
"Egan is a great guy and I admire his leadership and his qualities. To get that finish when we needed it most was excellent."