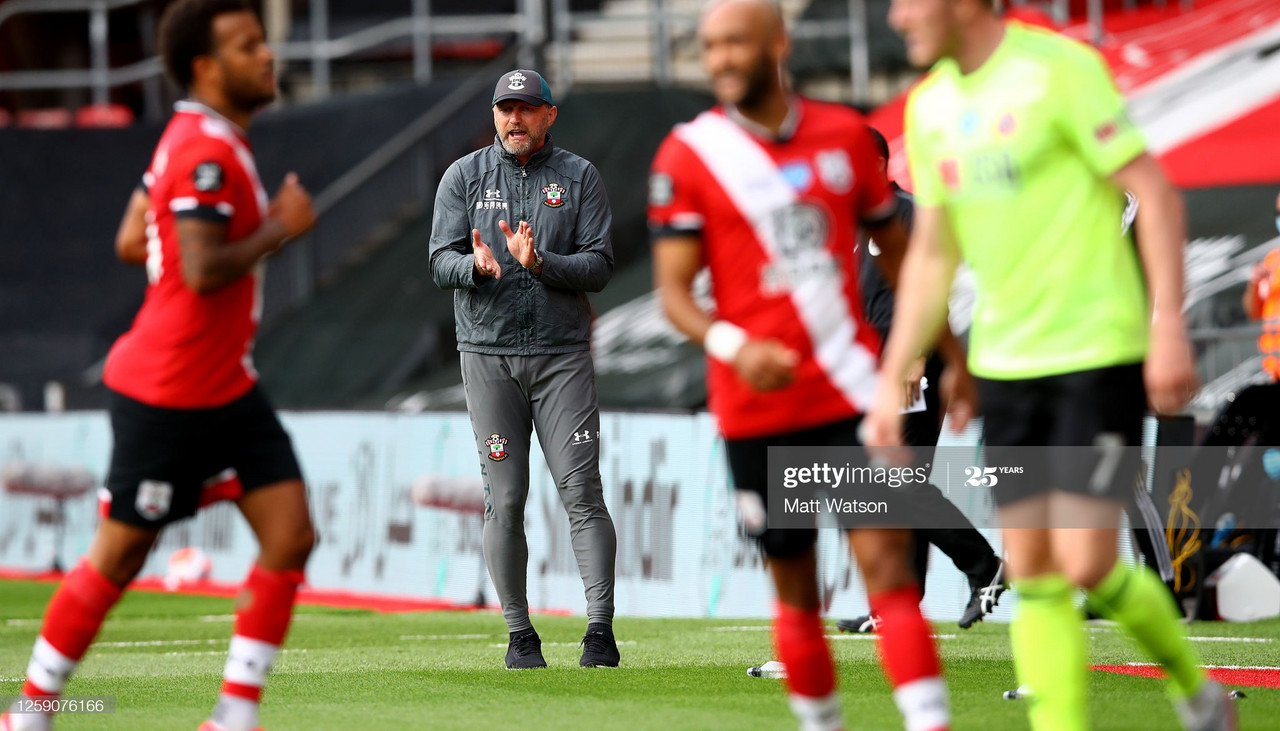 Ralph Hasenhuttl has spoke of his pride at winning the Premier League manager of the month award for July.
The Austrian, who has just finished his first full season in the Premier League, picked up the award after his team finished the season strongly.
Southampton only lost one of their last 9 games and, in July, they picked up 12 points out of a possible 18.
They finished the season in 11th and there is real optimism amongst fans that Hasenhuttl is building something special at St Mary's.
Hasenhuttl beat the likes of Pep Guardiola and Jose Mourinho to win the coveted award and it showed recognition of how well the team performed in July, a month in which they were unbeaten.
Hasenhuttl says he is very proud of the way his team has performed since lockdown:
"I'm very proud for my team, for the whole club to be honest," he said.
"Everybody did a fantastic job in July. It was a hard goal to come back very strong after the lockdown, and it's wonderful everybody recognised what we did and what a good job we did.

"I think it was a very intense month, to be honest. We knew we only had a short time to prepare for the season, and I think we used the time in a very, very good way.

"From the first day, you could feel the guys were fit, they were coming back in a good shape, and we could immediately work on a few deficits that we had seen in a very intense analysis of the season to that point.

"Then you start well with the first game against Norwich, then the second game, at home against Arsenal, was the only one we lost after lockdown, but even there you could see we were getting better and getting in a way with the ball that we haven't shown so far, and this was the goal for these games. I think we played very bravely and tried to make the next step in our development, and in the end we got the good results because we played bravely and were very committed."
It is the first time that Ralph Hasenhuttl has won the manager of the month award and he'll certainly be hoping it'll be the first of many.
Alongside Danny Ings' player of the season nomination, and Moussa Djenepo's goal of the season nomination, the Saints team is looking exciting going into next season.
Reflecting on some individual matches at the back end of last season, Hasenhuttl said:
"Especially the game at home against Man City, this was an outstanding game.

"You have to say we had also luck to win this game, but it was important to show ourselves that we were able to compete against such a team. It's still unbelievable that we took a win against such a team. We had luck, and nearly every player played fantastic, otherwise it's not possible to win against such a team.

"Against Man United I think we were still one step further in our development. We showed especially the first 20 minutes a fantastic away game, like always in the season, against an in-form team and, in the end, I think it was a deserved point we took there. We like to play against these strong teams, they really show us what we have to learn and how good we are."