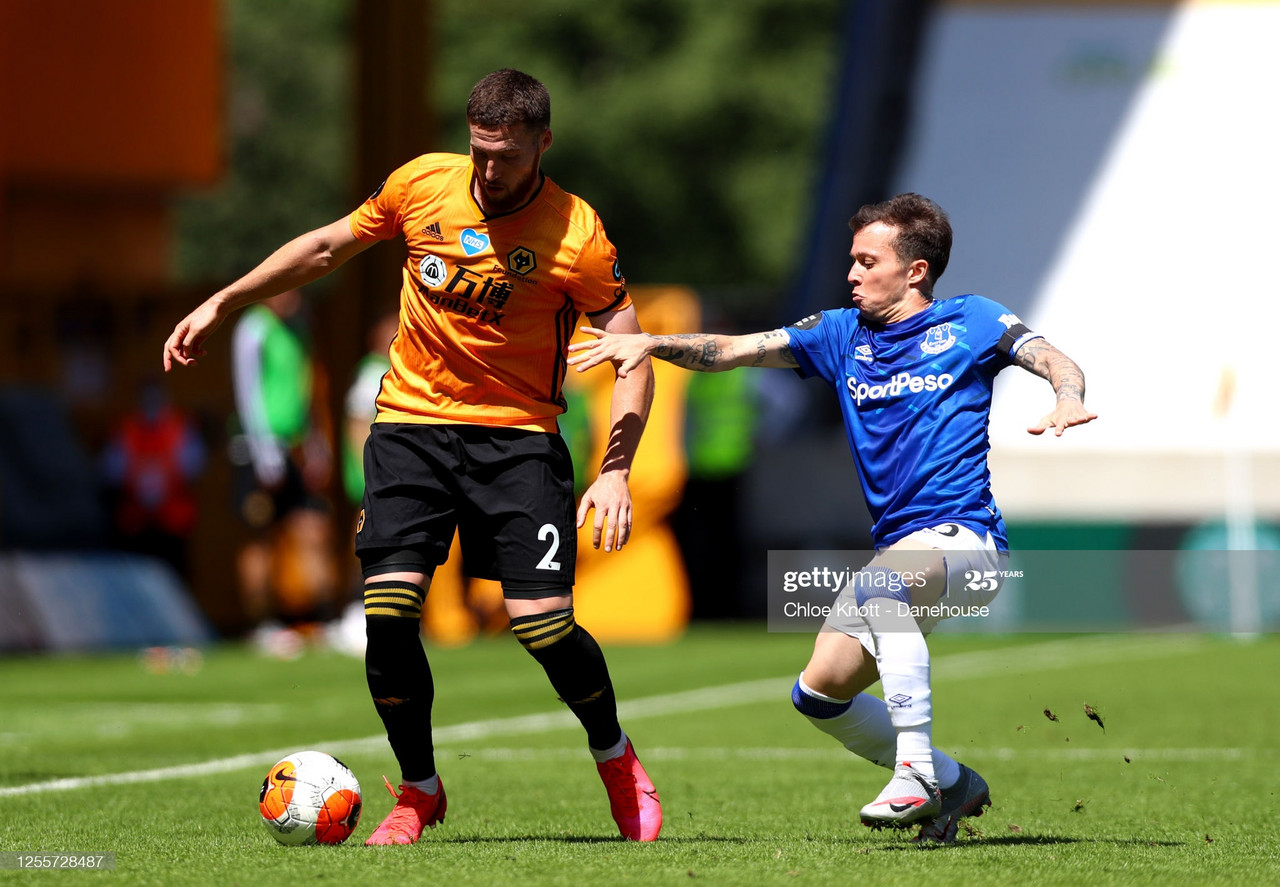 Tottenham Hotspur are in talks to sign Wolves full back Matt Doherty for a deal worth close to £15 million according to reports from the Daily Mail.
The 28 year old has been with the club throughout the entirety of his senior career up to date, despite going out on two loan spells, making an impressive 302 appearances for the Wanderers in that time.
The Irish international has been a regular member of Wolves defence since the 2016/17 season, and since the club were promoted to the Premier League two seasons ago, he has only not featured in the top flight on two occasions.
Furthermore, in Wolves Europa League campaign last season from the group stages to the quarter final stage which is where their journey ended, Doherty started in 10 of their 11 games.
Therefore, due to his consistently good showings over the past few seasons for Santo's side, Jose Mourinho is reportedly interested in bringing the defender to Spurs as an improvement to current right back Serge Aurier.
The question is would Spurs actually benefit from bringing in Doherty, and would Wolves be able to cope with his potential departure.
Would Doherty's arrival help Spurs
As Spurs look to break back into the Champions League spots after having to settle for Europa League football last season, recruiting a right back who had a good 2019/20 campaign would certainly be a step in the right direction.
Since Nuno Espirito Santo came to the club in 2017/18, Doherty has been utilised as a right wing back and since playing in this role, he has been expected to provide support when the team are venturing forward.
This is something that he has done with much effect shown by his recent goal contribution, as in the last two campaigns he has netted 15 goals and bagged a further 15 assists.
When attacking he likes to make runs in behind the defence that can cause panic and which at the same time, allows more time on the ball and more room to work in for right winger Adama Traore.
This is an attribute that will have attracted Spurs attention because it means that if recruited, Doherty could cause defences trouble when going on the attack.
Consequently this would create more room for their other dangerous players such as Harry Kane and Giovani Lo Celso which possibly could make it easier for them to carve out clear cut opportunities.
Additionally, when being required to defend, the full back has shown to be consistent in doing this as he rarely makes errors leading to goals- something else that arguably sparked Spurs interest in him.
Would Doherty be interested in a move to Spurs
Despite having a bad season in 2019/20, over the last couple of campaigns Spurs have become somewhat of a consistent Champions League force.
The prospect of this is likely to lure Doherty towards wanting to join the club because even though Wolves are on the up, under the management of Mourinho Spurs have more of a chance to achieve a top four finish at the end of the upcoming season.
Furthermore, if the Irishman did move to Spurs, due to his recent impressive form for Wolves he most likely would become a regular for the club instead of Aurier, who may depart if this move does go ahead.
This is especially since according to reports from Sky Sports both AC Milan and Bayer Leverkusen are interested in the Ivory Coast international.
Therefore if the right price is made for him and if Doherty is brought in, Spurs may be up for selling him.
Would Wolves deal with Doherty's departure
It is without a doubt that Doherty would be a big miss for Wolves, as he has been an ever present figure for the club in the seven years he has so far been there.
He has been a defender that the Wanderers have been able to rely on and it is without question that he will be a difficult player to replace.
However as previously reported by Vavel, Wolves are already looking to bring in Arsenal's Ainsley Maitland- Niles with him being valued at £20 million, and he could be used as a replacement for Doherty.
The 22 year old has actually played at full back for the majority of his Gunners career to date, and due to his energy and the good potential that he has shown, Santo seems to be very interested in recruiting him to Molineux.
In addition, Wolves have been linked with a move for Valencia right back Thierry Correia as another possible replacement for Doherty.
If he was brought in it would mean that Santo would have recruited another Portuguese player into his squad, and the fact that he already has had spells in the top flights of both Spain and Portugal can only be a positive thing for Wolves.
However he has not made many appearances in both of these divisions, consequently the Wanderers may want him to earn more first team minutes at Valencia before committing to bringing him to the club.