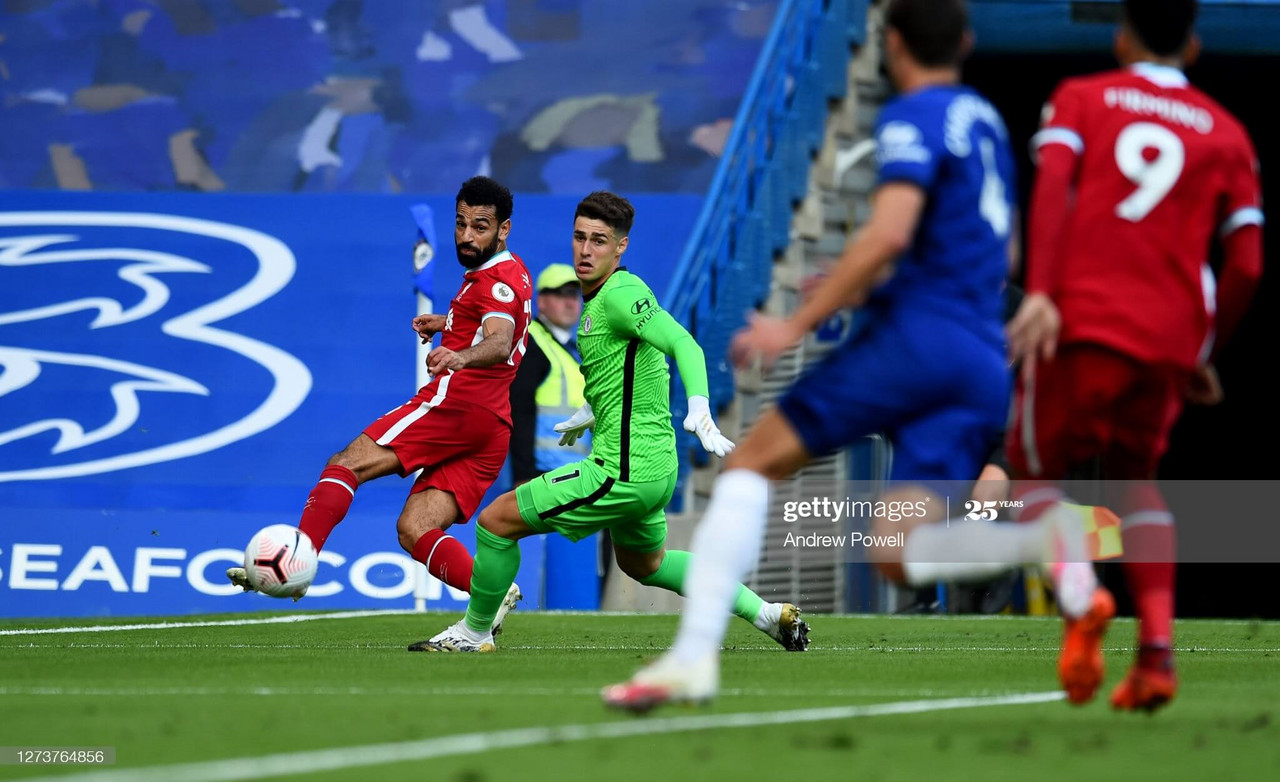 Frank Lampard said in his pre-match media briefing that this was not the time for Chelsea, playing only their second game of the season, to make a statement on the pitch having spent over £200million on players during the summer. According to the Chelsea manager, his team are still in pre-season after the reduced summer break.
Rather it was Liverpool who laid down the marker and strolled to victory in the second half. Sadio Mane scored twice and made Chelsea pay for some slack defending but it was clear from first minute to last that Lampard has got work to do to get his new-look Chelsea firing.
Gulf between Chelsea and the top
Lampard believed that his team showed good application, especially off the ball, in the first half against Liverpool. Currently, he is managing a hybrid first team; there are players still there from last season who he would prefer out of the starting lineup and signings yet to reach the required match fitness to replace them.
It is therefore quite difficult to judge this new-look Chelsea on performances like these, in which Liverpool were already in the ascendency before Andreas Christensen was dismissed just before half time. Lampard himself has said it will take time for the new players to settle and be able to recite Chelsea's patterns of play without hesitation. Yet on this evidence a lot of work is going to be needed on the training pitch to get the team anywhere near the levels of Liverpool and Manchester City.
Is Kepa destined for the bench?
Or the exit? It now appears that the point of no return has been passed for the record-signing goalkeeper. It was his careless clipped clearance that was chased down by Mane and presented Liverpool with their second goal of the afternoon. It was a second error in two games following a hash last Monday against Brighton & Hove Albion. "It's clear now there's two games where we felt there's a clear mistake," his manager said. "Brighton was a clear mistake and he's reflected on it in that way."
Chelsea are close to bringing in Edouard Mendy from Rennes and it now seems that Kepa is destined for the bench, with a possible loan move in mid-season. Settling into the team has not been easy for the 25-year-old, who appears to have the weight of the world on his young shoulders. It hasn't helped that the defence in front of him has swapped and changed over the past two seasons but now it seems likely he is next for the chop.
Playing out from the back cost Chelsea
Of course, Liverpool found it easier in the second half when Chelsea were down to 10-men, following Christensen being deemed to prevent a clear goalscoring opportunity when he hauled down Mane. But even early on there were nerves, especially when playing out from the back. Chelsea were not able to do it effectively. Kurt Zouma, Kepa and then Fikayo Tamouri all appeared uncomfortable with the ball at their feet when under pressure from Liverpool's energetic front-three. It was careless passing at the back that led to Liverpool's second goal.
Teams who play in such a manner are increasingly playing midfielders at center-half. Fernandinho has done it at City, whilst Chelsea only had to look at their opponents to see Fabinho slot in alongside Virgil van Dijk in the absence of the injured Joe Gomez. Fabinho read the game superbly and dealt well with the threat of Timo Werner. Whether the presence of Thiago Silva will aid Chelsea at the back is uncertain, so maybe Lampard needs to have a plan B too.
Thiago settles quickly
Opta reported that Thiago Alcantara completed more passes in 45 minutes than any Chelsea player did in 90; his 75 completed passes was the most by a player who managed "a maximum 45 minutes" since the Premier League began keeping passing stats in 2003. Thiago certainly slotted in nicely to Liverpool's midfield having come on at the break for Jordan Henderson who had picked up a knock.
The long and short passing, the give-and-gos, and the sweeping switches all demonstrated what the Spaniard can bring to the champions' team, elevating them even higher. However, this was not a perfect debut as he conceded a penalty with a naive challenge on Werner mid-way through the second half. Luckily for the new-boy, Alisson was able to save the spot-kick and ensure there was no lasting damage.